Ban on gender-affirming treatment for transgender youth advances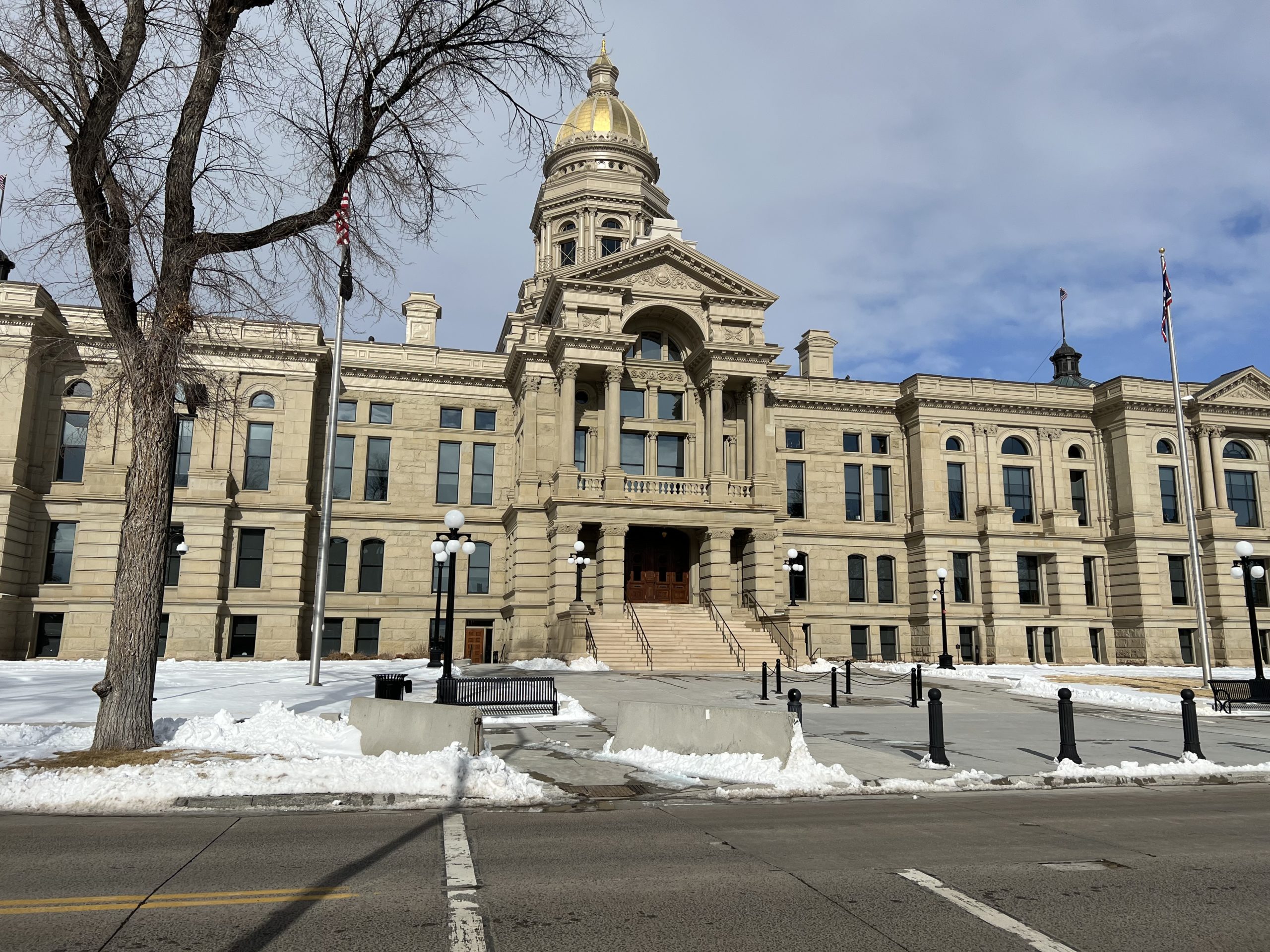 By Maya Shimizu Harris
Casper Star-Tribune
Via- Wyoming News Exchange
CASPER —Person after person sat before the Senate Labor Committee on Friday and implored lawmakers to act in the best interest of Wyoming's kids.
But there was stark disagreement over what acting in their best interest should actually look like, with some pushing for the passage of a bill to ban gender-affirming care for minors, and others asking for the legislation to be thrown out.
Senate File 111 passed the Senate Labor, Health and Social Services Committee in a 3-2 vote, with Sens. Eric Barlow, R-Cheyenne, and Fred Baldwin, R-Kemmerer, voting no.
The bill, sponsored by Sen. Charles Scott, R-Casper, would penalize anyone who intentionally gives gender-affirming treatment to minors with a felony and up to 10 years in prison.
That could include surgery, but also hormone treatments.
Under the bill, administering such treatments, which include any procedure, drug or other agent, would be considered child abuse. The consent of the minor or the minor's parents couldn't be used to override the crime.
It includes some exemptions for the medical treatment of people who are intersex or are born with an "ambiguous sexual identity," and for treatment of "traumatic injuries or life threatening physical diseases or conditions, not including any psychological or emotional conditions."
Scott's bill stems from nationally circulating concerns that some adults are "preying on young adolescents" and pushing them to undergo gender-affirming treatment, as the Casper lawmaker put it.
Those fears have led to a slew of legislation across the country seeking to restrict medical treatments for minors who identify as transgender.
Opponents of the bill argued that the decision of whether or not to give gender-affirming care to a minor should be between that minor and their parents or guardians.
Some medical providers said they were leery about the Legislature restricting any kind of medical treatment in general.
Proponents, meanwhile, said that gender dysphoria should be treated by changing the mental rather than the physical condition, and that gender-affirming treatment is the equivalent of "mutilation" (that concern mostly centered around gender-affirming surgeries, which aren't performed in Wyoming and typically aren't performed on minors in general).
Scott said that during puberty there's "often some confusion" about one's sex and gender, and that there's a "fad" among adolescents to deal with this "confusion" by changing their sex.
Other supporters of the bill who spoke before the committee on Friday offered a similar perspective to Scott's.
"I do believe this is a fad," Gillette Republican Rep. John Bear, chairman of the hard-line Wyoming Freedom Caucus, said, noting the growing demographic of transgender individuals.
Bear has been outspoken on trans issues. At an October event hosted by former State Superintendent of Public Instruction Brian Schroeder, he warned the audience of an "epidemic of people wanting to de-transition," a comment which he later admitted was speculative.
More recently, he was also one among several Wyoming Freedom Caucus members and other lawmakers who signed a letter to the University of Wyoming castigating the school for blocking the tabling privileges of a Laramie church elder who targeted a trans student by name.
Many of the people who spoke during the meeting pushed back on the idea that transitioning is just a "fad."
"They don't want to find themselves in that situation," Andrew Rose, a pediatrician at Cheyenne Children's Clinic, said of kids and families that seek gender-affirming treatment. "Why would they, especially here in Wyoming? These kids aren't just confused. They're not immature, they're not just in a state. Instead, they identify in a way that society tells them they shouldn't. And of course, that creates dissonance."
Many of those who spoke in opposition to the bill on Friday were medical and mental health providers, some of whom have had experience treating minors with gender dysphoria.
Wyoming statute is pretty light on restricting what kind of medical care providers can and can't give. That's partly because people's understanding of what's best practice can change rapidly.
Some at Friday's meeting said the bill would create a chilling effect on medical providers' ability to give patients what they believe is the best care.
"As a pediatrician, thinking that I might be the one that goes to jail for 10 years for doing something that I think is within the realm of medical care and appropriate frightens the heck out of me," Bob Prentice, a retired pediatrician, said.
He noted that major medical groups, like the American Medical Association, the American Academy of Pediatrics and the American Academy of Child and Adolescent Psychiatry, all have statements saying that the criminalization of medical treatment should be left out of the law.
Most lawmakers also aren't medical experts, particularly in the area of transgender care, a point that Baldwin, a physician assistant, said made him uncomfortable to approve the bill.
"We've been here three weeks now, and to take these things and become experts and create law, that makes me nervous," he said.
The abortion trigger ban that became law last year is one recent exception to the Legislature's usual lightness on medical care. The ban is the subject of a lawsuit now, and its enforcement blocked at least until the legal matter concludes.
Plaintiffs contesting the abortion ban's constitutionality include medical providers who argue that the ban could force them to deny or delay care for pregnant women. (Lawmakers will consider another bill this year that would put even more restrictions on allowed abortions in the state.)
The arguments of people who opposed the bill in many ways paralleled those playing out in the abortion case.
"Refusing to provide the standard of care for these patients with gender dysphoria syndrome is really tantamount to requiring medical neglect for these patients," April Kranz, a pediatrician at Cheyenne Regional Medical Center, said.
Some lawmakers on the committee focused in particular on concerns about changing a minor's sex through surgery.
But there aren't any providers in Wyoming who offer gender-affirming surgeries — for minors or adults. Several medical providers who spoke on Friday reiterated this point after lawmakers asked multiple times about the consequences of performing such surgeries — which they characterized as "mutilation" — on a minor who might regret it later.
At one point, Cheyenne Republican Sen. Anthony Bouchard, speaking to Rose, the Cheyenne pediatrician, described a surgical procedure that he had come across during his research.
"They're adding what they call a penis, it's no bigger than the tip of this pen," Bouchard said, lifting up a pen for the audience to see.
"When I mentioned reversible procedures, I'm discussing hormone therapy primarily that is based on blocking the progression of sexual maturation, which is reversible," Rose responded. "What I had said is that no one here in the state of Wyoming is doing the types of procedures that you graphically explained for us all."
He added that the Academy of Pediatrics would oppose the kind of procedure that Bouchard had described, but that to "blanket restrict and criminalize" the process of gender-affirming treatment would be harmful. He suggested taking on the task of reducing Wyoming's suicide rate as a better way to help the state's youth.
Scott said he aimed to keep the bill "as simple as possible" rather than "getting lost in the weeds" of medical treatment.
His main goal was to set the "principle" that administering gender-affirming care to a minor with the intent of changing their sex is "child abuse."
But some felt that this approach was too broad and vague for an issue they say is complicated.
"I don't think this is a black and white issue," Baldwin, one of the senators who voted against the legislation, said. "I think this is a very gray issue."
Amber Pollock, a Casper City Council member who testified, questioned whether lawmakers have a full understanding of trans issues, or whether they've had a "close personal experience with a trans person navigating the world."
She speculated that most probably haven't.
"I don't say this to call anyone out, because the truth is, most people don't have a full understanding of trans issues," Pollock said. "They can be complex and difficult to relate to, and for many people it won't be something they confront directly in their lives. And generally, I would say it's OK that most people don't fully understand it. You don't have to understand something to be kind and respectful (to) folks. But today in this room, it's not OK to not fully understand it, because you are in a position to make life-altering decisions for Wyoming families, you are in a position to make felons out of parents who are faced with making very difficult decisions in the best interests of their children. And if that's not a responsibility that requires a complete and accurate understanding before proceeding, I don't know what is."
But Bouchard vouched in favor of the bill for the same reason, arguing that these treatments should stop for the time being because the topic is complicated.
"We need to put the brakes on and start looking at data," he said.
Let us know what you think!
Tagged:
Sen. Charles Scott
Sen. Eric Barlow
Sen. Fred Baldwin
Senate File 111
Wyoming Senate Labor Committee