Bank of Star Valley takes the role of community bank seriously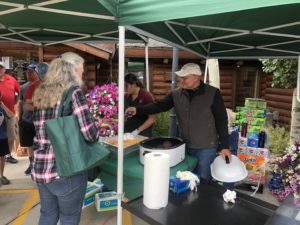 "Everyone oughta start a bank once," was the response from Rod Jensen, one of the founders of The Bank of Star Valley and its current President/CEO, when asked what it was like to engage in such an elaborate process.
"Beginning with raising capital before chartering, then engaging in a state chartering process, applying for federal reserve membership, FDIC insurance, all before enduring litigation through the supreme court – opening this community bank was a journey that continues to be a labor of love," he said.
Jensen was adamant and grateful that, "Star Valley has been extremely kind to us."
The Bank of Star Valley continues to be the only bank that is truly Star Valley's bank. It is headquartered here and owned by people from around the area. Their focus is only Star Valley. Jensen said.
"Everyone else has branches; we have roots," he explained.
With three locations, in Afton, Thayne, and Alpine, The Bank of Star Valley strives to put customers first and prides themselves in doing so.

According to their website, "The vision and demands of the Bank's founders were to restore the long tradition of home-town banking, local market knowledge, and local decision-making processes, and also to provide a focus on each customer through exceptional customer service, honesty, confidentiality, and professionalism."
Over the past 23 years, not only has the bank grown from $2 million in assets to over $220 million, but they have made great use of technology to create a safe and easy on-line banking experience for customers.
A huge amount of time is spent to protect customers from cyber break ins as well and keep customers' accounts and funds safe.
The Bank of Star Valley has a long tradition of supporting community projects and program via donations, scholarships, and event sponsorships.
In 2018 alone, they reinvested $86,000 into the Star Valley community. They even offer a customer appreciation luncheon each year as one more way to express gratitude for their valued customers.
Since the bank opened its doors, the number of banks in the country has dwindled from 9,600 to 4,600 nationwide. Jensen attributes this to federal regulation changes that make it difficult for small banks to remain open.
Despite the difficulties faced by banks, Jensen reiterated, "It is critical to have a locally owned, community bank in the community, and we're dedicated to remaining here. This is our goal, our passion, and we're going to be here for a long time."
When asked what he was most proud of in regards to his bank, Jensen warmly responded, "Having the staff I have who are so dedicated to my number one asset, which is the customer."
You can visit The Bank of Star Valley at any of their locations in Alpine, Thayne, and Afton, or check them out online at https://www.bosv.com.
Let us know what you think!
Tagged:
afton
Alpine
FDIC
Rod Jensen
thayne
The Bank of Star Valley