Bear Lake High School Golf Fundraiser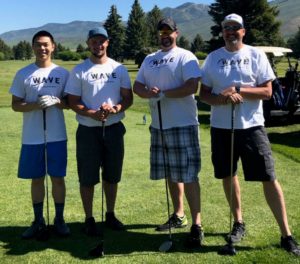 Golfers representing the new hit music radio station in the Montpelier area played in the Bear Lake High School Golf Team fundraiser tournament at the local municipal course.
The Wave, formerly KVSI, can be located on your radio dial at 101.7 FM and on 940 AM in the Bear Lake are and extends all the way into Utah and Wyoming.
The scramble tournament used teams of four and utilized a shotgun start for an 18-hole outing.
The Wave players pictured from left to right: Jeff Wu, Sam Roberts, Bart Bassett and Jared Hillier.
Listen to the Morning Chit-Chat every weekday morning on The Wave with Lisa Hiller or take the station with you by downloading the SVI Media App which is free from Apple or Android. Also be sure to follow The Wave on Facebook with new items every day.