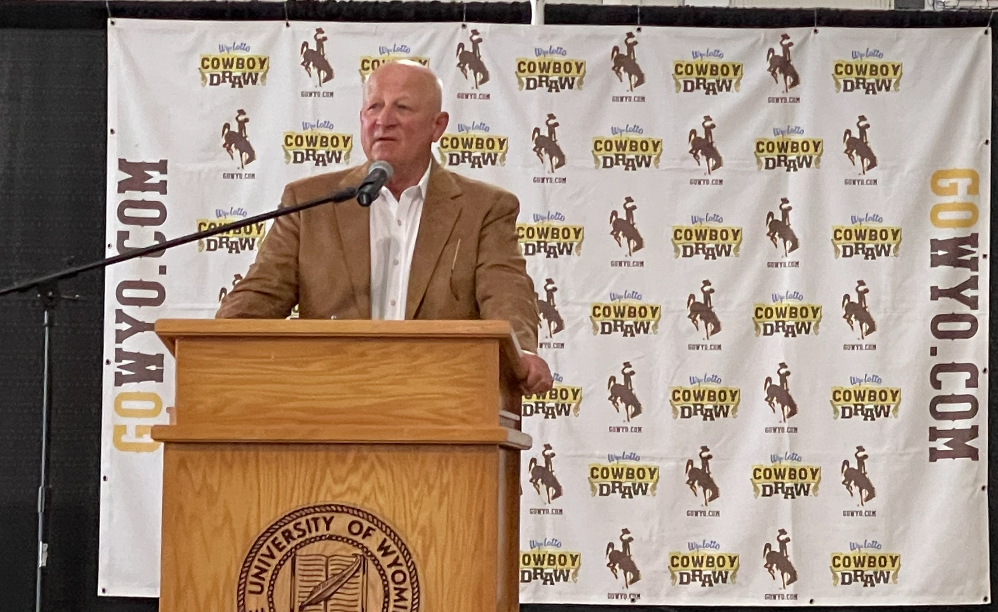 As part of UW Football Media Day in Laramie, Wyoming Head Football Coach, Craig Bohl says he and the team "begs to differ" with those who feel the Cowboys will be in the bottom half of the Mountain West this upcoming season.
Addressing members of the media as well as UW supporters and flanked by the team, Bohl said "there is greatness here. I'm convinced there is greatness." Bohl also pointed to recent banners hanging in the Indoor Practice Facility and emphasized the lack of a conference championship banner and said "It's coming soon."
The Bronze Boot was prominently displayed as was the fact that the Cowboys have held the traveling trophy five of the last six years.
The Cowboys are coming off 7-6 season with an Idaho Famous Potatoes Bowl win. Wyoming was predicted by conference media to finish fifth out of six in the Mountain Division and had no pre-season All-Conference selections. They will start their season in Big-10 country as they take on the University of Illinois on August 27. Wyoming hosts Tulsa for their home opener on September 3.
As for the battle with the Illini, there already appears to be some locker room material as Coach Bret Bielema recently addressed his own media and referred to their opening match up against "Wy-ami".
Coach Bohl as part of the account said "Wy-ami?', that's going up on the bulletin boards and football is not too far away".
The Cowboys are currently 10.5 point underdogs in that game. Wyoming Football can be heard on The Spur all season long as part of the Cowboy Sports Network.

Let us know what you think!
Tagged:
Craig Bohl
Mountain West Conference
University of Illinois
University of Wyoming Football