A year ago the Fresno State Bulldogs claimed the Mountain West championship by knocking off the Boise State Broncos on their own blue turf.
If the media covering the conference are correct, the two will clash once again for MWC supremacy this season with each team predicted to win their respective divisions.

Boise State picked up 15 of 21 first place votes to outpace Utah State in the Mountain Division prognostications and a total of 120 points. The Aggies are expected to challenge for the Mountain Division crown as they received six first place votes and a total of 108 points. The Mountain standings then went with Air Force (73), Wyoming (66), Colorado State (52) and New Mexico (22).
Fresno tallied 17 of the 21 first place votes for the West Division and a total of 122 points. San Diego State finished with a trio of first place votes and Hawai'i nabbed one. The Aztecs finished with 106 points in the poll. The Nevada Wolfpack (74) was next followed by Hawai'i (67), UNLV (51) and San Jose State (21).
• Six Bowl Games
A year ago the Wyoming Cowboys were among four teams in the country to be bowl-eligible but not receive a bowl invite. MWC Commissioner Craig Thompson was asked about this scenario and future bowl tie ins for the league on Tuesday, July 23.
Currently the Mountain West has bowl tie-ins with the Hawai'i, New Mexico, Arizona and Potato bowls as well as a what is expected to be a new bowl game in Los Angeles. The commissioner stated that the league was expecting to name a sixth bowl tie-in this week.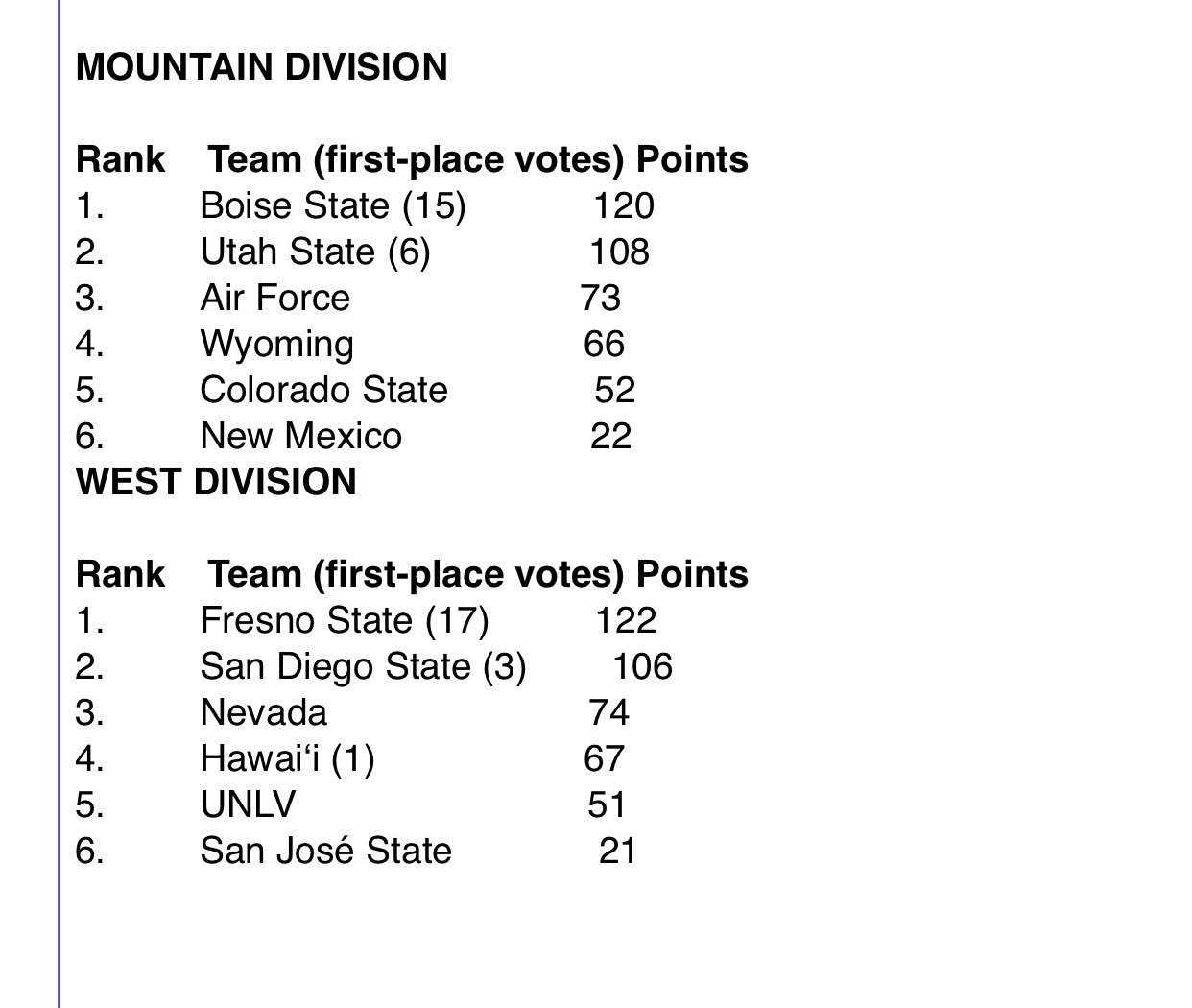 Let us know what you think!
Tagged:
Boise State Broncos
Fresno State Bulldogs
Utah State Aggies
Wyoming Cowboys