Book Review: "Spin the Dawn" and "Unravel the Dusk" by Elisabeth Lim.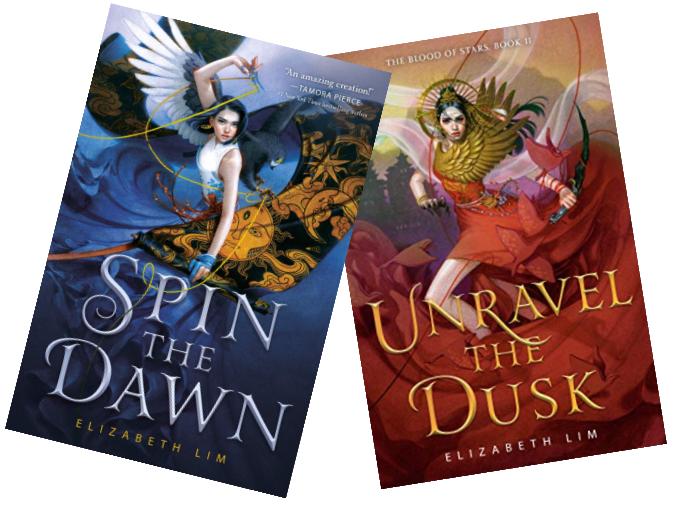 By Mariah Bassett
Library Assistant, Star Valley Branch Library
"Spin the Dawn" by Elisabeth Lim is basically "Project Runway" meets "Mulan." It's about a girl named Maia, whose tailor shop owning family is struggling after the last war. One day a royal messenger summons her ailing father, once a tailor of renown, to court for a job.
Knowing that her life is forfeit if discovered, Maia decides to pose as her youngest brother and vyes for the job to save her family from ruin. As one of twelve tailors vying for the job, nothing could have prepared her for the final challenge: to sew three magic gowns for the emperor's reluctant bride-to-be, from the laughter of the sun, the tears of the moon, and the blood of stars.
What I loved most about this book was its adventure. There's lots of sewing, love, magic, secrets, betrayal, attempted murder, adventure, demons, ghosts, and war! The trials to get the items for the dresses are crazy; each harder than the last. And once she makes the dresses, the book gets really crazy. There's also the love story.
Now, "Spin the Dawn" was great, but the second book ("Unravel the Dusk") in the duology is even better!
Something happens to Maia when she is trying to complete her last trial, to get the blood of the stars, which sets us up for the second book.
I won't spoil it for you, but she has to go back to the place of the last trial and she keeps fighting to not go there because once she goes back, she can never leave. Her mental state is really not well, due to her accident at the last trial, plus there is a war going on and she's being hunted by both the empire and his bride's father.
"Spin the Dawn" and "Unravel the Dusk" are available through the Lincoln County Library System and at linclib.org on cloudLibrary and OverDrive as an eBook.
Tagged:
Lincoln County Library System
Spin the Dawn
Star Valley Branch Library