Braves at home as they host Mustangs and Tigers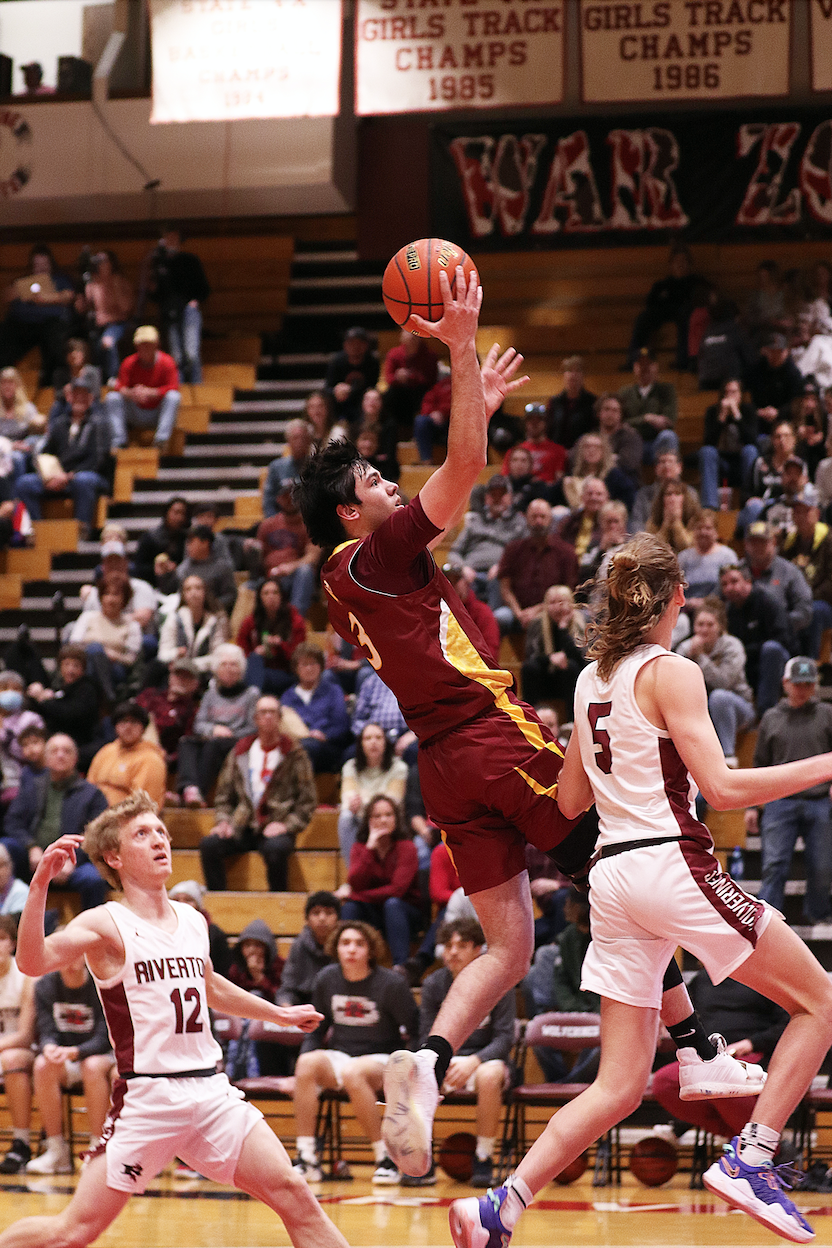 After a handful of home games and what is considered a nearby roadie to Evanston, the Braves loaded up and went on their longest overnighter of the regular season as they traveled to the 4A Northwest locales of Cody and Riverton.
On Friday night, the Braves played their rivals in Cody but on this night the score was very lopsided with Star Valley routing the home court Broncs, 62-42.
"I thought we played well in Cody," replied Head Coach Paul Kabonic. "It was a pretty complete game for us with three guys in double-figures and we shot about 40-percent from the arc. They had a hard time scoring against us. They aren't bad; they're athletic; I just think we made it hard for them."
The trio of Kort Hilton, Croix Jenkins and Dylan Johnson did the majority of the scoring, notching 18, 16 and 14 points respectively. The team was very unselfish with the ball as they compiled 15 assists in the game. Hilton and Tate Frome led that effort with three apiece.
Jenkins and Hilton combined to connect on seven of 13 attempts from behind the three-point line.
Defensively, the Braves continue to be one of the better units in the state, allowed just 42.7 points per game over their last eight outings.

Saturday was against #5 Riverton on their home court and the game swung back and forth several times until the final eight minutes. The Wolverines had been luke-warm from the field but turned up the heat from distance as they drained four of their seven made three-pointers in the final quarter. The Braves were unable to keep up offensively in the waning minutes as the Wolverines made 19 of their 26 free-throw attempts. Star Valley fell by a final score of 54-42.
The loss came despite a huge offensive performance from Hilton who finished with a season-high 26 points which included five three-pointers. No other player was able to reach double figures and Riverton out-rebounded by Braves 24-15.
Foul trouble plagued Star Valley throughout the game with Jacob Hodges and Dylan Johnson fouling out and Hilton finishing the game with four.
"I liked part of the Riverton game but I felt like we were a little too respectful and didn't take it too them like we should have," Kabonic said. "It reminded me of the Green River game honestly and they go hot and we go cold. We had some bad rotations on our defense so we're looking at that this week to improve on it. Just simple stuff that we know that we didn't do."
The Braves now return home this weekend with a game on Friday night against the Natrona Mustangs. The varsity boys tip-off is scheduled for 7:30 pm.
The team will also be at home on Saturday afternoon as they host the Rock Springs Tigers for a 2 pm varsity start.
"They both are under-performing," Kabonic said of the two visiting programs. "They have athletes but aren't winning a lot of games just yet due to some new coaching and things like that. I think they are a bit young. Natrona was playing with everybody and then they kind of struggled this past weekend but I'd expect both teams to be athletic. I don't think we can look past either one of them."
Both varsity games will be streamed by SVI here at svinews.com. Star Valley High School will be providing gym cameras at the same links for underclassmen contests.

Let us know what you think!
Tagged:
Cody Broncs
Croix Jenkins
Dylan Johnson
Kort Hilton
Natrona Mustangs
Paul Kabonic
Riverton Wolverines
Rock Springs Tigers
Star Valley Braves Basketball