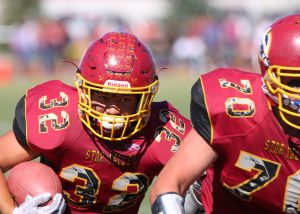 In talking with head coach McKay Young, one is reminded just how far the Braves came over the period of three months last season to hoist the program's third 3A title in the last four seasons. The team was playing the Hillcrest Knights inside the dome on the campus of Idaho State University and it wasn't until just before kickoff until Young realized just how much the team still had to learn.
"You just expect the machine to run itself," he said. "When you're returning five or six starters you have guys that should know what should happen. Last year we were kind of lost."
Young detailed how special teams coach Winston Patterson will roll a ball to a random spot and expect the team to pounce before the kickoff. Against Hillcrest, the team just looked at the pigskin and then to each other. Young said the last 12 months have provided a lot of learning.
"So we've gone from the really green crew that we went into the minidome last year and this year we're flirting with ten starters back," he said of this year's squad. "It's been a lot quicker install. You're able to get a lot more complex in a hurry."

The speed of this year's learning curve bodes well for a program that will face off against returning Utah 3A champion Summit Academy on August 30 on the road before traveling to see the Blackfoot Broncos from the Idaho 4A Class. Then the team will host the Sugar-Salem Diggers who won the Idaho 3A state title last year after trouncing Star Valley and injuring two of their best playmakers on consecutive plays.
All three bring specific story lines but this year's team brings back an impressive group which includes five returning All-State players, three of which play on the offensive line in Parker Merritt, Trent Clark and Brandon McDonald.
Offensively the team also returns R.J. Cazier who rushed for more than 1,200 yards a year ago and Chase Merrill who was a Super-25 selection and is drawing interest from regional universities. In addition, David Castillo brings back nearly 550 rushing yards.
The team will also have a pair of players in Dean Shaw and Brant Nelson who both put up impressive numbers at the quarterback position.
When asked what stood out to him on the first official day of practice, Young pointed out more of the guys in the trenches.
"We've got a really good looking group of young linemen," he sated. "There's no mystery that we have a good group coming back but I'm really excited about the group right behind them too. Big, committed athletic kids. That stood out to me."
With over 90 players in attendance on the first day of practice, the team appears poised to make another deep run into November where the program will be aiming to win their fourth title in five years.
Let us know what you think!
Tagged:
Blackfoot Broncos
Star Valley Braves football
Sugar-Salem Diggers
Summit Academy Bears