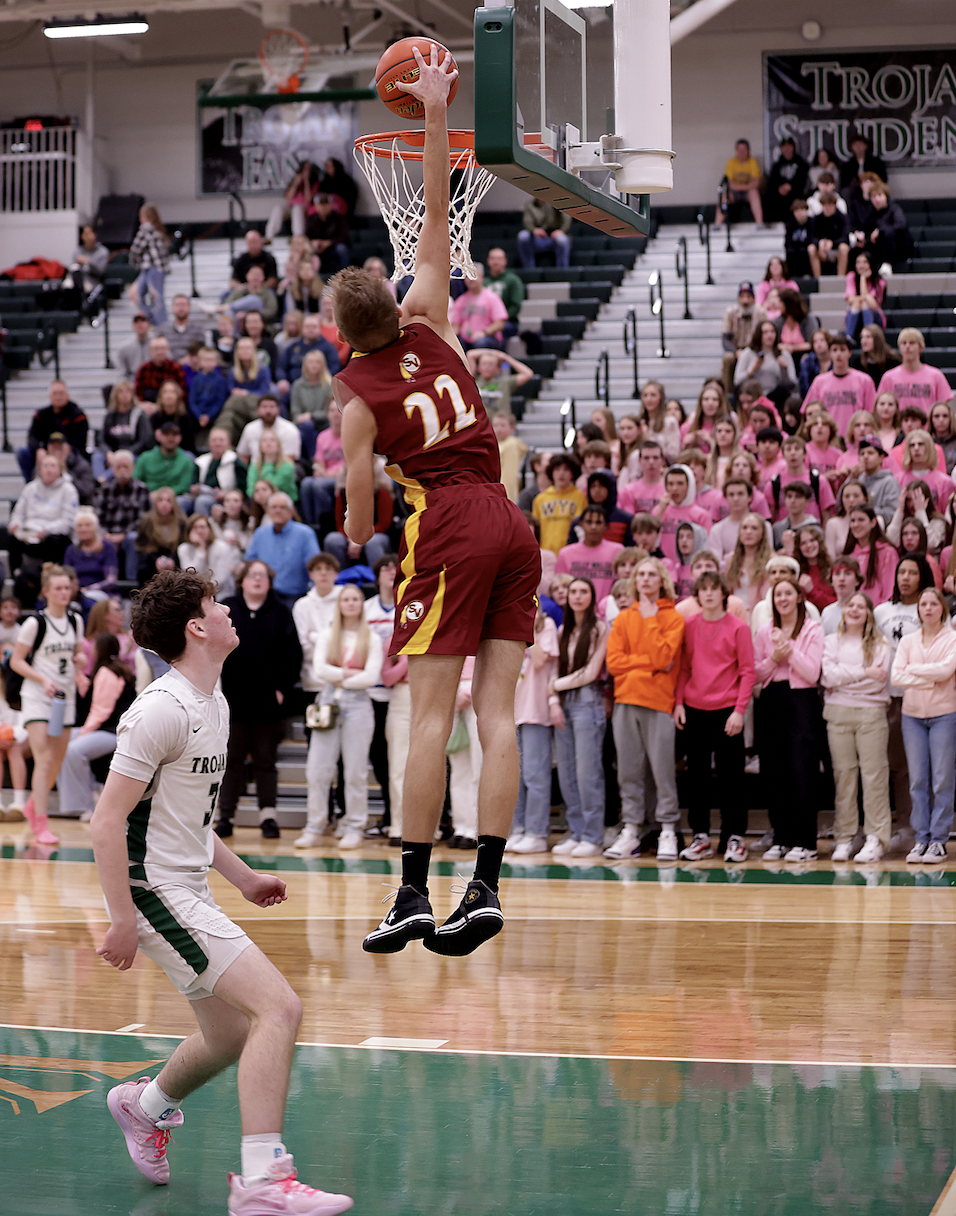 Green River: 55
Star Valley: 80
On Senior Night the Star Valley seniors put on a show for the home crowd in a 80-55 victory over visiting Green River. 
The game started off as a track meet with the Braves scoring nearly at will but with the Wolves burying six, first-quarter three-point baskets and a 21-20 Wolves lead. 
Taft McClure was dominant during two stretches of the game on his way to a career-high 30 points. He also pulled down a game-high nine rebounds and hit four of his five three-point shots. 
Croix Jenkins had two dunks in his first three baskets and added another jam in the fourth quarter on his way to a season-high 20 points. McClure also had a breakaway dunk and Jacob Hodges threw down yet another on a drive from 15 feet away from the basket. 
It was Senior Night for Hodges, Jenkins, McClure, Ridge Nield and Luke Linford.
The win put the Braves into the top spot in the Southwest District as they own the tie-breaker over the Jackson Broncs with wins over Rock Springs and Cody. 
Star Valley High School is the host of the 4A West Regionals starting next Thursday, March 2.
Green River 56
Star Valley 55
It was a roller-coaster of a game for the varsity girls as the Lady Braves jumped out to a 14-6 lead but then watched as the Wolves dominated the next two quarters to take a 19-point lead into the fourth quarter. 
With four players in foul trouble, Star Valley rallied in the fourth quarter and outscored the Wolves 24-6 and appeared to tie the game at the free-throw line with just seconds remaining but the shot was waved off due to a lane violation. It turned out to be the difference in a crazy 56-55 decision in favor of Green River. 
Kenlee Engelhardt carried the team with 28 points and nine steals before fouling out in the final minute. The Wolves had three players in double-figures and hit seven of 11 three-point attempts compared to the zero for ten result for the Lady Braves. 
It was Senior Night for Cameron Erickson, Anna Olenslager and Maddie Hale.
The loss snapped a five-game winning streak for Star Valley and dropped them into the #2 seed of the 4A Southwest. 
Let us know what you think!