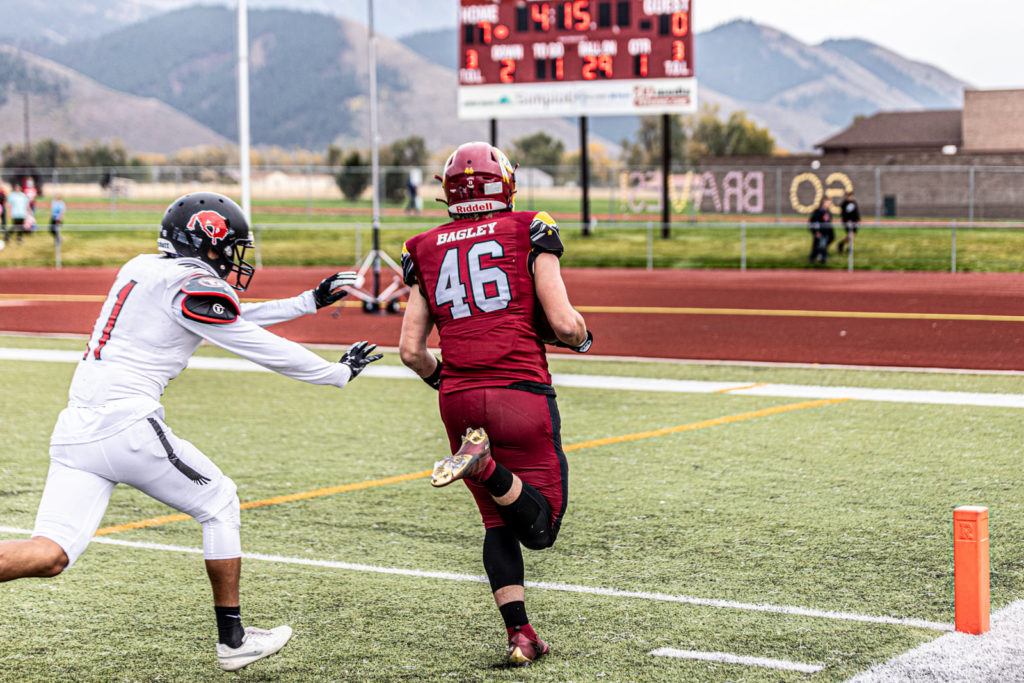 ◆ Star Valley travels to Jackson to open up 3A West play this Friday.
Despite an 0-3 start, last week's match up with visiting Rawlins was a mismatch on paper and that is how the contest played out as the Braves substituted liberally in a 48-8 drubbing of the Outlaws.
Brant Nelson completed nearly 75-percent of his passes and threw four touchdowns and a whopping 25 players touched the ball on offense over the course of the game.
This was mostly evident in the running game where 19 different ball-carriers combined for over 300 yards on the ground and a trio of rushing touchdowns.
"It was good for us," Coach McKay Young said of the outing. "It's obviously good to get the W and feel a little more like the Star Valley football we're all used to. Still a lot of mistakes to fix off the film and hopefully a cleaner game this week. Overall I thought it was a good effort in all three phases."
With two Wyoming 3A games already canceled due to players testing positive for the coronavirus, officials opted to honor seniors prior to the game where Young continued a tradition of honoring his seniors by giving them a chance to carry the football.
"It was a great senior night and to have over 25 kids touch the ball is terrific," he said. "I think six different kids scored a varsity touchdown so hopefully that's something they remember. It was a time to get a lot of guys to let them touch the ball."
JaAren Smith, Waylon Nelson, Cache Bagley, Zac Patterson, Gabe Nield, Tristan Kleeman and Cody Gustafson all found the end zone.

The win improves the Braves' record to (1-3) on the season as the 3A West games begin this weekend. Up first for Star Valley is rival Jackson (3-1) who have looked impressive in the first month of the season.
"This has been a class they have looked forward to for awhile," said Young. "They started a lot of sophomores last year and they've been licking their chops. It's Jackson versus Star Valley. There's a lot of people in both communities that only care about this game. There's people betting money and soda and boxes of shells that are into this game. I think the kids are dialed in. We've talked to some of the past players who noted just how much they enjoyed practice during Jackson week. It's rivalry week."
One aspect that will likely be very different than the big match ups between the two schools over the past half-dozen seasons will be a lack of fans as the pandemic and Teton County in particular will restrict the number of fans allowed into the venue.
"I'm interested to see what it feels like," Young added. "Every kid only gets a few guests so I'm excited there will be some that will get to watch."
Young also emphasized that Star Valley will need to play a clean game and avoid crucial mistakes if they want to capture a win against the Broncs.
"There's a lot of people here and in Idaho commenting on what a young team we have," he said. "We do have some that have [experience], but there are a lot of fresh faces and I think we have a ton of room for growth from the beginning of the season to the end. Our hope is that it will continue to trend upward and by the end of October we can continue to get better. The games get more important every week now. My hope is that we can continue to mature and fix things that have hurt us early in the season."

• Coverage
The Aspen Physical Therapy Countdown to Kickoff will once again begin at 6:25 p.m. this Friday night as Star Valley travels to Jackson Hole High School. The streaming broadcast will be available at svinews.com, on the SVI News App and also promoted at the Star Valley Independent Facebook page.
• Recapping the Rivalry
Jackson Broncs
First Game: 1931
Overall Series: Star Valley leads 66-16
In Jackson: Star Valley leads 31-7
Last Game: Braves won 42-21 in 2019 3A Semifinals
Trends: Braves have won the last five meetings.
Rawlins Outlaws: 8
Star Valley Braves: 48
Passing
Brant Nelson 17 of 23 169 yds 4TD/Int
Rushing
Kale Johnson 6 for 42 yds
Lane Oesch 5 for 76 yds
Lucas Chappell 4 for 37 yds
Brant Nelson 3 for 18 yds
Cody Gustafson 3 for 13 yds TD
Kaleb Spaulding 3 for 5 yds
JaAren Smith 2 for 27 yds TD
Ryker White 2 for 18 yds
Caleb Fila 2 for 14 yds
Tony Mickelson 1 for 17 yds
Phoenix Merritt 1 for 13 yds
Kax Stephens 1 for 8 yds
Xavier Jirak 1 for 6 yds
Gabe Nield 1 for 5 yds TD
Keaton Dana 1 for 5 yds
Joshua Semadeni 1 for 4 yds
James Erickson 1 for 1 yd
Eamonn Walters 1 for -1 yd
Kai Farley 1 for -4
Receiving
Winston Green 7 for 74 yds
Tristan Kleeman 4 for 41 yds TD
JD Morris 2 for -5 yds
Cache Bagley 1 for 29 yds TD
Zac Patterson 1 for 15 yds TD
Lane Oesch 1 for 11 yds
Waylon Nelson 1 for 4 yds TD
Total Yards
Star Valley: 304 Rushing, 169 Passing, 473 Total
Rawlins: 60 Rushing, 140 Passing, 200 Total