Braves move into the driver's seat with pair of District wins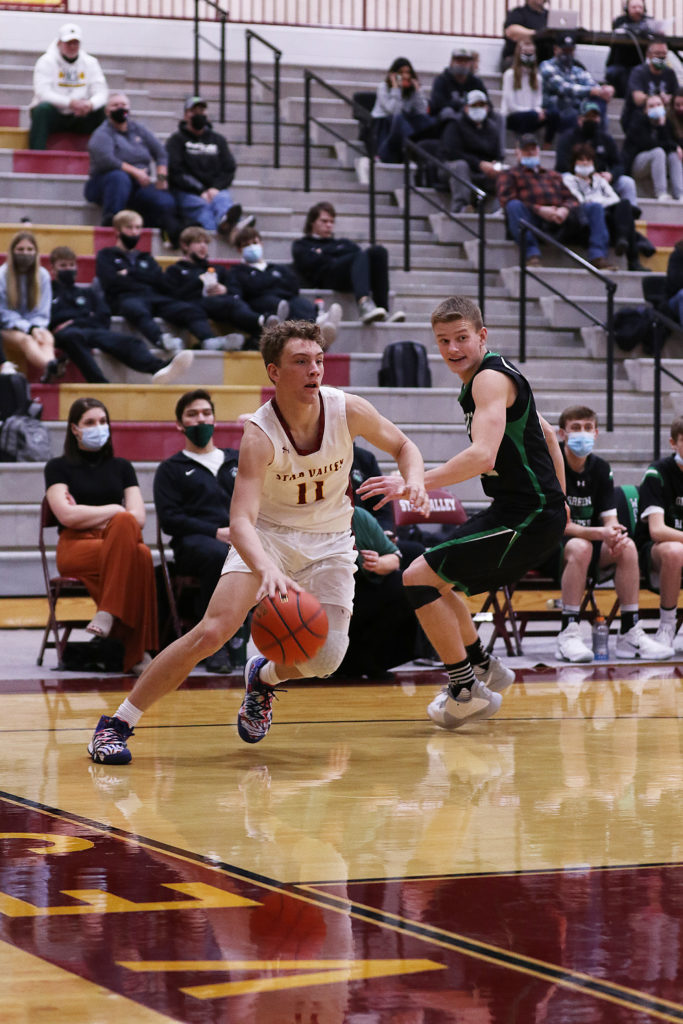 ◆ Star Valley hosting Cody and Riverton this weekend.
The Star Valley boys' basketball team won their fifth straight game as they picked up a pair of Southwest District wins on the home court last week.
The Braves shut down Evanston in a 50-37 victory on Thursday evening and then outlasted Green River on Saturday afternoon 52-47.
"We did what we were hoping to do and put ourselves in a good spot moving forward," said Head Coach Paul Kabonic. "I think Green River and Evanston present two different teams for sure. We really prepared for Evanston but those first four or five minutes really set the tone for the weekend."

• Vs Evanston
The Braves built a first-half lead with tenacious full-court defense and then clamped down on the Devils in the second half with a slowed down half-court offense. Tristan Kleeman led the team with 18 points while Brant Nelson and Kolter Merritt each scored ten points apiece. Nelson also compiled eight rebounds in the win.
• Vs Green River
Kortlyn Hilton stood out on Saturday's game against the visiting Wolves as he led the way with 17 points. Kleeman added ten as the team rolled up 18 steals against the Wolves.
The wins improved Star Valley's record to (5-6)(3-0) and putting them in position to control their own destiny for the Southwest District. This season that element may even more important with the one-game elimination format due to COVID adjustments and restrictions. The top seed will play the #4 seed in the district in a win or go home scenario. The #2 and #3 seeds will play in the same situation.
After earning a trip to state, the two winners will play the two winners of the Northwest District for state seeding.
In other words, the days losing on Day One and still going to state are gone. At least for this season.
This week is the cross-over for the two districts as the Braves host the Cody Broncs (2-8)(2-1)and the Riverton Wolverines (5-5)(3-0). The Wolverines appear to be on the same upward trajectory as the Braves with a pair of wins over Natrona County and Rock Springs this past weekend.
"I think Riverton is the better of the two teams," Kabonic said. "They were really young last year and both their post-players are back. They are a pretty solid team, they remind me a little bit of us in some ways although they are bigger than us in the middle."
Kabonic reiterated that focusing on the Wolverines could mean losing to the Broncs and said the Braves cannot afford to overlook anyone. He mentioned what makes the Cody squad go.
"With Cody it's the Talich brothers," he said. "The sophomore is the better of the two."
Let us know what you think!