Dahl Erickson, SVI Media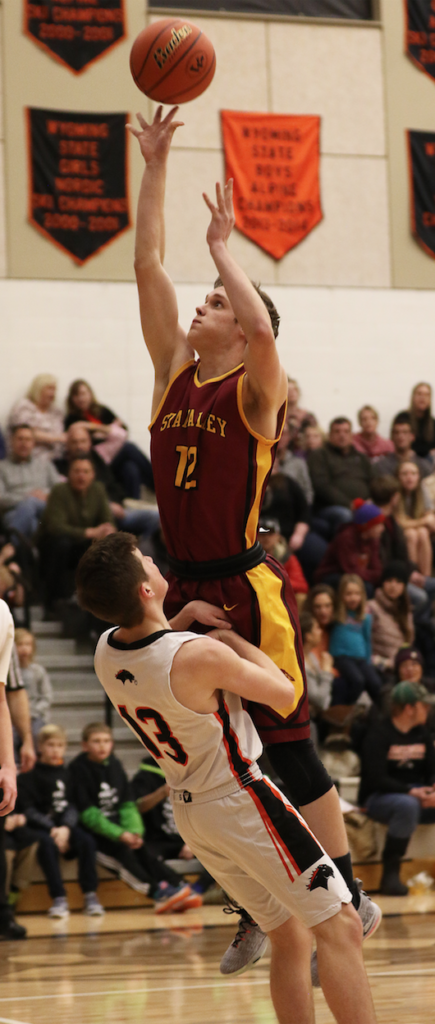 Although games against Jackson and Evanston are big enough on their own due to the long-time regional rivalry, with Star Valley's move to the 4A Class and sharing the Southwest with those teams makes things even more important.
"We felt like it was absolutely critical that we start pod play at 2-0," said head coach Paul Kabonic. "For seeding purposes on the other side, the #4 team in our district will have to face off against [Kelly] Walsh and we want to avoid that in the first round."
That urgency was evident as the Braves shut down the Broncs on the Jackson court on Friday night, 64-45 and then ground out a win over visiting Evanston, 45-39.
The wins give Star Valley that vital 2-0 start within the Southwest with a game against 3A Pinedale this Friday night before returning back to Southwest play against Green River on Saturday.
• @ Jackson (Won 64-45)
A 9-0 run helped the Braves to a ten-point advantage at halftime. The Star Valley defense was tough for the Broncs to solve.
"I thought we played really well," Kabonic said. "Defensively we were outstanding. We didn't turn it over and we made it hard for them. I felt like we had a hand in their face. We shot it well inside and got to the rim well. Our three-point shooting is not there yet but I think it will be at some point."
Chase Merrell was a force inside and outside as he dictated passing lanes and contested shots.
"Chase had an awesome night in Jackson," Kabonic added. "We played that 2-3 zone on them and extended to their shooters. We really relied on Chase to challenge anything at the high-post and he blocked a couple shots and did an outstanding job. He was awesome rebounding game. Dean and Taylor had good nights getting into the intermediate zone and then running on them."
Merrell finished with 14 points and Horsley had the game-high of 15 points.
• Vs Evanston (Won 45-39)
After losing a disappointing non-conference game against the Red Devils during the Star Valley Shootout, the Braves had a different outcome as they played from the lead for most of the contest.
"We wanted to run our defense a few different ways," Kabonic said. "We wanted to contest their long-range shooter and pack that zone so they couldn't get second shots. I think we got up to double-digit steals. Again Chase challenged everything inside. They will stop you in your transition so I wasn't surprised with the [low] score."
Dean Shaw led the way with 12 points and Horsley finished with ten.
•Up Next
Star Valley will be at Pinedale High School on Friday evening for a clash with the 3A Wranglers. The Aspen Physical Therapy Countdown to Tip-off will begin at approximately 6:45 p.m.
The team will return home to host Green River on Saturday for a 5 p.m. varsity start. Coach Kabonic spoke about prepping for both teams.
"The nice thing is that they are both uptempo teams," he said. "Green River is critical for us. We want to be 3-0. Winning this one in particular sets us up really well. Green River is good. They had a terrible start against Evanston and were down by 20 and cut it to five by the end. They can shoot themselves into a game. They remind me a lot of Thunder Basin. "
Let us know what you think!
Tagged:
4A Southwest District
Alek Lawson
Andrew Jeske
Evanston Red Devils
Green River Wolves
Jackson Broncs
Paul Kabonic
Pinedale Wranglers
Star Valley Braves Basketball