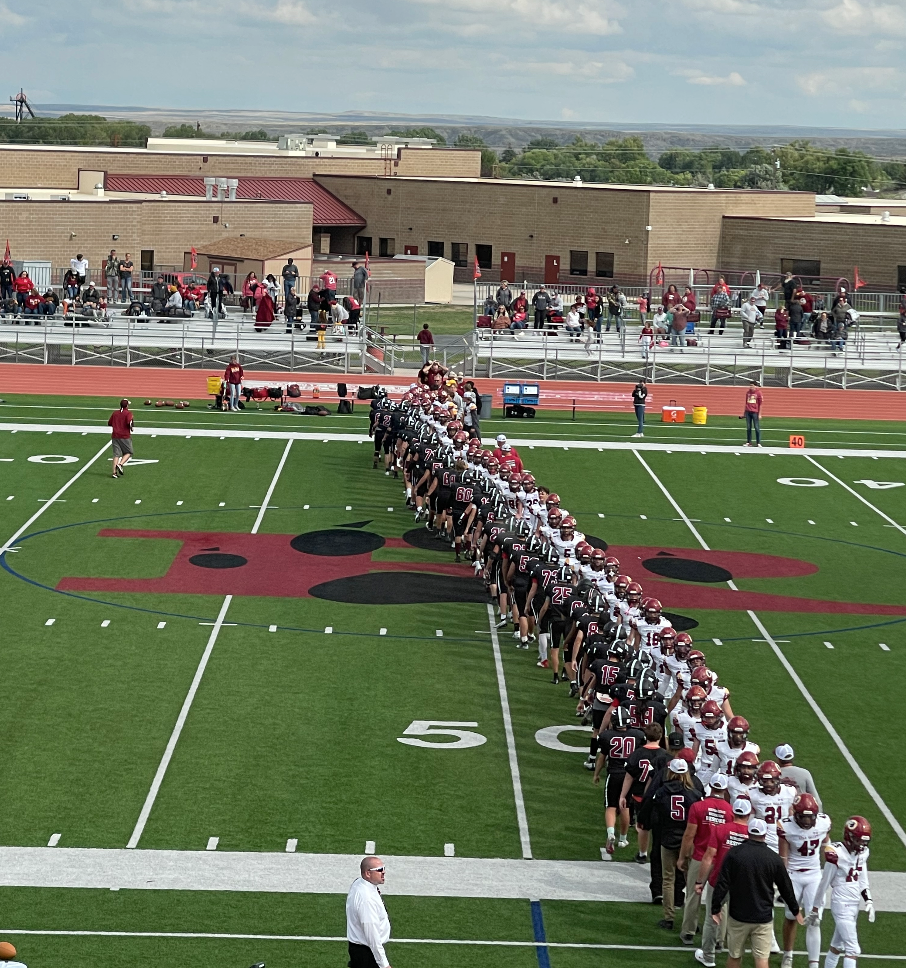 From the opening kick-off the Star Valley Braves dominated their game with the Riverton Wolverines as Star Valley improved to 3-1 on the season with a 59-19 win in Fremont County.
Wyatt Crogg opened the game by returning the kick-off for a touchdown. Unfortunately for the Braves a penalty took the score off the board and placed the ball at the Riverton 25-yard line. Crogg caught the first of his two touchdowns just a few moments later.
It would be the first of many.
Choosing to focus on the passing game, Coach McKay Young had gunslinger Taft McClure spreading the ball around like a toddler shares a virus with 11 different receivers catching at least one ball. McClure, who just set a school record two weeks ago for passing yards in a game, shattered his own mark with a total of 441 passing yards. He also broke the school mark for touchdowns thrown in a single game as he finished with seven. The old mark of six was set in 2014 by Reese Hiibel who did so in Worland.
Crogg caught four passes for 144 yards and added another long touchdown. Chase Stewart hauled in seven to finish with 143 yards and three touchdowns. Jacob Hodges and Luke Linford both caught touchdown passes as well.
Defensively, Star Valley recovered a pair of fumbles and picked off Riverton quarterback, Darrick DeVries, for an interception. Jayden Crook had the interception which he returned more than 40 yards to the two-yard line. Crook also had a rushing touchdown in the game.
Ty Sheets led the Wolverines with 119 yards receiving and a touchdown. Dominick Payne had a pair of rushing touchdowns but the Riverton running game finished with just 59 yards on 27 carries.
Wrapping up the scoring, Star Valley's McKell Merritt drilled a 33-yard field goal late in the game. The Braves finished with over 500 yards of offense.
Up next for the Crimson & Gold will be yet another road trip as they head to Evanston for an afternoon contest with the Red Devils. Kick-off on September 23 is scheduled for 3 pm. SVI Media will be there to stream the game and also provide audio coverage.
Let us know what you think!
Tagged:
Riverton Football
Star Valley Football