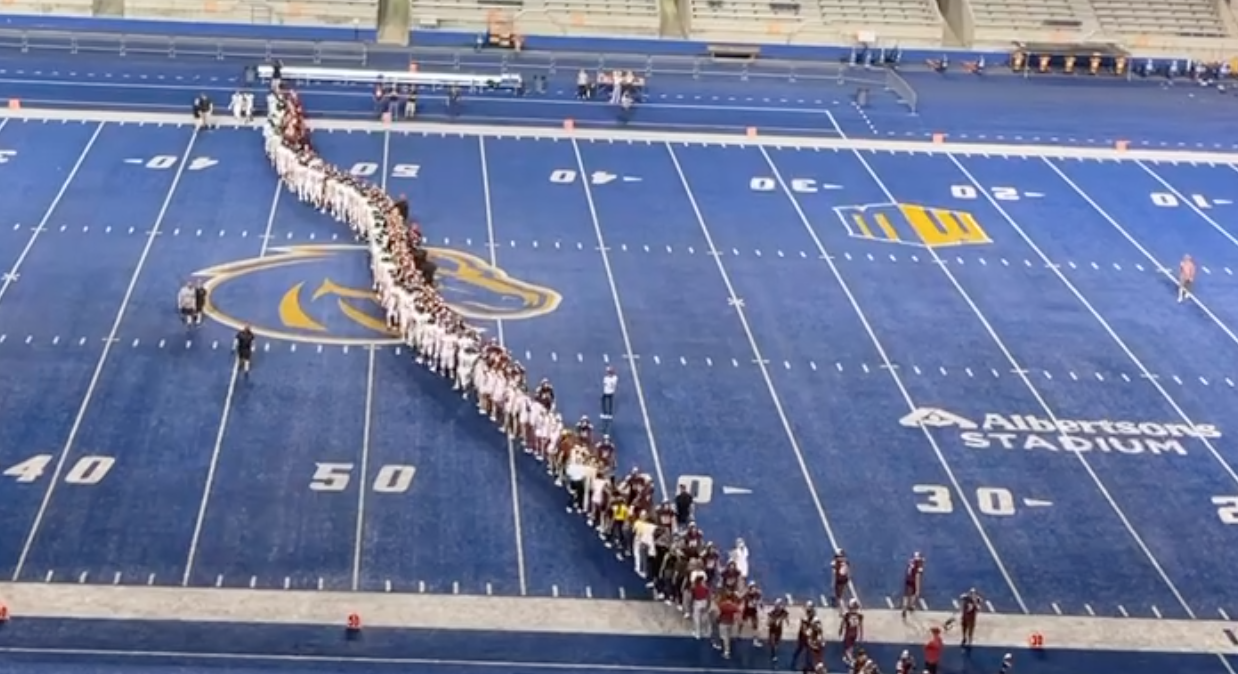 Luke Linford and Chase Stewart each threw and caught a touchdown pass and the Braves passing game came alive in the second half as they overcame a 7-0 deficit to score 21 unanswered in a 21-7 victory over the Shelley Russets. The game was played at Albertsons Stadium on the campus of Boise State University. In his first start at quarterback, in for an injured Taft McClure, Linford overcame a pair of interceptions to throw for nearly 200 yards and a score and caught the go-ahead from Stewart. Jacob Hodges had two catches for 105 yards including a 67-yarder that set up the Braves' first score. McKell Merritt hit all three of his PAT attempts. Tristan Hilton added the final touchdown on a one-yard plunge after the defense forced a turnover on downs at the Shelley 25-yard line.
It was a pattern for the night as the Star Valley defense did not allow a prolific Russet run game to get away from them and put enough pressure on the passing game to keep Shelley from finding a rhythm. Brandon Beck was a terror from his linebacker spot and except for one perfect Shelley pass that resulted in their lone touchdown, the Star Valley defensive backfield was excellent in coverage as they forced quarterback, Brecker Williams to finish with 10 completions on 25 attempts and just 88 yards. Ryker Clinger led the Russets with 58 rushing yards in 19 carries. Kaden Kidman finished with 87 all-purpose yards.
The Braves will have their lone home game in the month of September next Friday as they host the Preston Indians in Afton. PHS suffered a 28-0 loss to 4A Lakeland to open their season on August 26.
• Cross-Country
SVHS ran in RExburg, Idaho as part of the Madison Dash on Friday afternoon, a 3,000-meter course rather than the traditional 3.1-mile course. In the Freshman-Sophomore race, the Braves had the top score of 28 compared to second place South Fremont who had 69. Sophomore Jase Burton was second overall with a time of 9:31.7. Colton Cranney, Tel Parry, Matthew Heywood and Brigham Hahn all finished in a pack in slots 6 through 9.
The Lady Braves underclassmen placed fourth with a team total of 85 points, just four slots out of second place. Madison took the best score with a 30. Star Valley was led by freshman Gracie Visser who was 13th overall.
In the boys Junior-Senior race, Star Valley scored 55 to place second behind Madison. Junior Peter Lorch led the way with a time of 9:34.2. Beau Skinner and Drake Plowman were sixth and seventh respectively.
The Lady Braves upperclassmen finished second with a total of 50 points. Madison won with a 31. Senior Elsie Pieper was third overall with a 11:56. Kaia Barkdull and Kaele Opitz were sixth and seventh respectively. The SVXC team will be in Soda Springs, Idaho on September 3 as they compete in the Cardinal Classic.
CLICK HERE FOR FULL RACE RESULTS –
Let us know what you think!