Braves push winning streak to seven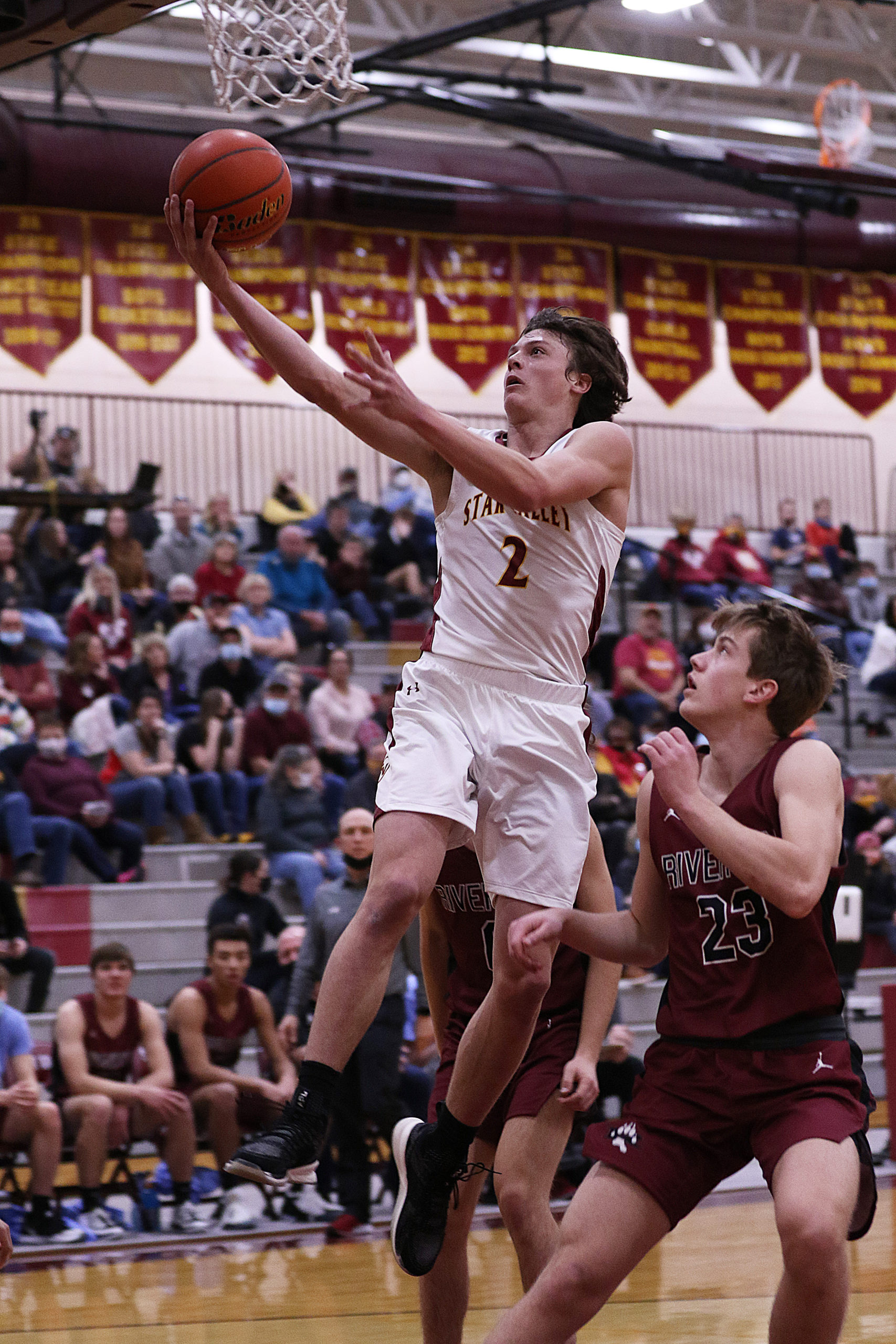 ◆ Star Valley on the road this week in Casper and Rock Springs
The Star Valley boys varsity squad notched their seventh straight win of the season as they dispatched both Cody and Riverton by more than 20 points in a pair of contests over the weekend.
Defensively the Braves held the two visiting teams to a total of 66 points and spread out their offense among the squad with three players reaching double figures against the Broncs. Tristan Kleeman led the effort against Cody with 15 points. Brant Nelson had 14 and Kortlyn Hilton finished with 12.
Against the Wolverines the match up on paper pitted the two first-place squads from the Southwest and Northwest Districts but Riverton could not keep up with the Braves.
Kolter Merritt scored 22 points in the first three quarters and collected six steals as he dominated the game. Brant Nelson compiled six assists and six steals of his own to go with nine points.

This week the team hits the road for the first time since a trip to Jackson in the third week of January. They face off against the Natrona Mustangs (3-9) on Friday evening and the Rock Springs Tigers (2-10) on Saturday.
• Coverage
The varsity boys game is scheduled to start on Friday night at 6:30 p.m. with the Aspen Physical Therapy Countdown to Tip-off taking place just prior.
Saturday's game in Rock Springs is slated to begin at 3:30 p.m. with the pre-game again taking place beforehand.

Cody Broncs: 30
Star Valley Braves: 51
Name Pts Reb Ast Stl Blk FT
Kolter Merritt 4 5 2 2 2 n/a
Kortlyn Hilton 12 1 1 1 0 n/a
Cache Bagley 0 1 0 1 0 n/a
Brant Nelson 14 5 2 0 0 6/8
Tate Frome 0 1 2 1 0 n/a
Tristan Kleeman 15 4 0 1 1 2/3
Zach Johnson 0 0 2 1 0 n/a
Dylan Johnson 3 0 0 0 0 n/a
Croix Jenkins 0 2 1 0 1 n/a
Ridge Nield 3 1 0 1 0 n/a
Totals 51 24 12 10 4 57%
Cody 30 25 5 7 0 75%
Riverton Wolverines: 36
Star Valley Braves: 56
Name Pts Reb Ast Stl Blk FT
Kolter Merritt 22 4 3 6 0 1/1
Kortlyn Hilton 6 2 1 1 0 n/a
Cache Bagley 0 2 0 0 0 n/a
Brant Nelson 9 3 6 6 0 1/3
Tate Frome 3 0 0 0 0 3/4
Tristan Kleeman 5 3 0 1 0 2/2
Zach Johnson 7 2 0 0 0 n/a
Dylan Johnson 2 0 1 0 0 n/a
Jacob Hodges 0 3 0 0 0 n/a
Croix Jenkins 0 3 0 0 0 n/a
Ridge Nield 2 2 0 0 0 n/a
Totals: 56 24 11 14 0 70%
Riverton 36 14 11 7 0 50%