Braves repeat as 4A West Champs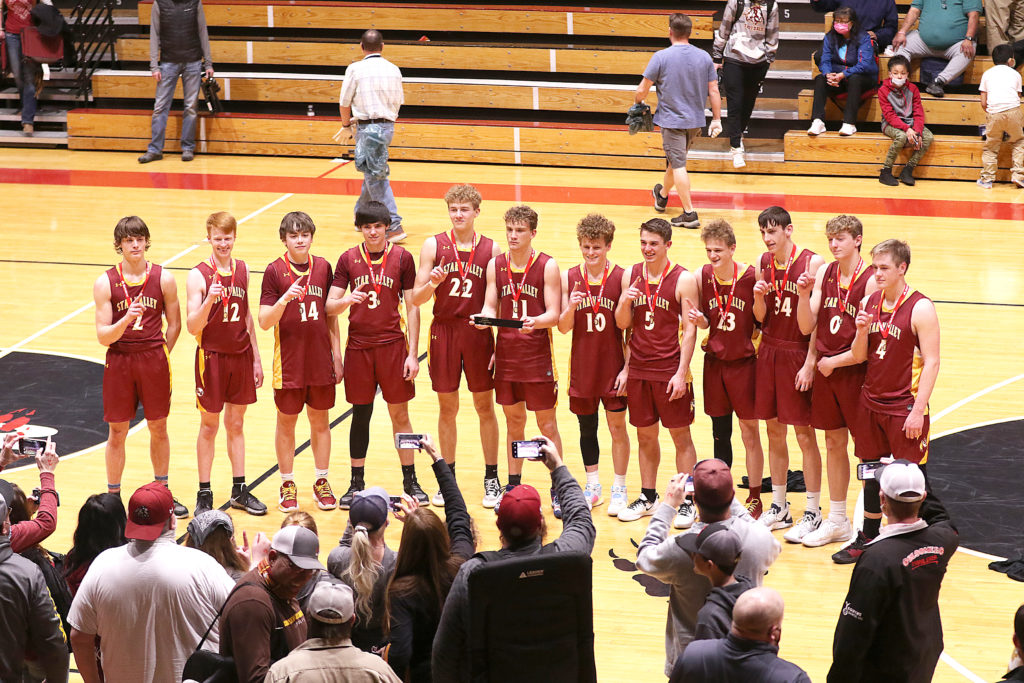 Face Cheyenne East to open the State Tournament
For the second straight season the Star Valley Braves claimed the top seed out of the 4A West as they head to the Wyoming State Tournament this weekend.
Unlike last season, this year's tournament figures to be played.
After a year of restrictions imposed by COVID-19 which started with the termination of the 2020 State Basketball Tournament, things have come full circle with all other culminating sporting events taking place and Governor Mark Gordon announcing the state's mask mandate to come to an end on March 16.
One thing remains the same. The Braves are the 4A West Regional Champions as they eliminated Jackson and then defeated Green River and Riverton to claim the top spot.
This year's team even did last year one better; they went undefeated within the conference and now ride a 15-game winning streak into State.
Despite the top-seed, there will likely be few fans outside of Star Valley expecting the Braves to advance out of the quarterfinals. The 4A East has dominated the Wyoming State Tournament for the past decade plus and the teams' first opponent is one that defeated them on the opening weekend of the season, 82-70.

"I'm not sure anybody had this team picked to [win the West]," said Head Coach Paul Kabonic. "To do it the way we did it is pretty impressive. Coach Draney and I talked about this team and they manage to keep games close because they work hard to keep it that way. What we didn't count on is that this team has figured out what their strengths are and have done that. We're kind of streaky but their understanding about what they are is a credit to the intelligence they have. As a result we always have a chance to win because we are always in the right spot."
They go up against 4A's leading scorer in Greyden Buell who did not play last week at the 4A East Regionals after suffering an injury in their game with Cheyenne Central.
Kabonic expects a healthy Buell but he also believes that East will be seeing a very different team from Star Valley.
"In the first matchup we basically played them [man-to-man] and didn't do much else," he said. "We do more zone and a lot of press-trap stuff now. We make teams have to figure things out before they come up the court. I think that's gonna get rough. As well as the East does they are man-to-man teams so they are going to have to adjust to us. As far as Buell we didn't take any charges in that first matchup. He creates their shots but without him it's tougher to get their looks."
Another thing that is evident is that the Eastern Conference has dominated for so long, there seems to be little regard for the 4A West outside of the Casper schools.
"They don't even respect our pre-season schedule," Kabonic added. They expect us and Green River to roll over. We've seen better teams like Thunder Ridge. Our kids don't seem to care about that too much. I think [East] is in for a rude awakening if we can play the game we want to play."
• Coverage
While SVI Media will not be permitted to broadcast video live from Casper, there will be high-quality audio coverage here at svinews.com and via traditional radio on Swift 98.7 FM.
In addition, look for live stats, detailed pre-game and analysis as well as highlight video packages at the conclusion of the games.

CLICK HERE FOR THE FULL 3A AND 4A BRACKETS FROM WHSAA.ORG.
4A Wyoming State (Boys)
(Friday March 12)
(2E) Thunder Basin vs
(3W) Green River 12 pm
(1W) Star Valley vs
(4E) Cheyenne East 12 pm
(2W) Riverton vs
(3E) Sheridan 1:30 pm
(1E) Cheyenne Central vs
(4W) Rock Springs 1:30 pm
(* With a win the Braves would play again Friday at 7:30 pm. A loss would have them play at 10:30 am Saturday.)
Tagged:
Star Valley Basketball
Wyoming 4A State Tournament