Braves roll over Tigers in Tuesday night dual 65-18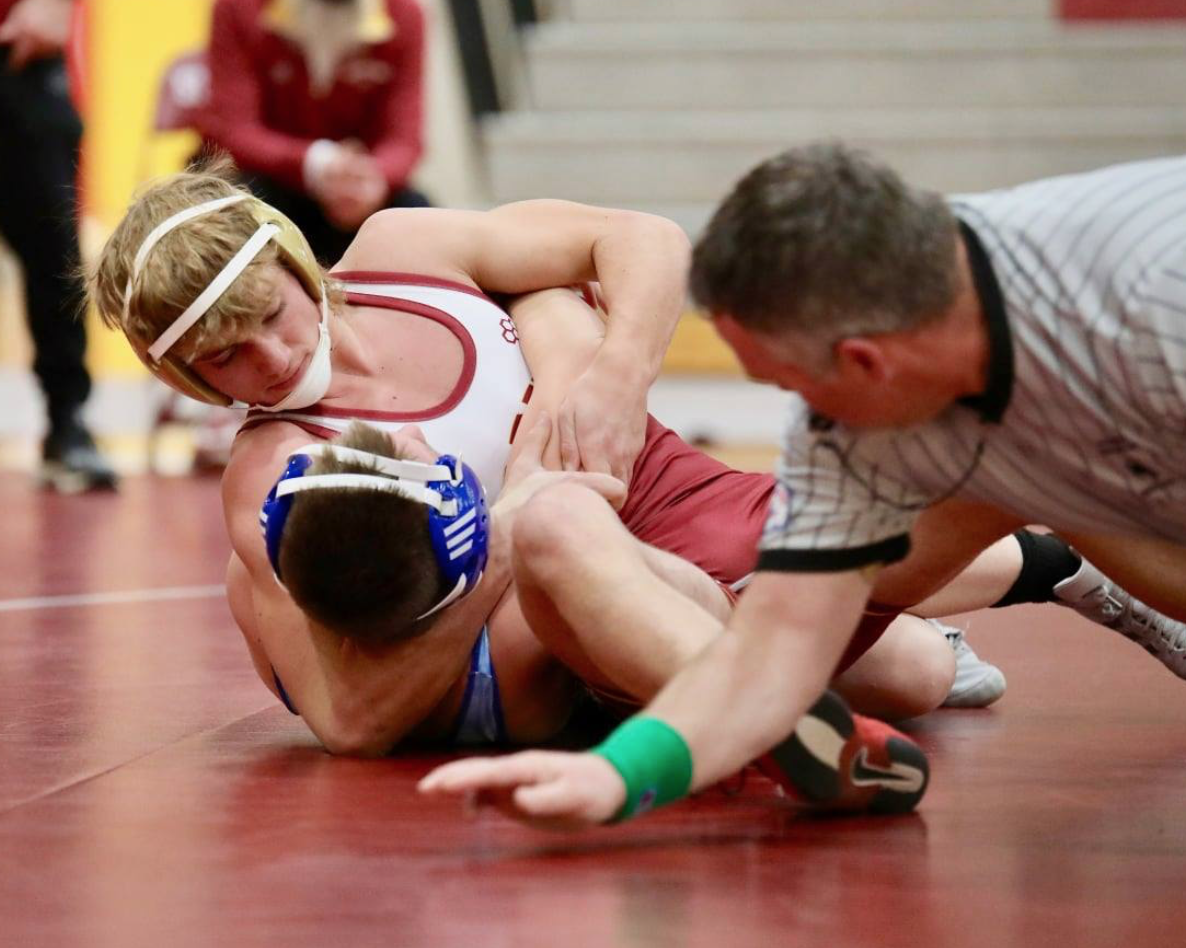 Wrestling returned to the home mats last night as the Rock Springs Tigers visited Afton to take on the Star Valley Braves. Star Valley rolled to their 7th dual victory of the season 65-18.
In the varsity dual Star Valley led 35-0 as a team with Kaleb Fila leading Hayden Romero 5-3 at 138 pounds before in injury forced Fila to withdraw. The Braves picked up seven pins and claimed victory in three open weight classes.
The junior varsity also was victorious by the score of 35-19.
Varsity Results
285: Kysen Hebdon (SV) over Travis Harts (RS) (Fall 2:19
106: Malachi Patterson (SV) over Unknown (For.)
113: Porter Merritt SV) over Unknown (For.)
120 Cameron Kendall (SV) over Unknown (For.)
126: Waylon Nelson (SV) over Josh Sosa (RS) (TF 17-0 4:39)
132: Jacob Isaacson (SV) over Kyle Cahill (RS) (Fall 1:03)
138: Hayden Romero (RS) over Kaleb Fila (SV) (Inj.)
145: Brayden Andrews (SV) over Rylie Nelson (RS) (Fall 1:14)
152: Mason Yenney (RS) over Joseph Thompson (SV) (Fall 2:49
160: Cash Christensen (RS) over Brandon Beck (SV) (Fall 1:34)
170: Harrison Hoopes (SV) over Danial Suazo (RS) (Fall 0:42)
182: Zachary Patterson (SV) over Ian Dickinson (RS) (Fall 1:14)
195: Tony Mickelson (SV) over Pablo Meza (RS) (Fall 2:24)
220: Gabe Nield (SV) over Ranger Elkins (RS) (Fall 1:00)
SV: 65 RS: 18

JV Results
138: Kanyon Herd (SV) oer Santino Rivas (RS) (Fall 1:54)
145: McKell Merritt (SV) over Caden Bruce (RS) (Fall 1:14)
152: Josh Sain (RS) over Izaak Nield (SV) (Dec. 11-7)
152: Xavier Jirak (SV) over Michael Foster (RS) (Fall 2:47)
152: Tristan Jensen (SV) over Kaleb Kristiansen (RS) (TF 21-4 5:23)
160: Mathew Foster (RS) over Chase Housley (SV) (Major Dec. 15-4)
160: Kaleb Click (RS) over Collin Rivard (SV) (Fall 4:00)
160: Patrick Gross (RS) over Kaleb Spaulding (SV) (Fall 1:50)
170: Joshua Semadeni (SV) over Nick Dawson (RS) (Fall 1:14)
195: Aiden Crook (SV) over Hunter Walker (RS) (Fall 2:54)
SV: 35  RS: 19
The Braves will be sending junior varsity to Kemmerer this weekend and varsity to Worland. Read more about the SVHS Wrestling program in the December 16, 2020 edition of the Star Valley Independent.
Let us know what you think!
Tagged:
Rock Springs Tigers Wrestling
Star Valley Wrestling