Braves roll through Bear Lake Classic with more than 300 points
• SVHS at a pair of varsity tournaments this weekend.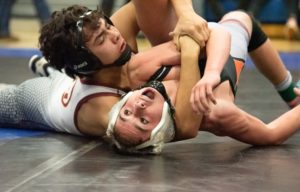 The Braves wrestling team wasted no time putting up an eye-popping total as they made the short trip to Montpelier for the Bear Lake Classic this past weekend.
With teams from eastern Idaho and western Wyoming in attendance, the Braves rampaged their way to the team title with a whopping 325.0 points. The gap between Star Valley and second-place Grace was more than the 156.0 points that the Grizzlies scored.
In all, the Braves won ten of the weight classes with Jacob Guild (113), Brayden Andrews (132), Haze Child (138), Kale Johnson 145), Ren King (152), Zac Patterson (160), Carson VanDeburg (170), David Walker (182), Trent Clark (195) and Parker Merritt (285) all winning titles in the effort.
In addition, Bridger Smith (98), Waylon Nelson (120), Spencer Larson (126), Joseph Thompson (132) and JaAron Smith (182) all made the finals and finished second.
The program will be in both Utah and Idaho this upcoming weekend with members competing at the Richardson Memorial in Brigham City, Utah. The event takes place at Box Elder High School.
Other Braves will be in Rexburg, Idaho for the Madison Invitational.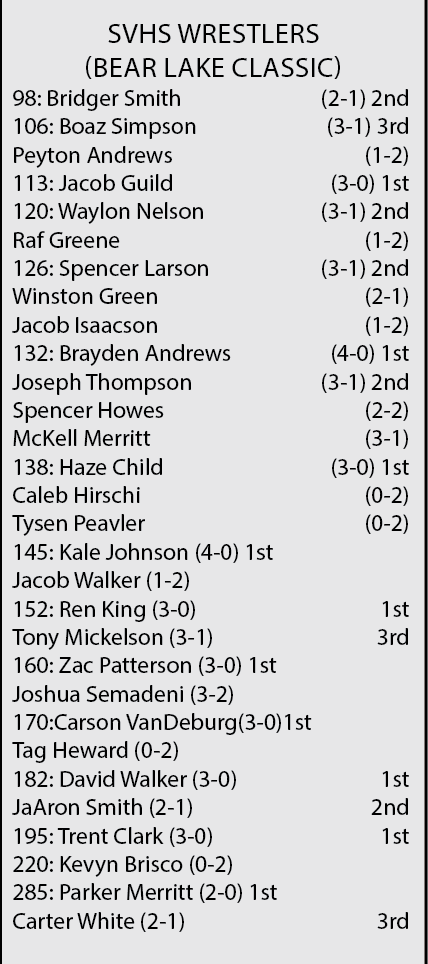 Bear Lake Classic (Team)
Star Valley 325.0
Grace 156.0
Malad 141.0
Ririe 110.0
Bear Lake 102.0
Rich (UT) 67.5
Century 64.0
North Gem 48.5
Jackson Hole 41.0
Soda Springs 33.0
Tagged:
Bear Lake Classic
Star Valley Wrestling