Braves stifle Broncs to win 3A championship 14-7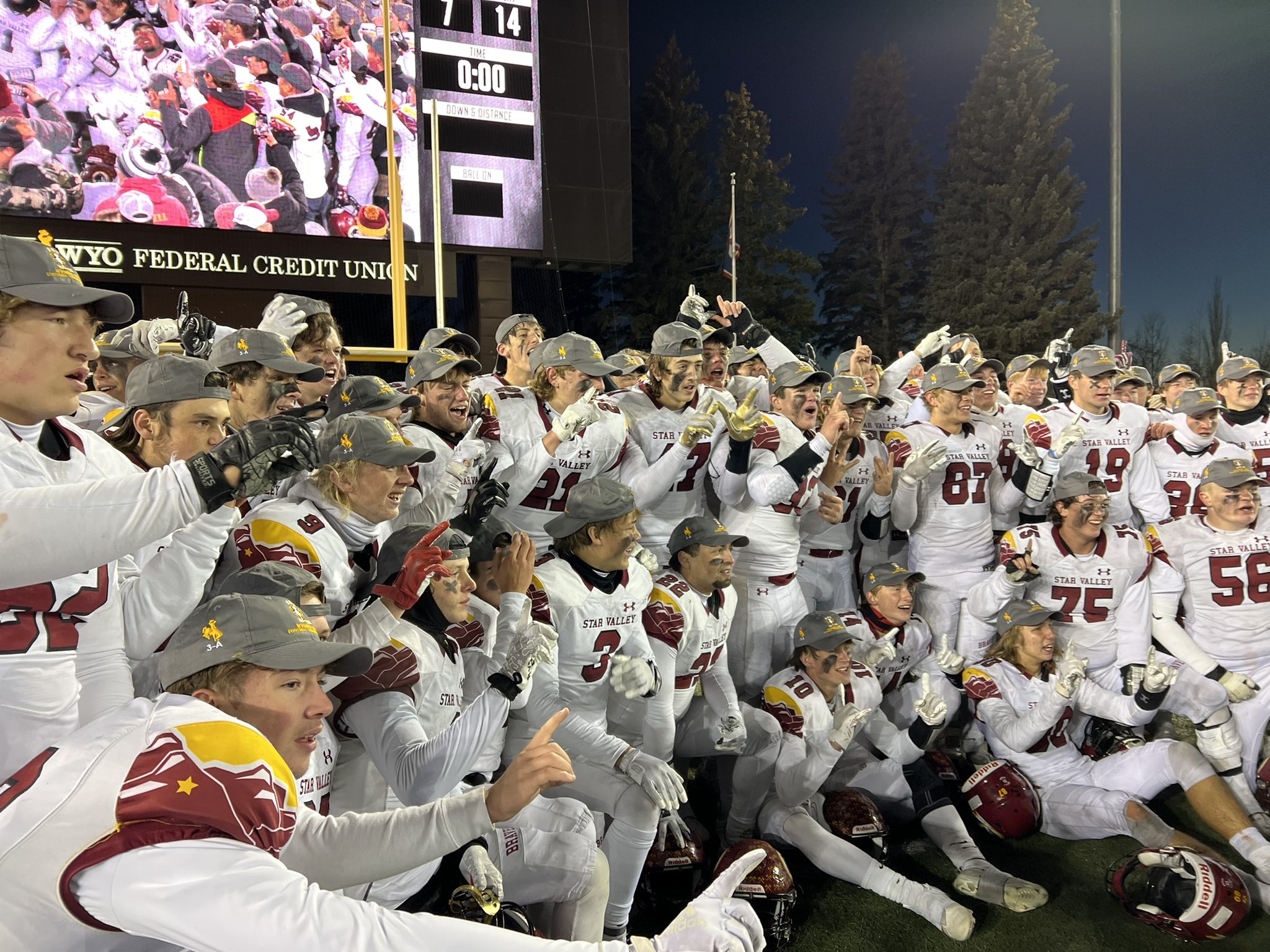 It was a perfect bookend to the season as the Star Valley Braves wrapped up the 2022 campaign with a victory at War Memorial Stadium in Laramie twelve weeks after starting it with a victory on the blue turf of Boise State University. 
The Braves denied the Cody Broncs their championship three-peat with a 14-7 win that unlike the previous meeting this season that ended 35-25, was all about the defenses. 
Star Valley's defenders in particular played a masterful game as they held the Broncs to a single score after Cody came into the contest on a 26-game winning streak and averaging 53 points per game. 
Special teams were a huge factor in the game for both sides. Star Valley's initial touchdown came after the Broncs mishandled a punt on their own 25-yard line. Two plays later, Taft McClure hit Chase Stewart with his 13th receiving touchdown of the season from 19 yards out. The McKell Merritt PAT was good for a 7-0 lead. 
The Braves had their share of miscues as well as a pair of shanked punts set the Broncs up for success. One of which wound up being a 48-yard drive that culminated in a ten-yard Jackson Schroeder touchdown. After the PAT the game was tied 7-7 and remained that way until the fourth quarter.
Kayson Haderlie subbed into the ball game to punt and did a masterful job pinning the Broncs inside their own two-yard line on a pair of occasions. The second time resulted in a partially blocked Cody punt out of their own end zone which set up the winning touchdown; a highlight reel toe-tapper from Derek Astle on a 17-yard pass. The PAT was good and the Braves led 14-7 in the fourth quarter. 
Cody, playing without standout Lucas Talich, could not solve the Star Valley defense down the stretch and never threatened to tie the game. The Braves offense was able to grind out the rest of the clock by converting a fourth and short with a 19-yard pass to Wyatt Crogg and then knelt in victory formation at the Bronc six-yard line. 
Brandon Beck was a terror on defense with a pair of quarterback sacks and other numerous plays. Astle finished with 63 total yards including the game-winning score. McClure finished the game with 186 yards passing and a pair of scores. His efforts put him over 4,500 career passing yards and 51 touchdowns. Stewart tied the school record for receiving touchdowns. Crogg obliterated the school's single season totals for receptions and receiving yardage; finishing the game with nine more receptions and 92 yards. 
Let us know what you think!