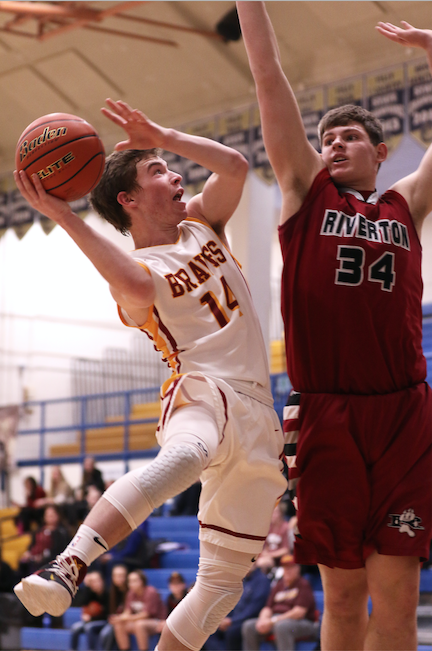 There were moments of anxiety and relief for the Star Valley Braves basketball team over the weekend as they won three of their four outings and claimed the #3W seed and will be playing in the 4A Wyoming State Tournament this weekend.
It was not an easy weekend though as the Braves had to fend off lower seeds and elimination while recovering from a blowout loss in the semifinals.
"It was way too close for comfort that's for sure," said second-year head coach Paul Kabonic. "That first day all these teams that have been getting thumped all season really came to play. Cody and Evanston was tight, Riverton and us was tight. Jackson gave Kelly Walsh a scare."
Despite the tight contests, the top seeds prevailed in all three of those contests which included a Star Valley win over Riverton, 44-37. Dean Shaw led the team with 13 points. This set up a third meeting with the Kelly Walsh Trojans on the season but the contest was not close as the Trojans ran past the Braves, 60-27.
"Walsh thumped us real bad in the semis and we played bad so that's kind of how that game went," Kabonic added. "I knew that if they shot well and we didn't that we could be in trouble."
Kelly Walsh also got a wake-up call from the Jackson Broncs before pulling away for a 61-50 win in the quarterfinals. Kabonic believes the Trojans got an earful from their staff prior to the Star Valley game.
"They came out focused after that Jackson game," he said. "I don't think their coaches were too happy."
After losing on Friday the Braves now faced the home-court Cody Broncs in an elimination game, something the staff had hoped to avoid. After a tense game, the Braves put the game away in the closing moments after Cody sharp-shooter Elijah Leyva was whistled for his fourth personal foul and was then called for a technical which knocked him out of the game. Kabonic credited that sequence and the stellar play of Taylor Horsley in the game's fourth quarter after missing a month of games due to injury. The junior scored most of his 17 points in the fourth quarter.
"I had worried all week about playing the home team in the playoffs with a shooter like they have," he added. "Taylor was huge in that fourth quarter or we're probably sitting home honestly. He wasn't 100-percent and then got the fourth foul on Leyva and then got him out of the game. Everything was magnified because of that situation."
The win put the Braves back into state tournament play for the first time since 2015 after being eliminated in the past three regional tournaments. It also set up an intriguing game between themselves and rival Evanston which gave the squads a chance to avoid the 4A East Regional champ.
"[Coach] Cornia and I both talked about what a big game was for both of us," Kabonic continued. "Which means a lot of travel and match-up factors so both of us wanted that real bad."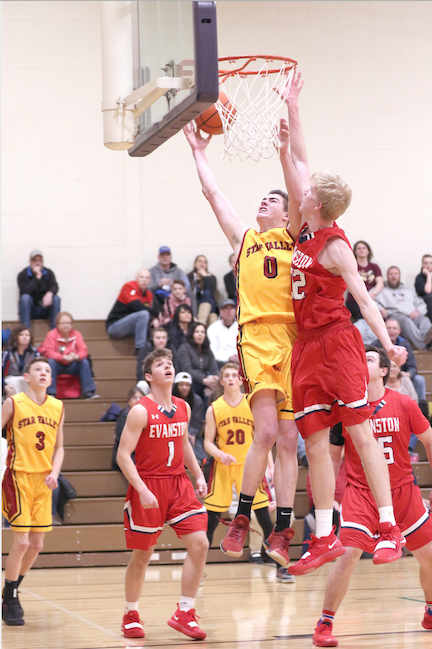 After a slow start, the Braves bounced back and won going away, 58-46. R.J. Cazier led the way with 16 points.
"We came out flat and then I got after them a little bit and they came back and played really well and had under ten turnovers," Kabonic said. "It was a good way to end that tournament."
The Braves will now face arguably the most athletic team in Wyoming on Thursday at noon as they take on the Cheyenne East Thunderbirds. Kabonic reflected on the match-up.
"There's a reason they've only dropped three games all season, he said. "They can play with tempo if they want. They rely on causing turnovers a lot. I think Walsh and Sheridan are better in a half-court where East wants to speed you up."
Kabonic feels that a lower-scoring game will benefit the Braves.
"I've watched a lot of film on them; They are beatable but we've got to do everything right and our possessions need to take awhile," he said. "If they can't run out on us they aren't super patient and we can turn it into a half-court game. They are going to want the score in the 70's and 80's. We want to keep it in the 50's. That's our best chance."
Tagged:
Cheyenne East Thunderbirds
Star Valley Braves Basketball
Wyoming 4A State Basketball