Bridges to Independence Academy: a crown jewel at Swift Creek High School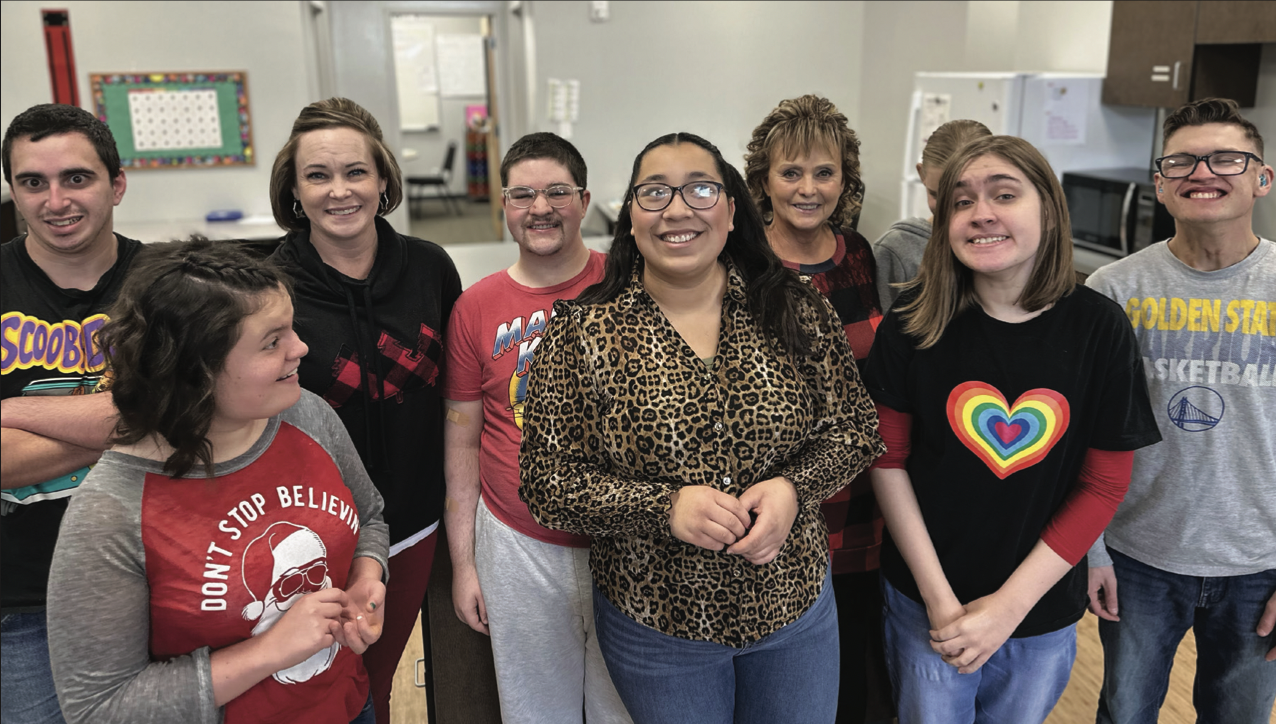 By Layne Parmenter
SVI Media
Teachers Lori Sands and Amber Johnson are rightfully proud of the Bridges program housed at Swift Creek High School. Sands explained just one example, among many, of recent success: "We had a student in our program that didn't have much confidence, and he didn't believe that by himself he'd ever drive. He didn't think he'd ever have a job and work on his own, and now he's done all three."
Bridges is a post-high school to age 21 program for students with significant disabilities that aims to prepare students, where possible, to live independently––or as independently as they can.
Johnson and Sands are currently the entire staff at the SCHS facility dedicated to helping their students take what they've learned in high school and apply that to real life. They leverage math skills into learning to cook, hunting for jobs, budgeting money and shopping. They teach students about how to enjoy leisure time activities, develop social skills, and they go to a local gym, Peak Fitness, each day to understand the importance of living and maintaining a healthy lifestyle throughout their lives.
Johnson said, "I promise what we're doing is going to help them and it is really individualized even though we do a lot of group activities. I want parents to understand that I'm not just sticking them into one path. It really does depend on your student's needs and what the parents' vision is– –I'm here to work with them, not against them."
Swift Creek High School principal, David Cazier, shared his gratitude for the work Sands and Johnson do every day: "Kudos to these two because they really do a lot of planning, preparation and thinking outside the box–– this year particularly––to make things work.There are so many things that go into their work like the public relations piece, having to go and talk to businesses, and supporting students in their work, and coordinating transportation to get the students to and from the workplace."
Cazier also explained that there isn't a curriculum for this type of instruction and Johnson/ Sands organize the entire program on their own. "They really pieced together some great components to allow these students to get as close to independence as they can."
One essential pillar supporting Bridges is community willingness to engage with students and offer opportunities for them to learn in local businesses. Johnson said, "People in the community are open arms. They welcome our students, praise them, and support them. It's just been wonderful for these kids to be able to work at places like SVI Media, Skyview Lanes, Bomgaars, Tractor Supply, Salt River Grill, Broulims, the community library, Wyoming Traders and Parkland USA, to name just a few."
Johnson explained that businesses have universally said yes to working with Bridges students. Often businesses will offer to let students shadow another employee to learn specific skills, but on some occasions students are able to go work independently which is always a confidence builder. Right now Bridges has three students working independently in the community.
Johnson came to the program seven years ago, and commented that several years prior to her arrival, the district had noticed that the students, who at that point remained at the high school to continue their education, would see their peers graduating, going on missions for the LDS Church, getting married, and they felt stuck. Subsequently the Bridges program was born and located at Swift Creek High School. It started with one or two students and currently has eight.
Johnson explained, "Right now. I feel like we're rocking it the way we are. Kids are able to have a little bit more independence and a little room to grow, versus being told when to breathe and move and all those things that kind of happen sometimes when we're in school because we need it to be highly structured. We still have a lot of structure here but we also give them a little bit of time to think and a little time to experiment with what they know in a safe space."
Both Sands and Johnson expressed a willingness to host parents of potential students on a visit to find out more about the program. "We're always willing to have people come in and check us out and see what's going on. We're happy to answer people's questions if there are things they don't know. We know they get really comfortable at the high school and students are happy, but I've never had a student come over here who wasn't happy, or a parent that was unsatisfied with what we're doing."
Let us know what you think!
Tagged:
Amber Johnson
Bridges Academy
David Cazier
Lori Sands
Swift Creek High School