Building student success means helping students step up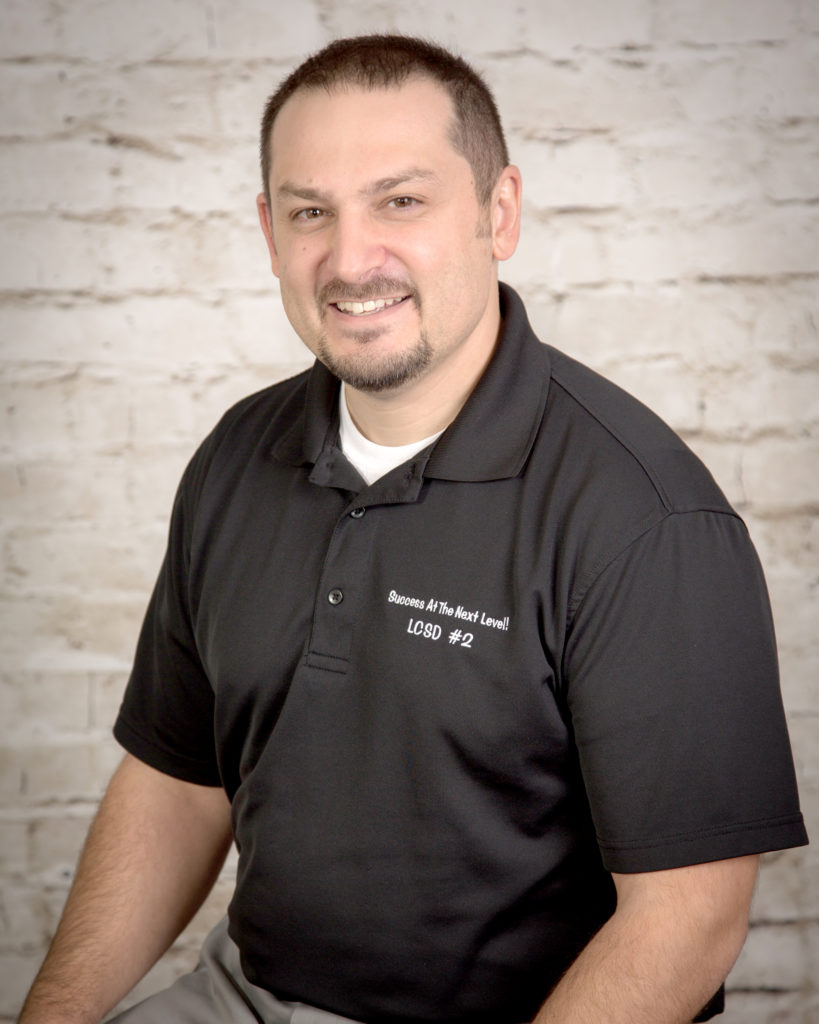 ◆ David Saltzman teaches Social Studies at Swift Creek High School.
David Saltzman is in his seventh year as an educator and his fifth year teaching Social Studies and advising the Discovery Program at Swift Creek High School. He also serves as Assistant Track Coach at Star Valley High School and as the Voice of the Star Valley Braves Football Team announcing play-by-play from the PA system at home games.
Born to Lynn and Mary Saltzman and raised in the mountains of Montana, David is one of five children. As a family that enjoyed outdoors activities, fishing, hunting, and camping filled their spare time.  David played high school football and ran sprints in track.  "The Montana of my youth was a perfect place to grow up and reminds me a lot of Star Valley today."
"I am one of those lucky guys who found my soulmate, Cheri, and we were married in May of 2001," said David.  "She grew up in Burlington, Wyoming, so coming to Wyoming to raise our family was easy.  We have three great kids – Spencer, Sydney, and Tiberius. We try to spend our free time enjoying the outdoors as a family.  My kids are all addicted to fishing (it's in their DNA), and more often than not, that is where you'll find us."

Before he ever thought of being a teacher, David was active-duty Air Force, where he served as a Crew Chief on B-1 Bombers for 12 years.  He fell in love with teaching while serving as an instructor for three years there. As David and Cheri weathered multiple deployments and a growing family, they realized that a military lifestyle was not their preferred way to raise their family.
"I decided to separate from the Air Force and I went to school full time at Montana State University in 2009," said David.  "After graduating, I taught for two amazing years in Dubois, Wyoming.  When the job at Swift Creek High School opened, Cheri and I knew that Star Valley could offer us new opportunities for our family, so we went for it.  It's been a great place for us, and we are very grateful to be here."
"LCSD2 has a reputation for excellence and a commitment to taking care of its' people," said David.
"Making a difference is built into every day at Swift Creek High School.  I'd have to say my favorite days at 'The Creek' are Discovery Graduations.  Discovery is a class that new students take where we teach them skills to help them be successful in all areas of life.  I have been given the opportunity to teach the 'Disco' program for the last 4 years and getting to watch students change their lives is exactly why I got into education in the first place.  There is nothing better than watching kids learn how to deal with life and getting to be a part of that."
Currently working on a master's degree in Educational Leadership at the University of Wyoming, David hopes to someday become a principal.
He wants to watch his children and his students grow to be kind, fun-loving, decent people. "Life is meant to be fun, and just because it is difficult sometimes doesn't mean it can't still be sprinkled with good times and laughter."
"I'd love to see all Star Valley residents have a genuine pride for what we do at Swift Creek High School," said David.  "We want you to be proud of what our amazing students and staff are doing.  I know if you could see what SCHS is all about, you would fall in love with it, just like I have."
Let us know what you think!