–(Ontario, Canada)
"No, all of my pets are accounted for."
Those were the words from Christine De Castro–an Ontario, Canada resident–in response to a phone call from Vaughan Animal Hospital. They were calling Christine to let her know that her cat Loli was at their facility.
To Christine, that was near impossible. Loli disappeared from Christine's home in Richmond Hill, Ontario in 2010 after escaping through a door when it opened. So, when she received the phone call, De Castro checked all her pets. "I have a cat and two dogs… so I quickly did an inventory of my three animals and they were all there," Christine said.
But to her disbelief, it was her long lost cat, Loli, who had gone missing more than a decade ago and was discovered in Vaughan, Ont., thanks to her microchip. Now, after nearly 12 years, Loli has been reunited with her owner.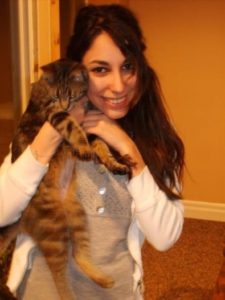 Christina and Loli in November 2009, year before the cat went missing. (Photo submitted by Christine De Castro)
In 2009, Christina adopted Loli from the Toronto Humane Society and brought her home. Loli is Christina's first pet, and was quite the feisty pet at that.  She seemed to always be darting and moving around, attempting to get outside. When Loli finally did make a bolt for it and didn't return, De Castro scoured the neighborhood looking for the feline and posting her picture on social media. After days turned into weeks, Christina faced the grim reality that her dear cat would be gone forever.
Or so she had thought.
On January 3rd, Christina drove to the animal shelter to pick up Loli.
"When I saw her, her face looked a lot grumpier than what I remember which tends to happen with senior cats. Otherwise she looked exactly the same. She's still a very petite brown tabby that I had 11-and-a-half years ago."
Loli was discovered in Vaughan, Ontario which is about 4.5 miles from Richmond Hill, Ontario where Christina was living at the time the cat went missing.
"We've both probably been through a lot of changes," she said. "We've had our share of adventures.  I wish cats could talk so that she could tell me where she's been … but I'm glad she's come to me now to be taken care of in her older golden years."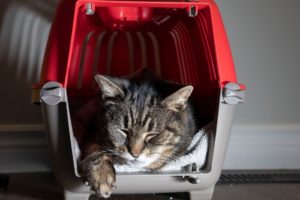 Loli, now much older, has been reunited with her original owner. (Laura Pedersen/CBC)
Does Loli recognize Christina?
"It's hard to tell with cats especially, they're very closely guarded with their emotions unlike dogs," De Castro said. "She's given me quite a few kisses, quite a few cuddles. I've called her by her name Loli a few times and sometimes her ears would perk up a bit … but who's to know. Cats are mysterious. Always have been."
This news story first appeared on the Canadian Broadcasting Corporation website, cbc.ca. Original story here.