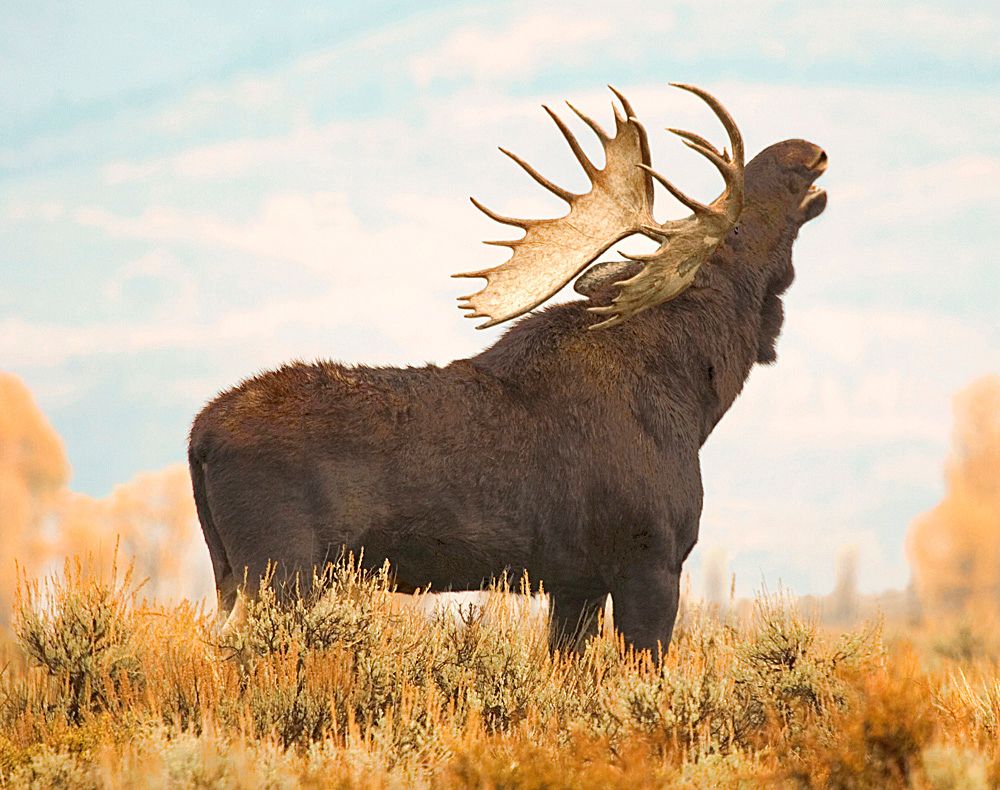 By Stephen Dow
The Sheridan Press
Via- Wyoming News Exchange
SHERIDAN — Months after the Wyoming Legislature approved a recommendation to increase the allocation of "Big 5" hunting licenses to resident hunters, the Wyoming Wildlife Task Force has returned with an additional suggestion.
During the May 9 meeting of the Wyoming Legislature's Joint Travel, Recreation, Wildlife and Cultural Resources Committee, members of the task force — a group of 18 individuals convened by Gov. Mark Gordon to study top-priority wildlife policy issues related to the allocation of hunting opportunity and sportsperson access — suggested changes to the existing preference point system for hunting moose and bighorn sheep.
Preference points are sold by Wyoming Game and Fish and cost $7 for residents and $150 for nonresidents.
Currently, in the annual drawing of moose and bighorn licenses, 75% of available licenses are allocated to the preference point drawing, and those with the highest number of preference points are more likely to receive a license.
The remaining 25% of available licenses is allocated in a random drawing, regardless of preference points.
The random drawing is intended to provide everyone who applies a chance of drawing a license, regardless of their preference point total, said Brian Nesvik, task force member and director of Wyoming Game and Fish Department.
Nesvik said preference points were intended as a way to improve a hunter's odds of eventually drawing a license in a hard-to-draw hunt area.
Sadly, this isn't how it usually works, task force member Joe Schaffer said.
Due to the limited number of moose and sheep and increasing numbers of interested hunters, it is predicted that even hunters who have been accumulating preference points for more than 53 years will only have a 14.5% chance of drawing a bighorn sheep license and a 20.1% chance of drawing a moose, Schaffer said.
"In the preference point system right now, people believe that if they keep buying a point, they will eventually be guaranteed a tag, and we simply cannot promise that any longer," Schaffer said. "So as long as supply stays low and demand keeps increasing, pretty soon you're going to have preference point pool folks at 60 points and beyond, and it just isn't sustainable."
"We've gotten to a point where the system isn't going to work like it did when we started it," Nesvik said.
Thus, the recommendation from the task force is to transform the preference point system into a "weighted bonus point system," Nesvik said.
The drawing would be completely random, but those who have been in the system the longest will be entered into the drawing more times.
Those who currently have preference points would see those points converted into bonus points and squared, Nesvik said. So hunters who currently have 10 preference points would actually have 100 chances in the drawing.
"It just favors those people who have been in the system applying, applying and applying without drawing," Schaffer said. "It does favor those who have been dedicated to applying every year and have not drawn… If I'm applying as a 12-year-old in my first year, there's still a chance I can draw. It's not a good chance, and it's not even as good (a chance) as the current system, but we can really weight it so that folks who have been in the system and been applying for a long time have the best chance of drawing a permit."
The change would increase the chances of hunters to obtain a sheep or moose license, Shaffer said.
Those who have been accumulating preference points for more than 53 years would have a 21% chance of drawing a bighorn sheep license and a 23.6% chance of drawing a moose, Schaffer said.
If the changes go through, WGFD will continue to sell bonus points, just as it has sold preference points, which would help hunters increase chances of winning a draw, Nesvik said.
Nesvik said he did not expect the change to bonus points would have a significant impact on the number of points sold or the revenue raised from their sale.
"With the current demand, we don't predict there will be a significant drop, or even any drop at all, in the number of people applying for these points," Nesvik said.
The weighted bonus point system has previously been used successfully by the states of Nevada, South Dakota and Montana, Schaffer said.
"Every one of those states… has similar point systems," task force member Sen. Larry Hicks, R-Baggs. said. "This is pretty much becoming a standard methodology across the entire western United States…If you stay in there long enough, you're going to have some of the best odds in the United States of drawing a bighorn sheep or moose permit, and that's why I think people will continue applying for Wyoming."
The potential changes to the preference point system will continue to be discussed and debated by the Legislature's Travel, Recreation, Wildlife and Cultural Resources Committee throughout the interim session with the goal of submitting a bill for consideration by the entire legislative body during the upcoming 2023 general session.
Let us know what you think!
Tagged:
Bighorn
moose
sheep
Wyoming Game and Fish
Wyoming hunting Big 5
Wyoming Wildlife Task Force