Coachability and internal drive already impressing Lady Braves' coaching staff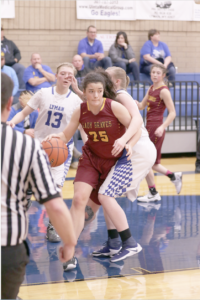 There is no getting around the fact that the Lady Braves have some big shoes to fill for the 2019-20 season after seeing most of their varsity contributors graduate.
The top returning players in terms of experience include Otessa Olsen and McKenna Brog. But this year's team will rely heavily on the transition of a successful junior varsity (17-4) and sophomore (11-2) teams into new varsity roles.
"Obviously we are a young team," Head Coach Kade Erickson stated. "But we'll get better as we go along. We have been so impressed at how much improved our girls are after just a week of practice and how hungry they are to learn. We have a long way to go but they are very tenacious and they are very smart. Otessa has the most experience and she's a leader. McKenna brings a fire and pushes her teammates. I've got a lot of juniors that are working their guts out right now."
There is also the new coaching staff which will be helmed by Erickson who coached the SVHS junior varsity boys program for the past two seasons. He will be aided by a pair of men who helmed the Lady Braves before in Kade Wilkes and Jason Cazier.
"I just love working with Wilkes and Cazier," Erickson said. Defense is going to be a strong part of our team and we will be aggressive."

The girls will also have to balance that aggressive mind set with the fact that the program still has over two weeks before their first game which will take place at the Flaming Gorge Classic in Sweetwater County. Once the games do start, the schedule is fast and furious.
"I think there's a two or three week span where the varsity is going to be playing about 10 games," Erickson added. "We won't have a lot of time to reflect."
Until then, the new varsity coach has been pleased with his team's eagerness to learn.
"It's amazing to me that they are always asking how they can get better," he said. "They are asking questions to get better they are very coachable so far and that's what I enjoy"
The Lady Braves will face off against Cheyenne South, Laramie and Rawlins as part of the Flaming Gorge Classic which will be an opportunity for the entire program to improve before the 4A West Conference games begin in several weeks. Erickson praised this group's ability to be self-motivated until then.
"The girls will have to work to be self-driven," he said. "What I've noticed so far is that we don't have to push them; they are pushing themselves all the time so it's been good so far."
Let us know what you think!
Tagged:
Flaming Gorge Classic
Kade Wilkes
McKenna Brog
Otessa Olsen
Star Valley Lady Braves Basketball