Cokeville utilizes donated funds to purchase some new fire hydrants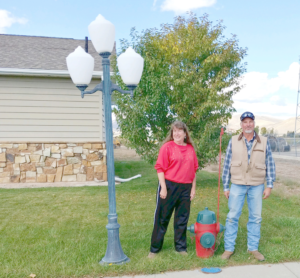 When a city in Utah was looking to unload a baker's dozen of new fire hydrants for a discounted price, the Town of Cokeville was happy to purchase the equipment.
"We have 47 hydrants in town and 25 of them need to be replaced," said Cokeville Mayor Rose Arndt. "Our public works director was aware that some new hydrants were available to purchase in Utah and we were able to purchase 13 new hydrants for less than half the cost of purchasing new hydrants somewhere else."
According to Arndt, the hydrants were available because the Utah community decided to install a different model.
"These are brand new hydrants and they will work great for our system," she said. "We also received a $2,500 check from Exxon Mobile to help with the cost of purchasing these hydrants."
According to Arndt, the cost of a new fire hydrant is upwards of $5,000. The Cokeville Water System will still need to replace 12 hydrants, she said.
"The ones that we have in place are old and we can no longer get the parts to repair them," she said. "The town is actively looking for funding to replace the remaining 12 hydrants that need to be replaced. We will replace them as budget funds allow."

Let us know what you think!
Tagged:
Cokeville Wyoming
Mike Duran
Rose Arndt