By Zac Taylor
Cody Enterprise
Via- Wyoming News Exchange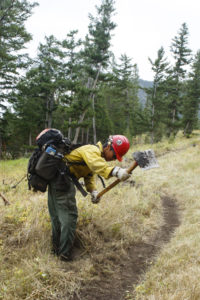 CODY — The Fishhawk Fire – 11,171 acres as of Monday morning – is expected to smolder until enough snow falls on it, but fire managers are no longer seeing it as quite the threat it was last week.
Because of the moisture received over the Fishhawk Fire on Friday – one-quarter inch of rain – and expected moisture predicted over the next few days, the Rocky Mountain Blue Team recommended the mandatory evacuation for Kitty Creek and the Boy Scout Camp be lifted Saturday.
Residents of those areas are still expected to be ready to evacuate at a moment's notice as the fire continues to be a threat and the status of these areas and any area near the fire could change quickly. The sheriff's office advised people to continue to monitor the CodeRED system and check with the Sheriff's Office Facebook page for updates.
During its last mission, law enforcement officers were able to determine that lightning caused this fire.
The Blue Team was expected to turn fire management back to Shoshone National Forest on Monday night, but during the weekend, staff installed a radio repeater to allow for better communications during the fire. 
In conjunction with Park County Public Health and the Shoshone National Forest, smoke monitoring equipment was installed at Wapiti School.
In its final update Monday morning, the Blue Team said Sunday's precipitation, along with today's predicted moisture and cooler temperatures have been good for keeping the fire in its place.
"With more rain forecasted for this coming week, there should be minimal fire activity," the post reads.

Forest area closures are still in place around both the Fishhawk and Stink Water fires.
Over the weekend firefighter crews finished all chipping work along the north side of the fire. Many of the firefighters have been demobilized and are heading back to their home units. 
Remaining crews were monitoring the fire Monday with the local fire resources. They are briefing the new team on work that has been completed as well as locations of structure protection supplies and hose lays. 
The structure protection group finished all the assessments and have shared that information with the Park County Fire Protection District to implement into its county structure protection plan.
Tagged:
CodeRED
Fishhawk Fire
Rocky Mountain Blue Team