Community Drive-In Movie to Support the Box H Park
The Box H park is a staple in the Fairview community, and a drive-in movie is planned this week to raise money for improvements to the park.
On Thursday, September 15 there will be a drive-in movie at the Box H. The Sandlot will be showing on a 25-foot screen. Local sponsors Ecolife and AV Fanatics donated both equipment and time to make this a true drive-in experience where families can hear the movie sound through their car radios.
"We're grateful for these sponsors making this a reality," said Emily Martin, secretary of the Box H board.
Martin, a Fairview resident and mom of four, has been spearheading the effort to raise money for park improvements.
"Truly I just have a love for community. I want to keep that small town feeling even though we're growing. I want the Box H to be a place where people can come and feel like they belong," Martin said.
The Box H Board was dissolved 10 years ago, and since then many maintenance projects have fallen behind. Now, with the board reinstated as a non-profit organization, the community looks to improve the well-loved park.
A limited number of community cookbooks are also on sale to raise money for new playground equipment. The current playground consists of the old Osmond Elementary School playground, installed nearly 10 years ago. Martin said spending time living outside of Star Valley showed her what a community park could look like, and she hopes to bring safe equipment for children of all ages to the Box H.
"We want the park to be a place where people can come together," Martin said. "We recognize that not just Fairview residents use the park and want to keep it open to all."
This week's drive-in movie will start at dusk, with gates opening at 7:30 p.m. The entry fee is $15 and can be paid in cash or through Venmo. Parking will be first come, first serve and concessions will be available. The next movie is planned for September 29 and will be Night at the Museum.
"We're grateful for the support of the community and we'll continue to bring activities for people to come out and enjoy," Martin said.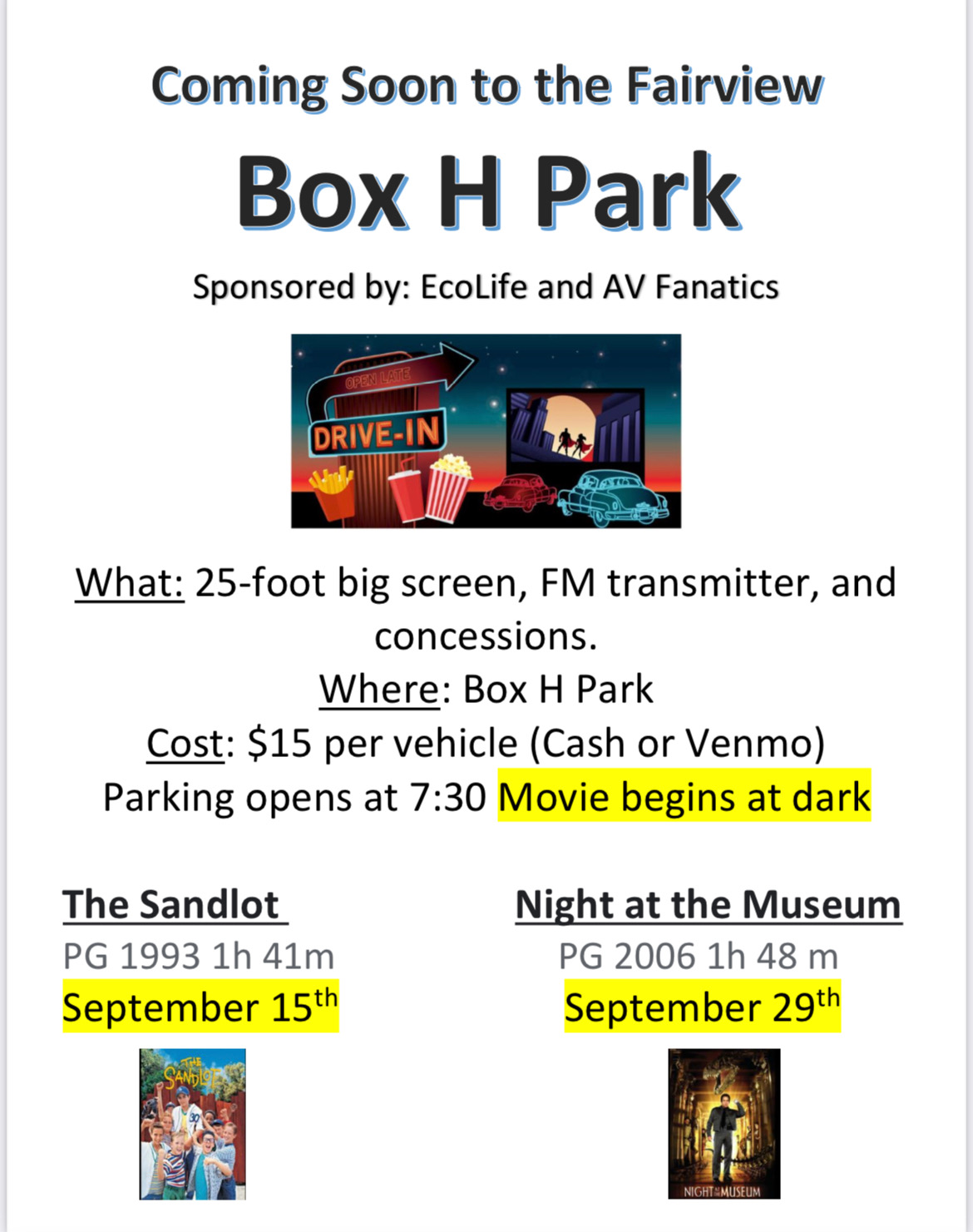 Let us know what you think!
Tagged:
Box H Movie Night
Fairview Wyoming park
Night at the Museum
The Sandlot