By Sarah Hale
SVI Media
It was a packed house on Wednesday, February 20 when Star Valley took to the basketball court. The proverbial stage was set for some serious drama.
It was Senior Night.
It was the last home basketball game of the season.
The opponent for the evening was Jackson.
The triple-combination was enough to ensure the evening would be a memorable one for everyone in the gym.
And then something extraordinary happened.
Dyal Stone, 98, saluted the American Flag and the excited crowd gave the World War II Veteran a thunderous applause.
Over the speaker system a description of Dyal's military service was presented.
Dyal was born on August 22, 1920 in a small town in Idaho. He was raised in a loving family that put God first, country second and family third.
During World War II Dyal served four years as part of the United States Navy. He was stationed on the USS Flint (an anti-aircraft light cruiser) in the South Pacific.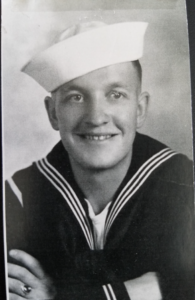 "Their job was to protect our aircraft carriers by shooting down enemy planes," said Dyal's son, Brad.
Dyal was not the only one in his family who answered the call to serve his country. His five brothers were all serving during World War II. And, while all six boys were in the military, Dyal's widowed mother and her only daughter worked at Hill Air Force Base in Utah "repairing flight clothing for the Air Force."
After the war, Dyal came home and started building a life for himself and his family. He worked as a contractor, putting in long days at building sites, coming home to eat with his family and then being up half the night preparing bids for future jobs.
"My dad was an incredibly hard worker," Brad said. "He would work from 6 a.m. to 6 p.m. and then come home for dinner with the family. After dinner he would go to his office and be there until 11 p.m. or midnight working on bids for jobs. He did that to take care of his family."
"He was very caring, very loving, a very hard worker and the kind of man who people were just drawn to. They wanted to be around him and be part of what he was doing."
Six years ago Dyal and his wife moved into an independent living center in Utah. Four years ago his wife died.
A year and a half ago Dyal moved to Star Valley to live with his son and daughter-in-law, Brad and Gretchen Stone, of Smoot.
And it was with Star Valley High School that Dyal found a piece of home.
"Dad always loved athletics," said Brad. "He loved football and basketball and volleyball and gymnastics. So when he came to stay with us my wife and I started taking him to all of the different games."
Dyal fell in love with Star Valley sports and the high school students who played them. He knew the athletes names and their stats and followed them from sport to sport. He became familiar with their style of play and their technique whether it was on the football field, the volleyball court or the basketball floor.
"He loved sitting there and cheering for the teams," said Brad. "We bought Star Valley Braves sweatshirts and did our best to be at every game. He wanted the athletes to do well. He wanted to be there to support them however he could. He felt like he was really a part of Star Valley. He loved it here. He loved the people here."
Brad and Gretchen were delighted to have Dyal stay with them.
"He was just a delight to be around," Brad said. "We initially thought that he would move into a care center here but we couldn't let him go. We wanted to be around him. He had such a way of lifting those around him."
Sometimes Brad and Gretchen (when they saw Dyal struggle with the cold and snow of Star Valley) would suggest that a warmer climate might be more suitable for comfortable living.
"Dad was adamant that this was home and this was where he wanted to stay," Brad said. "And of course we loved that. The people here were so good to him and of course everyone loved him as soon as they met him."
Because Dyal loved Star Valley High School sports so much, Gretchen decided to contact the school and see if Dyal could salute a flag at one of the games.
"The school called us back and said they wanted to do more than that," said Brad. "They wanted to recognize him and thank him for his service."
The plan was made. Dyal would be honored during the last home basketball game of the season.
Originally scheduled for Friday, February 15, the games were postponed due to severe whether and treacherous roads.
"My wife and I had decided that we were not taking Dad out in the weather to get to the game on Friday," said Brad. "With his wheel chair and such it was too difficult to get him to and from the house and car, and weather like that is hard on him. So we had decided to stay home. He would not have been there to be honored."
The games were rescheduled for Wednesday, February 20 to accommodate the basketball playoff schedule.
And so, just prior to the start of the varsity boys game, Dyal stood in the Star Valley High School Gym and listened as approximately 2,000 people put their hands together in appreciation for his service.
"It was amazing," said Brad. "I am so glad that he was a part of that. I just can't tell you how much it meant. He has never been recognized like that. Then during the game the refs would stop over and shake his hand and thank him for his service. And, of course all of the ball players thanked him for his service. After the game was over many, many people came down from the stands and stopped to shake his hand and thank him for what he had done for this country. It was such an uplift. I wish there was some way I could express my gratitude to the people who were there and who made this happen."
Dyal returned home feeling rejuvenated. He was thrilled with the whole experience.
Two days later, on February 22, Dyal's health took a turn for the worse. He died on Sunday, March 3.
"That game, that tribute, was his last outing," said Brad. "That was his last salute. I am glad that he was able to do that."
Dyal's family will have a small, private service to honor his life and contributions to the world. And, they will be grateful for the divine intervention of a winter storm in Star Valley that caused a high school basketball game to be postponed.
"I am sure it was that," Brad said. "I am sure that my dad needed to be there at that game and to have that experience."
Tagged:
Dyal Stone
Jackson
Star Valley
wwii