Community rallies after fatal accident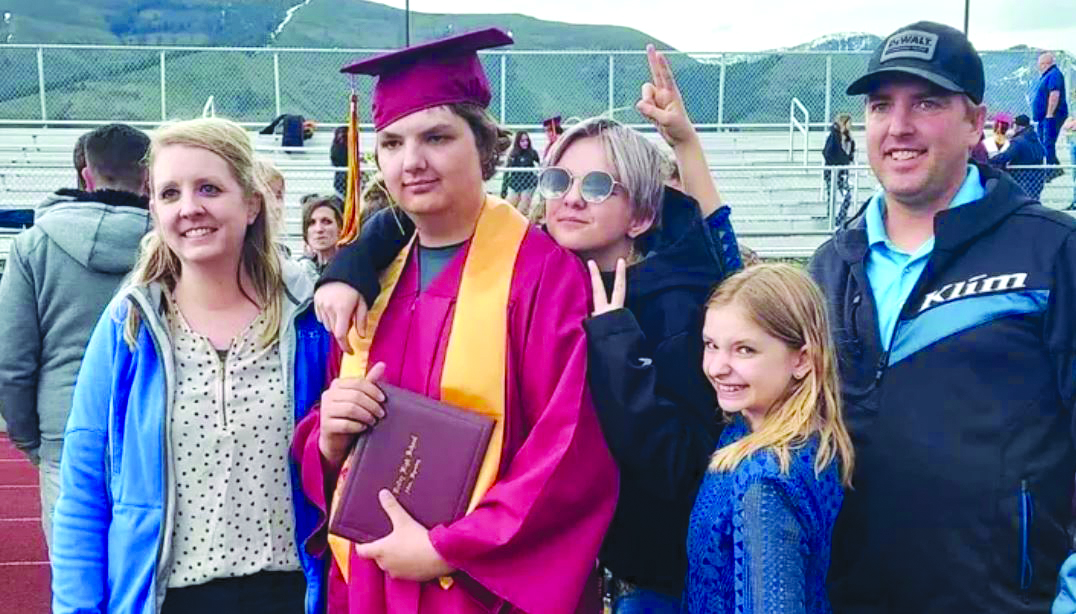 ◆ Fundraiser and auctions established for Mortensen family.
The Star Valley community has come together to help a local family following a tragic car accident. A GoFundMe has been established, along with a Facebook auction and other fundraiser options, to help support the family of Derek Mortensen.
The accident occurred on the night of Wednesday, May 24 on Highway 238 between mile marker seven and eight. The Mortensen family was traveling back to their home in Auburn following a family outing. At about 9:40 p.m. they were hit head on by a drunk driver. Kirstin Mortensen, 40, and her 11-year-old daughter, Saige, did not survive the accident. Their 18-year-old son, who had just graduated from Star Valley High School the night before, was taken to Star Valley Health where he was treated for injuries and released. Derek, 41, was life flighted to Utah with serious injuries that required surgery and medical care.
The accident has dealt a tremendous blow to the family and local community. Kirstin was a beloved mother and friend. She worked as a staff member in both Afton and Osmond Elementary Schools. Saige was just days away from finishing 5th grade at Osmond elementary.
"On behalf of Osmond Elementary, we send our condolences to the friends and family of our dear colleague, Kirsten Mortensen, and her daughter who was a student at our school," said Principal Tyler Jack. "We are grateful for the time we had with these two amazing individuals, and for all the joy that they brought to those around them. Our Osmond family will miss them both immensely, they have left a mark here through their caring and selfless personalities that will influence people for years to come. We find it comforting that they passed from this life together. They were very close to one another, and it brings us peace to know that they will continue to be together and support one another. May we all cherish the memories they left behind as we work through this tragedy together."
In the hours and days following the accident the community quickly jumped into action to help the Mortensen family. A GoFundMe account was set up to raise money for funeral and medical expenses. As of Tuesday morning, the account had raised more than $45,000. Donations can still be made by visiting GoFundMe.com and searching for "Mortensen-Derbidge Family."
In addition, a fundraiser auction on Facebook has also been established. The auction allows businesses and community members to donate services, products, baked goods and other items. Members of the group are then able to bid on those donations with all the proceeds benefiting the Mortensen family. The Facebook auction can be found by searching "Mortensen Family Benefit" on Facebook. The auction will run through Tuesday, June 6.
Monetary donations can also be made through Top of the Rockies, which is a 501(c)(3). Donations can be made at RideAlpine.com/donate or through the Top of the Rockies Venmo account.
Funeral services for Kirsten and Saige will take place Saturday, June 3 at 1:00 p.m. in the Afton Tabernacle. A night viewing will take place Friday, June 2 from 6-8 p.m. at Schwab Mortuary in Afton and from 11:00-12:45 prior to the services.
The driver of the other vehicle involved in the head-on collision was also killed in the accident. Kasandra Roger, 28, was born in Afton but raised in Idaho Falls. She continues to have family in Star Valley. A celebration of her life will be held Saturday, June 3 at 1:00 p.m. at the Osmond Ward Church.
Let us know what you think!
Tagged:
Afton Elementary
Derek Mortensen
Kasandra Roger
Kirstin Mortensen
Osmond Elementary
Saige Mortensen
Star Valley High School