Coronavirus cases up by 19, total 1,203; Kemmerer area records first case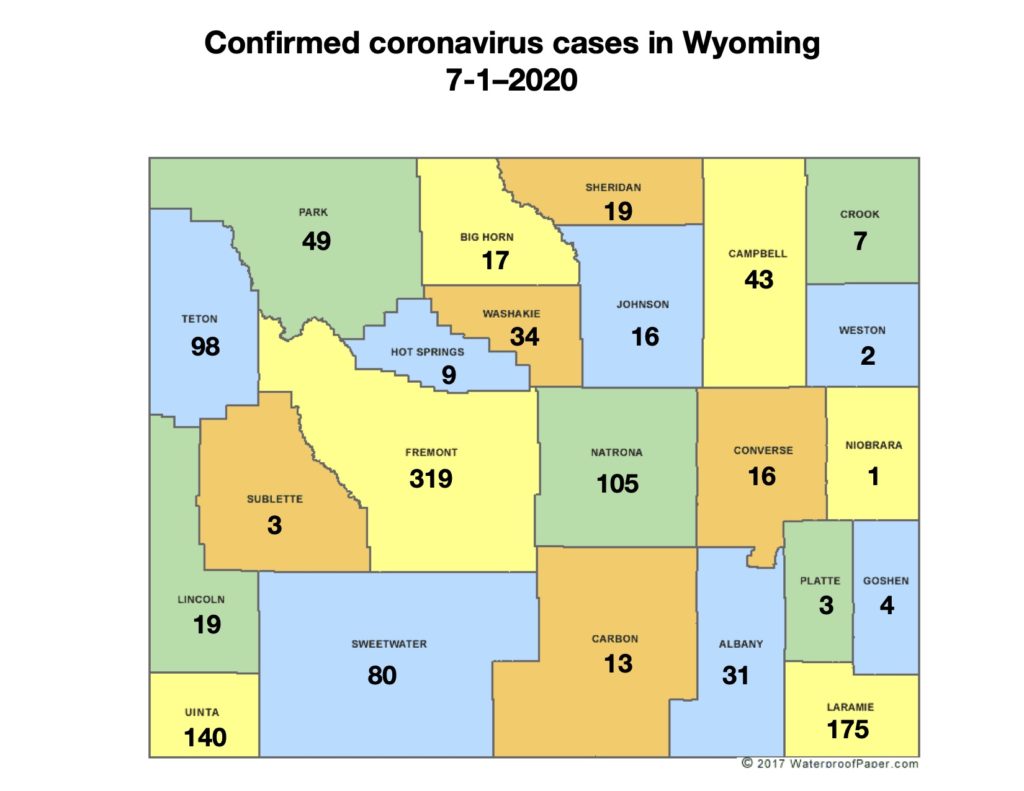 The number of new coronavirus cases reported in Wyoming on Wednesday grew by 19.
The Wyoming Department of Health, in its daily coronavirus update, said the total number of laboratory-confirmed coronavirus cases seen since the state's first case was diagnosed in mid-March totaled 1,203 on Wednesday, with new cases seen in seven counties.
"We have received confirmation of our first case of COVID-19 in the Kemmerer area," stated information provided by Lincoln County Emergency Management.  "Recommendations have not changed. Keep taking the same precautions that have been advised previously. Distance, hand washing, and face coverings help slow the spread."

New cases were reported in Fremont, Laramie, Lincoln, Natrona, Park, Platte and Teton counties, with Laramie County reporting the highest number of new cases at seven.
The Department of Health's total case figures account for all cases seen since the illness was first detected in Wyoming. They do not take into account the recoveries.
Since the coronavirus was first reported in Wyoming, Fremont County has seen 319 cases; Laramie County had 175 cases; Uinta County had 140 cases; Natrona County had 105 cases; Teton County had 98 cases; Sweetwater had 80; Park had 49; Campbell had 43; Washakie had 34; Albany had 31; Lincoln and Sheridan had 19; Big Horn had 17; Converse and Johnson had 16; Carbon had 13; Hot Springs had nine; Crook had seven; Goshen had four; Platte and Sublette had three; Weston had two, and Niobrara had one.
The number of probable cases in Wyoming since the pandemic began was set at 311 on Wednesday. A probable case is one where a patient shows symptoms of coronavirus and has been in contact with a person with a confirmed case, but has not been tested.
Of the total of 1,514 patients seen since the coronavirus was first detected, 1,119 have recovered, the Health Department said, including 877 patients with confirmed cases and 242 with probable cases.
The number of active cases in the state, meanwhile, was set at 377 on Wednesday. They included 308 patients with laboratory-confirmed coronavirus cases and 69 with probable cases.
Tagged:
Wyoming Coronavirus