Corpening is new Circuit Court Judge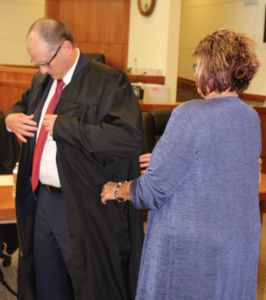 Gregory S. Corpening was sworn in at the new Circuit Court Judge in ceremonies conducted by the Wyoming Supreme Court last week in Kemmerer.
Chief Justice Michael K. Davis. Administered the oath of office to Corpening on Aug. 9, 2019. Justice Davis was accompanied by Justice Kate M. Fox, Justice Keith G. Kautz, Justice Lynne Boomgaarden and Justice Kari Grey.
Governor Mark Gordon appointed Corpening to be the Circuit Court Judge for the Third Judicial District serving Lincoln County, Wyoming on April, 26, 2019. Corpening fills the vacancy created with the retirement of Judge Frank Zebre.
Corpening has served as the Deputy Lincoln County and Prosecuting Attorney and as the Kemmerer City Prosecuting Attorney.
He previously served as the Lincoln County and Prosecuting Attorney, had a private practice, and worked as the attorney for Child Support Services of Wyoming.
Corpening grew up in Saratoga and received his B.S. in Wildlife Biology from the University of Wyoming (UW) and graduated from the UW College of Law.
He has lived in Kemmerer since 1991 following his graduation from law school.

"I am honored and humbled by the appointment from the governor," Judge Corpening said after he took the oath of office in Kemmerer. "I am grateful and deeply appreciative of the trust he has shown in me by this appointment. I will work hard to honor that trust. I'll be the best judge I can possibly be. I will not forget that I serve the State of Wyoming and the citizens of Lincoln County."
The governor said in an earlier statement, "Greg Corpening's long-term dedication to law, public service, and Lincoln County is impressive. He brings a deep knowledge of criminal cases and a Drug Court Program to the bench, as well as experience handling juvenile and civil proceedings. Greg comes highly recommended by those who have worked with him during his 25 years of service to the Lincoln County Attorney's Office."
Judge Corpening acknowledged the work of the nominating commission at the Kemmerer ceremony.
"I would also thank the Judicial Nominating Commission for all of their hard work and miles of travel they put in," he said. "Thank you to the many people who encouraged and supported me through this process. I am very grateful for this opportunity. I look forward to continuing to serve the citizens of Lincoln County and Wyoming and working hard in this new capacity."
Tagged:
Circuit Court Judge
Governor Mark Gordon
Gregory S. Corpening
Third Judicial District
Wyoming Supreme Court