CWC seeks federal approval for 4-year degree
By Katie Roenigk
Riverton Ranger
Via- Wyoming News Exchange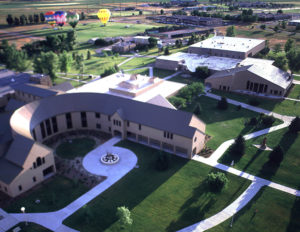 RIVERTON — After earning authorization last week from the Wyoming Community College Commission, Central Wyoming College will now seek approval from the Higher Learning Commission accrediting agency to offer a four-year Bachelor of Applied Science degree. 
The process will involve a site visit to the Riverton campus this winter, during which HLC representatives will meet with the CWC Board of Trustees and "other functional units around the college" to determine whether the BAS is appropriate for the school, according to previous reports. 
"This is not a rubber stamp exercise," CWC president Brad Tyndall said during a meeting this month. "Twenty percent of the time a college does not get the BAS. … It is not a guarantee." 
A press release this week indicates the HLC could make a decision about the BAS at CWC sometime in the spring of 2020. 
If the agency approves the BAS, administrators must then return to the CWC Board of Trustees, the WCCC and the HLC to receive specific program approval for a four-year degree in organizational management and leadership with two emphasis areas – one in one in tribal leadership, and another in business and entrepreneurship. 

Additional program course electives will allow for specialization in either degree path, CWC said in a press release this week. 
If the approval process progresses seamlessly, CWC could start offering BAS classes in fall 2020. CWC vice president of academic affairs Kathy Wells, who is "taking the lead" for the BAS project, said faculty members have designed a degree that "meets rigor and quality expectations in baccalaureate-level education."
During a presentation to the WCCC, Tyndall said the BAS will help students in the local workforce advance in their careers or start a new business. 
"Area residents with vocational or career and technical backgrounds, whether on the Wind River Reservation or off, need to advance from technician to higher positions of management and leadership," Tyndall said. "Imagine the welder with a BAS advancing to floor supervisor or to a regional manager or local reservation or city leader. Imagine the automotive technician who learns what is needed to start his own shop. This degree would be so important for our region."
Tyndall said that the BAS would largely serve "home stuck" individuals who cannot leave their car and house payments, current employment and family responsibilities behind and attend college in another location. 
The degree also will be designed around the needs of local employers looking for more highly trained workers, according to previous reports. In a memo to the WCCC, Tyndall said CWC's service area has "a shortage of talent in supervisory, management and leadership positions," and the BAS degree will "meet this need." 
CWC is one of only two community colleges in the state – the other being Laramie County Community College – currently pursuing the BAS.
Let us know what you think!
Tagged:
Bachelor of Applied Science Degree
Central Wyoming College
Wyoming Community College Commission