Details released, charges filed against Jordan Hale
The Lincoln County Sheriff's Office have filed official charges against the missing suspect who turned himself into police Monday, following a weekend long search in the Star Valley Ranch area.
Sheriff Shane Johnson said the case began on Saturday, September 10, 2022 at approximately 11:50 a.m. when the sheriff's office received a 911 call regarding an active domestic violence incident involving a firearm. Deputies were dispatched to the Star Valley Ranch area and found that 40-year-old Jordan G. Hale had left the area after attempting to use the firearm against a family member.
According to Sheriff Johnson, Hale's vehicle was later located in the Green Canyon area disabled in a ravine. A search for Hale in the area was unsuccessful and alerts were issued to the surrounding area to be on the lookout for Hale, who was considered armed and dangerous. 
Lincoln County Sheriff's Office, Star Valley Search & Rescue, Afton Police Department and Wyoming Highway Patrol continued to search Green Canyon and the surrounding areas. The search extended through Sunday and into Monday morning. Drones were used as part of the search and trailheads were taped off. 
On Monday, September 12, the Lincoln County Attorney's Office obtained a warrant for the arrest of Hale, charging him with felony charges of Attempted Murder and Aggravated Assault.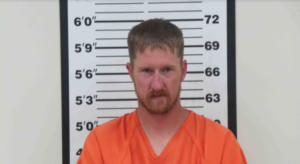 Later in the day, at approximately 12:00 noon, Hale turned himself in at the Lincoln County Sheriff's Office in Afton. He was booked into the Lincoln County Jail on charges of Attempted First Degree Murder and Aggravated Assault. Hale will appear in Circuit Court for an initial appearance in the coming days.
Lincoln County Sheriff Shane Johnson will be a guest during SVI Radio's Weekday Wakeup morning show at 8:35 a.m. to provide additional details. The Weekday Wakeup can be heard on Star Valley's Swift 98.7 FM and The Spur 106.7/107.5 FM. Additional details will also be available in the September 14 edition of the Star Valley Independent.
Let us know what you think!
Tagged:
Jordan G. Hale
Lincoln County Sheriff's Office
Sheriff Shane Johnson