Diamondville Fish Pond dedicated with new sign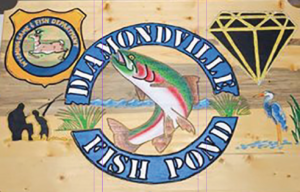 The Wyoming Game and Fish Department expressed appreciation to everyone who braved the cold weather and attended the dedication of the Diamondville Fish Pond on Saturday, September 21, with a new sign.
The event celebrated a recreational resource for the local communities in south Lincoln County.
Lincoln County School District No. 1 teacher Jake Parks was acknowledged for his artwork contribution to project.
WGF reports the pond was originally a sewer lagoon and had not been used for many years.
In approximately 2003 Susan Hunzie suggested that it be turned into public fishing pond. She contacted Game and Fish and was directed to the George Gunn, supervisor of the Daniel Fish Hatchery.
Gunn took water samples, checked habitat quality and water supply, and conducted necropsy research.
Gunn determined that the pond would support fish and agreed to stock the pond.

The pond was first stocked in 2007 and remains stocked on an annual basis. The last stocking was on June 19, 2019 and the project included 210 Snake River Cutthroat trout.
WGF acknowledged the help of town workers Chuck Smith and David Waldgren.
Additional improvement projects have been completed at the site in recent years, but there a new sign was never included until Saturday.
• Funding/Monument
In 2000, the Diamondville Museum Committee was raising money for the purpose of creating a museum, however the museum was not built and the funds were directed to a new historical marker in Miner's Park.
Money for the sign came from remaining funds associated with the historical marker.
The new sign acknowledges the cooperative project between the Town of Diamondville and the Wyoming Game and Fish Department.
Additional appreciation was extended to Susan Hunzie and the Diamondville City Council "who helped make this fishing pond a reality."
Tagged:
Diamondville Fish Pond
George Gunn
Jake Parks
Lincoln County School District No. 1
Susan Hunzie
Wyoming Game and Fish Department