Does For Deer Ladies Banquet in Alpine this weekend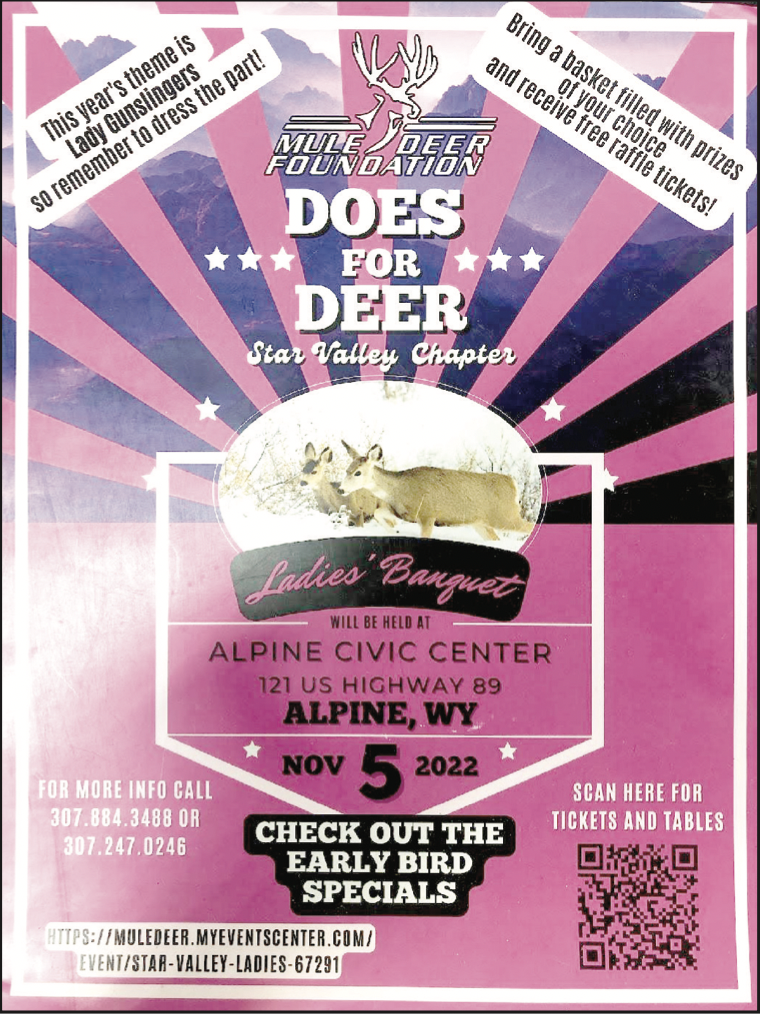 ◆ All funds raised benefit the Star Valley Chapter of The Wyoming Mule Deer Foundation.
With hunting season closures, conservation organizations are turning to fund raising. The Star Valley chapter of The Wyoming Mule Deer Foundation is hosting their Does for Deer Ladies Banquet on Saturday, November 5 at the Don Wooden Center in Alpine. Doors open at 5 p.m.
"This year's theme is Lady Gunslingers," said Neal Kiehne, Wyoming State Chairman with MDF, in an interview with SVI News last week. "Think Annie Oakley and Pearl Hart. So, old west female gunslingers is the theme for it. It's not required that you dress up, but it sure is a lot more fun if you dress up and play the part."
This new MDF tradition was born three years ago as MDF realized that many wives and mothers are left home to tend to younger children while the men and older kids enjoy the hunt. This event is an opportunity for women to have a night out and enjoy themselves after serving as a hunter's widow for months.
"We have always thought that the ladies get the short end of the deal, so we decided to do something to get the girls out of the house after hunting season's over," added Kiehne. "Dad can stay home with the kids and Mom can go out and play for a change. There's just not that much to do in Star Valley, especially events for ladies only. It's gained in traction and people start to look forward to it. I have ladies who call me about it three to four months in advance."
At the event, guests can expect a full meal, games, activities, a live auction and a basket raffle. Ladies who prepare and bring a basket full of goodies for the basket raffle will receive a handful of raffle tickets, which gives them the opportunity to take home some nice items.
"Last year we had 90 baskets," said Kiehne. "The basket raffle is a big deal. The live auction will be a 30-35 item live auction with guns and hunts and all kinds of different items."
MDF advocates for mule deer, black tail deer, conservation and habitat. A majority of the funds raised at these events stay with the local chapter.
"We try to keep as much of the money as possible. A percentage of the money that we raise in Star Valley is earmarked by MDF for use by this chapter, which is different from a lot of other organizations. Our mule deer live in several counties, so projects could be in Sublette or Teton or Sweetwater or Lincoln County, but most of the money raised here is earmarked for use in Star Valley, which is not something that these groups typically do. A lot of them put it in a bucket and use it where they want to."
With the event being close to sold out, ladies are encouraged to reserve their seats as soon as possible. Space is limited to 140 people, so don't delay your reservation. Get your tickets and more details at https://muledeer.myeventscenter.com/event/Star-Valley-Ladies-67291 or scan the QR code in the flier.
"It's a night for the ladies to have their time," concluded Kiehne. "We set this up to be fun and entertaining, with the potential to win some awful nice stuff. You just gotta come and try it to understand how much fun these are."
Let us know what you think!
Tagged:
Does For Deer Ladies Banquet
Don Wooden Civic Center
Neal Kiehne
Wyoming Mule Deer Foundation