Driver sentenced in car accident case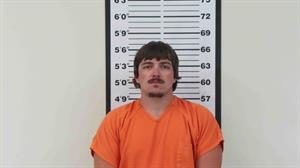 Wednesday, August 28, 2019, Ethan Jackson, of Rigby, Idaho, was sentenced in Lincoln County District Court by Judge Joseph B. Bluemel following his conviction of a single count of Aggravated Homicide by Vehicle.
Jackson was sentenced to serve five to 10 years with the Wyoming Department of Corrections and was taken into custody immediately following the hearing.
The charges stem from a July 2017 traffic accident on U.S. Highway 89 in the Snake River Canyon.
Jackson was driving a pick-up truck southbound on U.S. 89, when he drifted into the opposing lane of travel. The second vehicle driven by an Oregon motorist, Terry Sullivan, was hit head on.
According to reports, the accident caused extensive damages to both vehicles and the horse trailer that Sullivan was towing.

Ryan Coulter of Idaho Falls, Idaho, was a passenger in Jackson's vehicle at the time of the crash. Coulter suffered serious injuries and was transported to Star Valley Medical Center. Coulter died shortly after his arrival to the hospital.
Sullivan was transported to the hospital with non-life threatening injuries and was released the same day.
Jackson suffered no injuries in the crash.
Jackson's blood tested positive for methamphetamine and he later admitted to investigators that he had smoked meth earlier that day.
Chief Deputy County Attorney Blaine Nelson told the Court during the recent Sentencing Hearing that because of his reckless conduct Jackson presented a serious danger to not only his passenger but all other motorists on the road that day. Nelson stated such conduct "necessitates a substantial prison sentence."
"The Lincoln County Attorney's Office extends its thanks to all members of the Wyoming Highway Patrol, Lincoln County Sheriff's Office, and the Wyoming Division of Criminal Investigation who participated in this prosecution and fair conclusion to this case," Lincoln County Attorney Spencer Allred said. "The Lincoln County Attorney's Office also thanks the Coulter family for their patience awaiting the resolution of this ordeal."
Let us know what you think!
Tagged:
car accident
law enforcement
Lincoln County Court
methamphetamine
Star Valley