Enzi delivers farewell address, says serving has 'been the honor of my lifetime'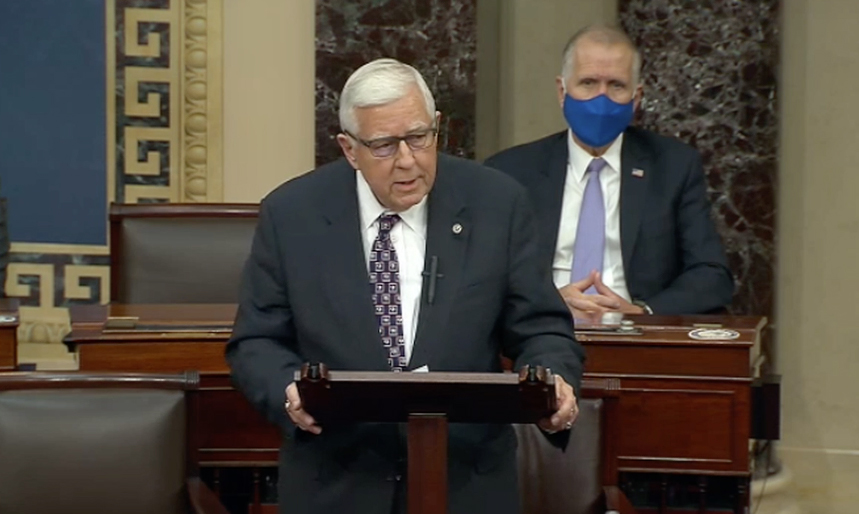 By Greg Johnson
Gillette News Record 
Via Wyoming News Exchange
GILLETTE — Saying that "it's been the honor of my lifetime to serve the great people of Wyoming," four-time U.S. Sen. Mike Enzi, R-Wyoming, received a lengthy standing ovation after giving his farewell address from the Senate floor this afternoon in Washington, D.C.
"I've really enjoyed being a senator," he said. "Not for the title, not for the recognition and certainly not for the publicity. I like solving problems for people in Wyoming and America."
That Enzi is coming to the end of a 42-year political career is something remarkable in itself, he said, because "I never intended to get into politics."
After he spoke about the value of being a leader in your community at a state Jaycees convention more than 50 years ago, then-Sen. Al Simpson caught up with a young Enzi.
"'I don't even know what party you're in, but it's time you put your money where your mouth is on this leadership stuff and get into politics,'" Enzi recalled Simpson telling him. "'That town you live in, Gillette, needs a mayor.'"

After spending the four-hour drive back to Gillette talking about it with his wife, Dianne, he decided to run. After two terms as mayor, he served 10 year as a state lawmaker before running for Simpson's seat in the U.S. Senate when he retired in 1996.
"Nearly five decades later … I still find myself motivated by the urge to help my community and my country," Enzi said. "I keep finding myself wanting to solve problems."
Touting his 80/20 rule of making law, Enzi had some advice for his colleagues on both sides of the aisle.
"Doing what's right, doing what's best and treating others as we wish to be treated" are the core values that drive his philosophy, Enzi said.
They are values that "remind us of why we are here and how we should act," he said. "These values are not always easy to live by … but that's why we call them ideals."
Basically, he said, most people can agree on 80% of an idea or proposal, but get hung up on the other 20%. By first identifying the 80% and separating that from the debate accomplishes a lot.
He also said that working out the 20% doesn't require compromise.
"I think (compromise) means I give in to something I don't like and you give in to something you don't like and we both end up with something we don't like," Enzi said. "If we just work on the 20% we don't agree on, and will never agree on, we'll only generate headlines (about) what we're not getting done."
Instead of compromise, being a leader in Washington means tackling disagreements "in a mutually agreeable new way."
That's not happening a lot these days, he acknowledges, citing the recent volatile nature of politics.
"There's a lot of vitriol in our politics in our world right now, but you can stay true to what you believe in without treating others badly," he said. "Nothing gets done when we're just telling each other how wrong we are.
"Has anyone really ever changed your opinion by getting in your face and yelling how wrong you are? That might make the attacker feel better in the moment, but it doesn't do much for getting anything accomplished."
For all of his 14 years in office, Sen. John Barrasso, R-Wyoming, has developed a friendship with his Cowboy State partner, calling Enzi a mentor.
"He's done it with intelligence, with intensity and with integrity," Barrasso said from the floor following Enzi. He's been "the trusted trail boss of the Wyoming congressional delegation."
Barrasso also told of how his mother-in-law once upon a time was Enzi's first Sunday school teacher and gave him his first Bible, which he still has.
"Throughout four terms in the United States Senate, he has never waved in his commitment to God, his country, his family and Wyoming," Barrasso said.
Both sides of the aisle have come "to depend on Mike for his moral and ethical guidance," he said. "His legislation, it has a long history of garnering overwhelming bipartisan support."
Barrasso said what has made Enzi such a good member of the Senate is his commitment to local priorities and values, and that he's guided by "practical Western wisdom."
For Enzi, "everyone lives at the local level," and not the state or federal levels, he said.
That's also how Enzi's better half, Diana, has operated, Barrasso said. Each year she bakes 200 dozen cookies for all those who work behind the scenes to make the Senate work. Those include the cleaning crews, police officers and others.

Enzi's last request out the door was to make a plea for something he pushed for when he first was sworn in as a U.S. senator in 1997.
"It's time to formally allow electronics on the floor of the United States Senate," he said. "It's time to make a common sense change."
While it's not uncommon to catch a senator bending the rules with a smartphone from time to time, allowing electronics would give lawmakers more freedom to work from their desks as they historically did. That would mean more attendance for debates and votes.
While Enzi's final address from the Senate floor was passionate, it wasn't until the end when his voice began to crack with emotion. That's when he thanked his supporters, staff and family, especially Diana.
"It's been a long journey since I told you I was thinking of running for mayor," he said. "You have supported more than anyone can truly comprehend. And in no uncertain terms, I couldn't have done it without you. It's been more than 50 amazing years together and I look forward to our next adventure."
Then for the last time in his 24 years in the Senate, Enzi concluded his address: "Mr. President, I yield the floor."
Let us know what you think!
Tagged:
Cynthia Lummis
Senator John Barrasso
Senator Mike Enzi
U.S. Senate
Wyoming Senators