Erickson plays Carnegie Hall with global youth symphonic orchestra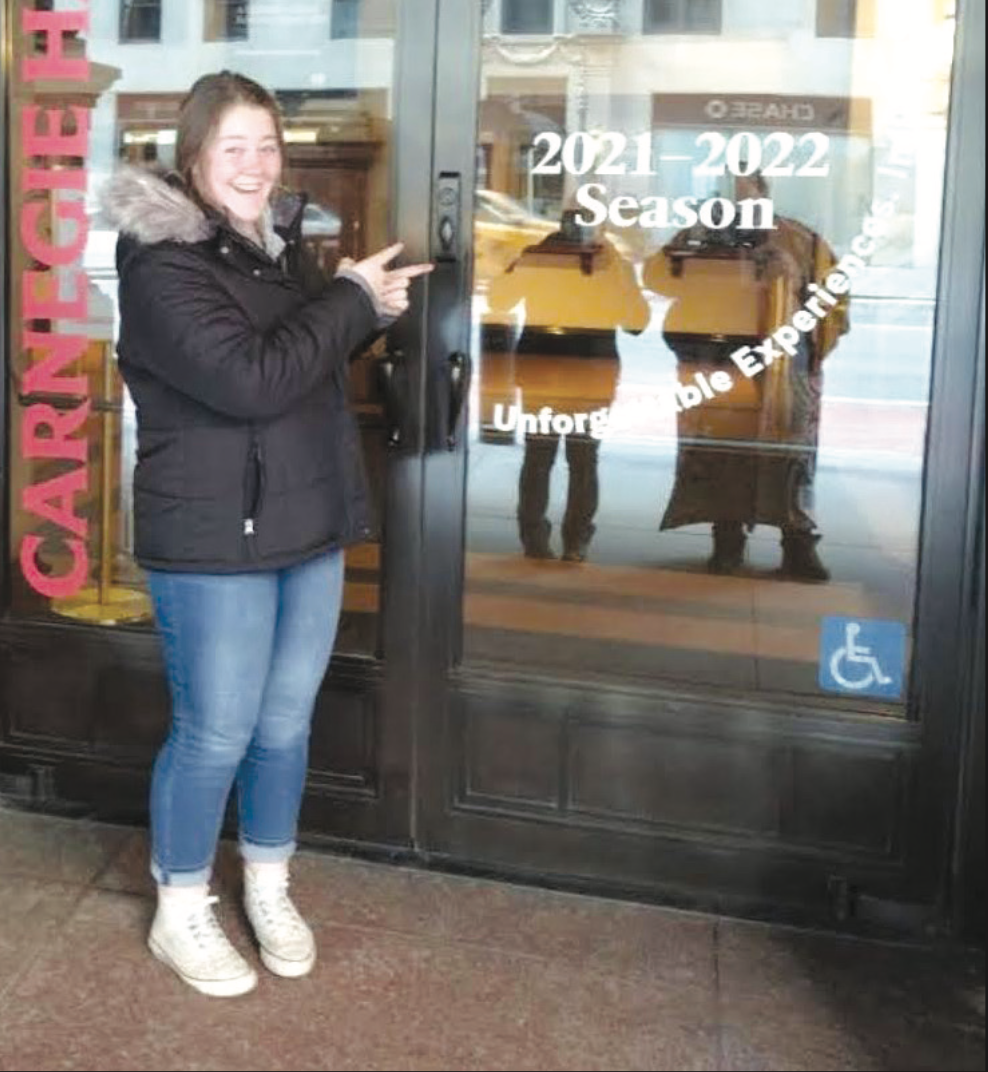 ◆ She is extremely grateful to all the people behind the scenes who made her experience possible.
Adolescents who shoot for the moon seem rare in our world today. They watch it, think about it and maybe even begin the launch, but few follow through with the mission.
Not so with Sarai Erickson, a Junior at Star Valley High School. She saw an opportunity to play her violin in the milky way and she took the shot. She's a living testament to the old adage "You never know until you try."
In September 2020, Sarai was nominated by her orchestra teacher, Lisa Barber, for the High School Honors Performance Series, which is a program that takes students from all over the world through an audition process, and then invites selected students to perform at Carnegie Hall in New York City with other high school musicians.
Sarai took the leap of faith in herself and auditioned. In October, she received word that she had been selected to be part of the High School Honors Performance Symphonic Orchestra that would play at Carnegie Hall on the evening of Saturday, February 6, 2022. She was shocked…and thrilled!
Over the next 3 months, Sarai devoted herself to raising the money to go, practicing three very demanding classical pieces of music, and staying healthy, because a positive COVID-19 test anytime within two weeks of her departure would jeopardize her opportunity.

Star Valley rallied around her and lent support with excitement for her opportunity, pride in her accomplishment and generous financial donations. And so it happened that a gentle and quiet young cowgirl found herself in New York City for five days performing in the most iconic music hall on American soil.
Though most of her time was spent in rehearsals, Sarai was still able to see the sites and experience the energy of NYC. She rode the elevator to the top of the Rockefeller Center, took a yacht tour along the coast into New Jersey, witnessed the glowing majesty of the Statue of Liberty pierce the darkness of night, and attended "Wicked" on Broadway.
People and relationships were a beautiful part of her experience. Her older sister, Shaianne, who is attending Southern Virginia University as a Music and Pre-Med Major, rode the Amtrak up to surprise her and attend the concert. Sarai connected with fellow musicians from all over the world and built life-long friendships that warranted tearful goodbyes on Sunday morning. She loved every moment.
Her favorite part of the experience, however, was working with her master conductor, Mr. Kirt Mosier.
"Our conductor connected with us through our music, and I loved how he helped us to improve," Sarai shared about his masterful leadership. "He was demanding sometimes, but it was productive and effective. He wanted to get to know every single student in the symphonic orchestra personally. He wanted everyone to take an opportunity to visit with him and introduce themselves, to understand what their passion was and why they were participating. He treated us like professionals and expected us to work like professionals. He didn't treat us like kids."
She enjoyed the frank correction and the level of excellence that he expected and inspired. He exhibited kind, but firm correction as he guided them through becoming a unit in making beautiful, but quality music.
Her fellow musicians were accomplished, but like her, they were young. "There was a lot of excitement. Everyone was excited to be there and learn and to be engaged. But in those seven-hour rehearsals each day, we got exhausted. It was a long time for teenagers to focus. When we did get tired, he would pull us up and tell us to get our act together. We rehearsed really well, and he was actually surprised and happy with how well we rehearsed."
Mosier shared his passion for music and for composing. The group premiered an original composition by Mosier, "Alasdroim," about a great warrior. "There was this mighty warrior, and his heartbeat was throughout the entire song, and it died out at the end because the warrior died," explained Sarai about the original work. "It was this visualization and cool to see where [Mosier] came from and what he wanted to have come out of that music and how he wrote it and how he researched a bunch of things before he started writing it. He wanted to make it accurate and make it musical. It was very cool to see his perspective on everything and his opinion on everything."
Sarai was interested to learn that music is organic and a living thing. "[Mosier] had conducted the other two songs multiple times before and he says it changes every time he conducts because he has different musicians in front of him. He's conducted in a lot of places. It was cool to see him in his profession and how he loves his job. And it was amazing to see all these talented musicians come together and make incredible music."
Sarai teased that this might have been a life-changing opportunity. She loved it and is considering returning there for post high school education.
"Most importantly, it re-lit my flame and passion for playing the violin," she admitted. Before I went to New York, I didn't feel like I was growing like I should be and succeeding like I could be. I needed to be more dedicated. Being able to do such an incredible thing really inspired me."
She is grateful for Mosier's inspiring work with them, and with her individually.
It took an enormous team to make this happen for her and she recognizes that. She is extremely grateful to the many people behind the scenes that made it possible – donors, family, private coaches and schoolteachers. "My teachers at school were so supportive – especially my music teachers. They let me practice my music for the Carnegie concert during their classes. That was very much needed and very much appreciated."
Mosier left a lasting impression. "He said to us while we were rehearsing in Carnegie right before our concert, 'This will be your 'remember when moment.' In 80 years, you'll say 'Hey, remember when this happened.' So, he told the concert audience to chase their dreams and make 'remember when moments.' Even if you don't think some moments might be a 'remember when moment,' they might be. So just put all your effort into what you are passionate about and make your future-self proud."
Let us know what you think!
Tagged:
Carnegie Hall
High School Honors Performance Symphonic Orchestra
Sarai Erickson
Star Valley High School