Feds to start weaning elk from feeding at refuge
By Mike Koshmrl, Jackson Hole Daily
Via- Wyoming News Exchange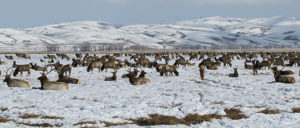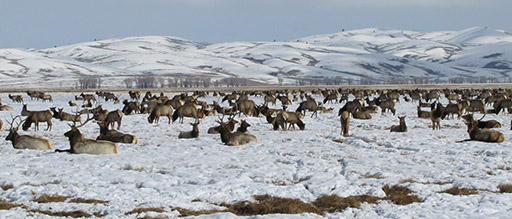 JACKSON — Federal wildlife officials aiming to avert a lawsuit are pledging to implement a long-delayed plan to wean the National Elk Refuge's namesake animals off of supplemental alfalfa ahead of the upcoming feeding season.
The plan, first contemplated a dozen years ago, had remained tied up as the U.S. Fish and Wildlife Service deliberated internally and with Wyoming managers over targets and goals. Now the threat of litigation has forced the agency to act.
On Monday, the federal government agreed to a "joint stipulation, motion and status report" that establishes deadlines that will keep Earthjustice, the plaintiff, at bay for now.
"What it boils down to is that they have an opportunity to complete this planning process by Dec. 31, and have a plan in place by the next feeding season in 2020," Earthjustice Managing Attorney Tim Preso said Monday. "We have agreed to suspend litigation long enough to allow for them to seize that opportunity."
Preso cautioned that the pact with the federal government is not a legally binding settlement agreement. If the Fish and Wildlife Service fails to keep its promise, he said, Earthjustice will resume its challenge.

The agreement to a "stay" on the litigation, acknowledged by U.S. District Court Judge Tanya Chutkan, establishes dates for a public process that will unfold this fall and winter. By Sept. 30, the National Elk Refuge will release a draft environmental assessment. Public comments will be fielded through the month of October, and then by Dec. 31 the refuge will produce a final step-down plan. That plan, the document says, will govern the elk feeding program this coming winter, an operation that typically begins in late January or early February.
Earthjustice said it was imperative that the refuge take action this winter.
"That was essential to us," Preso said, "because we can't continue business as usual with [chronic wasting disease] already in the valley."
CWD was confirmed for the first time in Jackson Hole in November when a road-killed mule deer buck tested positive in Grand Teton National Park.
The ungulate disease has no cure, can live outside its animal hosts in vegetation and soil, and ripples through deer and elk populations at higher rates when animals are concentrated.
In a worst-case scenario, the refuge's prized winter range will become an infected area where wildlife congregate, leading to the long-term decline of a diseased Jackson Elk Herd. But the fate of the refuge still remains uncertain since CWD and wild, fed elk have never before mixed.
Wyoming Game and Fish Department's leadership say they expect to continue feeding elk in the face of the disease.
The National Elk Refuge, by contrast, is faced with a mandate to reduce elk numbers to 5,000 animals, a population that theoretically will allow the refuge to skip supplemental feeding in winters of average severity, and in doing so reduce densities and disease rates. A "step-down" plan that Fish and Wildlife has now committed to releasing outlines how to get there.
Although the draft step-down plan is not yet a public document, it has surfaced through records requests, and its contents have been made public.
The "principal strategy" that's in the works, according to a 2017 draft plan, is delaying when alfalfa pellets begin hitting the ground.
The goal identified in that iteration of the plan is to cut elk feeding in half: Transitioning elk to freestanding forage will be achieved when the three-year running average of elk and bison "fed days" has fallen to 50% or less of current intensity for five years in a row.
The latest draft of the plan is dated this February, but differences between this document and the 2017 version are minimal, Preso said.
The draft plans, of course, could change if the National Environmental Policy Act planning process works as it's supposed to.
"Like any public process, public comment and how we respond to it will dictate how much the plan needs to be modified," said refuge biologist Eric Cole, who's stepping in as interim refuge manager while the longer-term acting manager, Cris Dippel, is out of town.

The refuge will be short-staffed as it makes the push to release the plans and implement deadlines agreed to by the U.S. Department of Justice.
The refuge's manager, Brian Glaspell, took a promotion, departed in July, and no replacement has been named. Longtime public outreach staffer Lori Iverson also retired this month.
"Basically, we're down two of our 10 full-time employees," Cole said.
On the plus side, he said, Fish and Wildlife's regional office is devoting some staff to assist in the planning effort.
As a two-decade-long refuge veteran whose finger is on the pulse of the refuge's biological health, Cole said he's eager to get the step-down plan out the door and implemented.
"I think the step-down plan is likely our best chance to take any meaningful action to reduce the potential effects of catastrophic disease on the refuge," Cole said, "but of course it's going to take the cooperation of other agencies and public buy-in."
Tagged:
Grand Teton National Park
Jackson Elk Herd
Jackson Hole Daily
National Elk Refuge
U.S. District Court Judge Tanya Chutkan
Wyoming Game and Fish Department