Fires from Idaho and Utah bring smoke to valley skies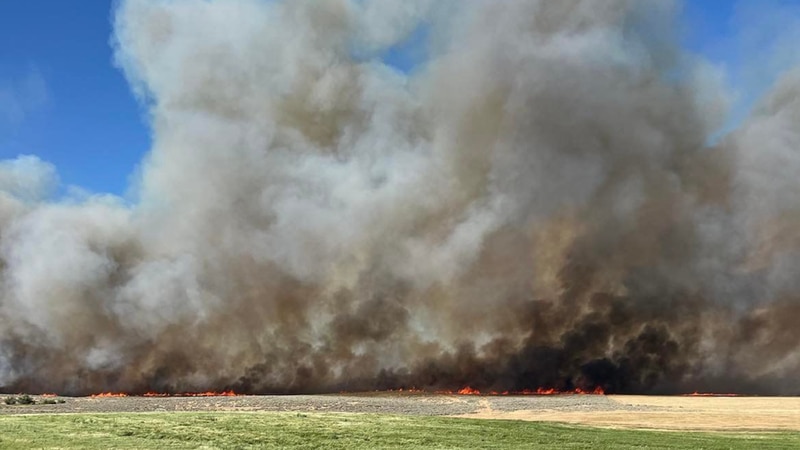 Smoke from regional fires has made its way into Star Valley this week. The main culprit is the Bray Fire outside of Twin Falls, Idaho which as of Tuesday July 19, had burned approximately 8,000 acres.
According to the Idaho Bureau of Land Management, winds are driving the blaze and structures remain threatened at this time.
The fire is located some seven miles northeast of Bliss but the smoke is covering a large swath of Idaho and western Wyoming.
According to reports, the Twin Falls District BLM along with the Sawtooth National Forest, the Boise BLM, Bliss Rural Fire Department, Gooding Rural Fire Department, Hagerman Rural Fire Department and additional resources are on scene. This includes five fire managers, two dozers, one water tender, one hand crew, ten engines and multiple aerial resources. .
There is no containment on the Bray Fire as of yet.
Two smaller fires in the Salt Lake area are also contributing to area smoke as the Wanshoip Fire burned approximately 40 acres and has now been 100 % contained. This fire caused evacuations in Summit County.
Another grass fire ignited on Sunday afternoon nearly I-80 near 7200 West in Salt Lake City and has burned approximately 20 acres. According to Salt Lake city Fire Department officials, the fire is nearly contained but shifting winds has made things more difficult.

Let us know what you think!
Tagged:
Bliss Idaho
Idaho Bureau of Land Mangement
The Bray Fire
Twin Falls Idaho