Food services in LCSD2 go above and beyond to provide school lunch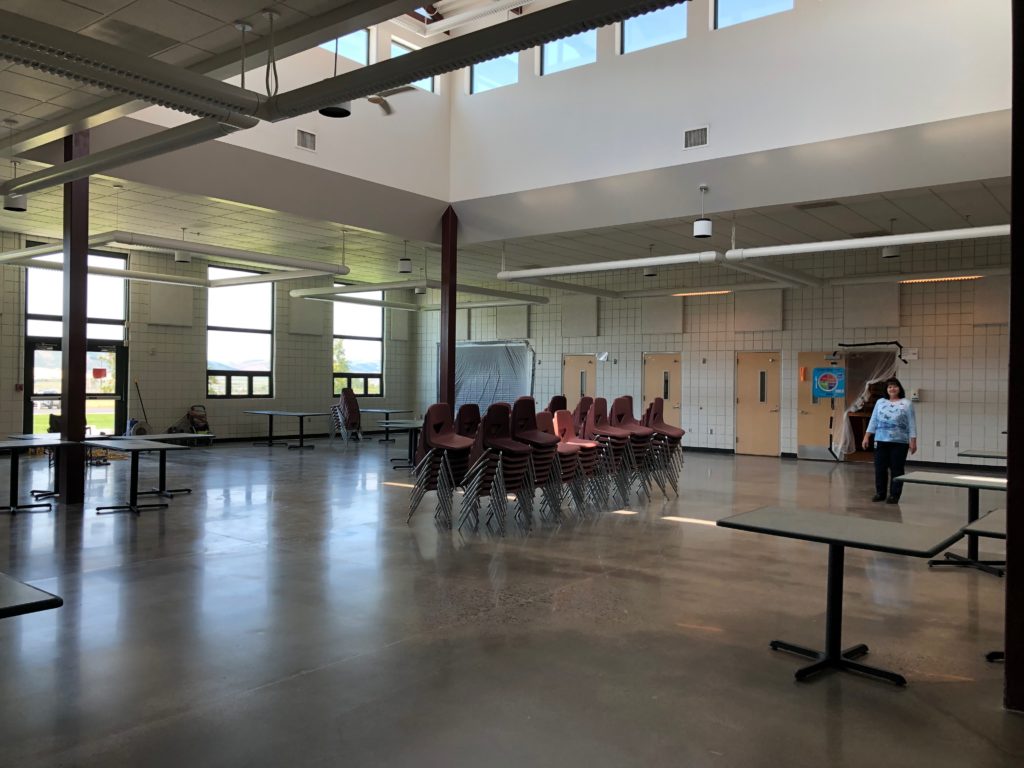 ◆ Schools prepped to meet student lunch demand.
Sue Helm loves going to the grocery store. Not because she likes to shop. As Food Services Director for Lincoln County School District 2, she does plenty of that – and more.
But she loves it when a child from a local school sees her, say, at the deli. "They'll say to their mom, 'That's my cook!' The kid will wave at you."
And since Helm has been working one way or another in Food Services for the school district since the early 1990s, that's a lot of hand-waving.
And now? Running the ship during an unprecedented pandemic when sanitizing and masks are as common as brushing your teeth? While worrying about COVID-19 and her kids definitely weighs on her mind, three decades of preparing nutritious and safe food is nothing new to Helm.
"I have to tell you, we run a pretty tight ship. We're very concerned about food service all the time," she told SVI Media last week midst myriad meetings with district food managers from all over Cokeville and Star Valley.

"My HACCP (Hazard Analysis Critical Control Point) book is over an inch thick," Helm added, speaking of the FDA's food safety management system to which LCSD2 adheres annually. And not only does Helm and all district food managers adhere to HACCP, they also closely follow the newest regulations in the wake of the coronavirus.
"Food Services has been doing a lot of things all along, but there will be extra cleaning and sanitizing, and we'll catch every doorknob and light switch," Helm assured the parents of any child or youth eating in cafeterias in LCSD2.
"Along with this new virus we have to deal with," Helm continued, "we are taking precautions over and above. We'll be wearing masks or face coverings to prepare everything. Just to protect those kids from us. We will be doing extra sanitizing with recommendations from the CDC (Centers for Disease Control and Prevention) and the local health department. Of course we'll be using social distancing. They'll be some changes in cafeterias."
Although many procedures are still in transition – and subject to changes as conditions allow along with mini-trainings throughout the school year – Helm said menus are being made simpler to begin with, with less "messy" items. And for the first three weeks of school, a sack lunch will be provided to all students at all schools. There are no exceptions to ensure proper sanitation and preparation.
"Then hopefully we can go into part of our regular menus," she added.
Each school and even some classrooms may have different protocols, Helm explained, depending on the ages of students and conditions.
The high school and middle school students will be able to eat in the cafeterias on separated tables or outside as weather permits on picnic tables. There will be, however, no booth sitting or food bars. And lines and meals will be consolidated to choice of entrée with already prepared sides to simplify food handling, ensure nutrition based on HACCP, and enhance social distancing. There will still be choices of milk.
There will also be the quick-grab meals, Helm said.
At some schools and classrooms, especially for many younger students, meals will be prepared and picked up or taken to the classrooms to simplify social distancing protocols.
But the emphasis will be, Helm said, on "helping kids come back and enjoy their meals and just get a bit of normalcy into their lives."
Each year, she related, Helm meets with her district-wide staff and asks, "What can we do to make these kids feel welcomed?"
And Helm can't say enough about the Food Services employees. "My staff is awesome and great supporters to everything we do. I want to give some credit to them because they are awesome."