Jenny Oaks Baker performing in Afton is a Really Big Deal
James and Daphne Arbizu have been busy. They've formed a nonprofit. They're restoring the Ford Theater to its former glory, teaching music students, running a music store, applying for grants, and they're booking a series of comedians, entertainers, aspiring talents, vocalists, instrumental musicians, and––incredibly enough–- booking world-famous violinist, Jenny Oaks Baker to perform for the community.
It's a big feather in the Arbizu's artistic cap.
World-class violinist, Jenny Oaks Baker––who will perform on April 26 at 7:00 p.m. at the Ford Theater––has performed in some of the top venues in the world. Baker earned a Masters of Music from Juilliard in New York City, has released 18 albums, performed as a soloist in venues such as Carnegie Hall, Lincoln Center, Strathmore Hall, the Library of Congress, and as a guest soloist with The National Symphony, Jerusalem Symphony, Pittsburgh Symphony, Utah Symphony, and the internationally acclaimed Mormon Tabernacle Choir.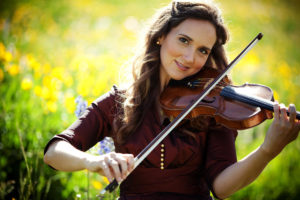 Her albums have sold nearly a million copies and consistently chart on Billboard. Baker's emotionally stirring music has also been featured on the soundtracks of many films, and her popular music videos can be viewed on her YouTube Channel. Jenny, her husband Matthew, and their four children live in Salt Lake City.
Arbizu was able to connect with and book Baker, who will perform with her 4 children, through a mutual acquaintance, and explained that she will be doing a clinic on violin technique, in addition to her performance, while she is in Star Valley. He credited Ace Hardware for their sponsorship, along with the Star Valley Arts Council, and thanked them both for their generous financial support. 
Arbizu said, "I was actually surprised. I'm a violinist. I figured I'm the only one geeking out about it, but a lot of people know her because she's a Grammy-nominated violinist. As a younger performer, she played with the National Symphony Orchestra, which is one of the top five nationally, so she's really fantastic." 
Arbizu explained they were able to book Baker for a very reasonable price, partially because of COVID, but also because it will be a benefit concert to help kick off the nonprofit Star Valley Arts Society which will focus on restoring the infrastructure of the Ford Theatre. The 5-member board wants to bring the theater to the point it can accommodate not only music but drama, comedy, dance––any sort of arts performances. 
That will take some doing. Arbizu estimates it will take about $70,000 to bring the stage area of the theater up to an acceptable level: it needs microphones, lapel mics, headsets, spotlights, iron beams for aerial performances, to name just a few things. 
The nonprofit also plans to restore the facade to something more resembling the original and create classrooms internally for instructional purposes. They have solicited the help of an expert in historical restoration, Robert Williams, who has done work nationally on a variety of projects, including the White House, and retired here. Arbizu estimates phase 2 of the restoration will cost approximately $150,000. The foundation is currently writing grants for matching funds to offset the cost and plans to launch a fundraising campaign soon.
Arbizu said of Baker's coming to Afton, "This is something you normally get in the big cities. You usually can't get major performers out here because it's typically cost-prohibitive to bring someone of that caliber to the valley." 
The Ford Theater, along with other venues in the state, has had Covid restrictions lifted, but Arbizu made clear he strongly encouraged patrons to still socially distance and wear masks. 
Tickets for this event can be purchased on the Ford Theatre Facebook page, or at Mountain Music on Main Street in Afton (307) 886-5560. 
Let us know what you think!
Tagged:
Ford Theater
James and Daphne Arbizu
jenny oaks baker