Fossil Butte announces fall schedule and upcoming elk bugling programs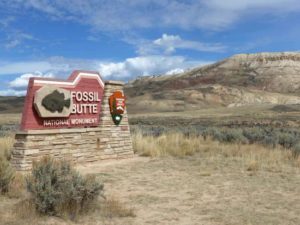 A special fall program series will be offered at Fossil Butte National Monument revolving around the nighttime sounds of the autumn sagebrush ecosystem, with particular focus on elk bugling.
As many as 1,000 elk travel through monument grounds over the fall and winter months.
"We invite everyone out to the monument to view wildlife and hear the distinctive call of an elk bugling," said Superintendent Angela Wetz. "If you have never heard it before, it will send chills down your spine."
The elk rut, or mating season, runs through September and October, and bugling is often heard dusk to dawn.
The elk bugling programs at Fossil Butte will take place on Saturdays, starting September 14 and continuing each week through October 5.
The evening will start at 8 p.m. with a program on elk, followed by listening outside.
Participants should bring their own chairs and warm clothing. There is no cost for the programs.
The public is reminded that hunting is prohibited on monument property, including collecting of shed antlers and any other natural objects. Law enforcement presence will increase during hunting season.

• Fall hours of operation
Post Labor Day weekend, Fossil Butte National Monument will reduce the hours of the visitor center. While park grounds remain open 24 hours a day, seven days a week, the visitor center hours will be from 8 a.m. to 5 p.m. starting on September 3.
Fossil Butte was set aside to protect diverse, abundant, and well-preserved fossils from the Eocene Epoch in the Green River Formation.
It is also home to a high desert sagebrush ecosystem. The visitor center, which displays more than 300 fossils, is open daily.
For more information about Fossil Butte, visit www.nps.gov/fobu, call 307-877-4455, or follow #FossilButteNPS on social media.
There is no charge to enter the monument.
Tagged:
elk bugling
Eocene Epoch
Fossil Butte National Monument
Green River Formation