Fossil Butte is modifying visitor center operations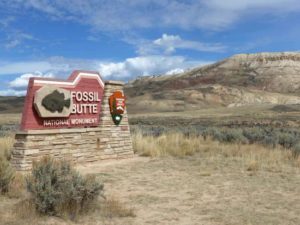 Kemmerer – Fossil Butte National Monument announced modifications — effective Saturday, April 4 — to operations in response to guidance from the governor and Wyoming Department of Health to slow the spread of COVID-19.

Until further notice, the following services and operations will be suspended:
• Closure of the visitor center
• All in-person interpretive programs
• The scenic drive, picnic area and nature trail remain closed due to winter conditions.
The National Park Service explained in a press release: "The health and safety of our visitors, employees and volunteers at Fossil Butte National Monument is our number one priority. The National Park Service (NPS) is working service-wide with federal, state and local authorities to closely monitor the COVID-19 pandemic. We will notify the public when we resume full operations and provide updates on our website nps.gov/fobu and social media channels."
Day-use outdoor spaces such as roads and trails that are currently open at Fossil Butte National Monument remain accessible to the public in accordance with the latest federal, state, and local health guidance.

The NPS encourages people who choose to visit park sites during this pandemic to adhere to guidance from the Centers for Disease Control and Prevention (CDC) and state and local public health authorities to protect visitors and employees. As services are limited, the NPS urges visitors to continue to practice Leave No Trace principles, including pack-in and pack-out, to keep outdoor spaces safe and healthy.

Updates about NPS operations will be posted on www.nps.gov/coronavirus. Please check with individual parks for specific details about park operations.
Tagged:
Centers for Disease Control and Prevention
Fossil Butte National Monument
National Park Service
Wyoming Department of Health