Four Meet Records Broken at the 2019 Simplot Games
Pocatello, Idaho – Every year high school athletes from around the world travel to Pocatello, Idaho, to compete against the best. This year athletes broke four meet records and have claimed some of the fastest times in the U.S. this year.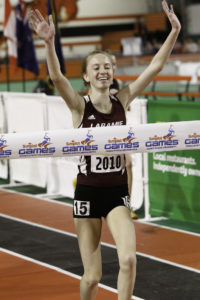 -Syndey Thorvaldson, a sophomore from Rawlin, Wyo., set the meet record in the girls' 3200 meters with the time of 10:19.10. The previous record stood at Simplot Games for 19 years, set back in 2000. She beat this record by 13 seconds and claimed the #1 high school time this year. After missing her qualifying race on Thursday, Thorvaldson raced alone on Friday to qualify for Saturday's finals after being unable to drive through bad weather.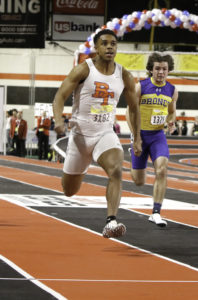 -Micah Williams, a junior from Portland, Oregon, broke the boys' 60-meter dash record with a time of 6.64, a record set back in 2004. This time ties the junior class national record, is the ninth fastest time ever by a high school performer, and is the second fastest time in the U.S. this year.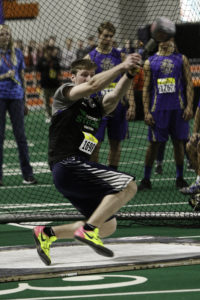 -Trey Knight, a junior from Vancouver, Wash., set a meet record in the boys' weight throw with a mark of 86'7.5". The previous record was set in 2004. This distance makes him the #2 all-time high school performer. He also placed first in the boys' shot put with a distance of 60'6.25.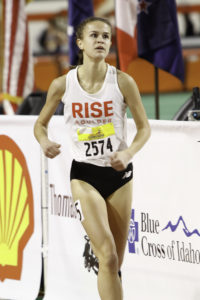 -Marlena Preigh, a senior from Bloomfield, Colo., set a new meet record in the girls' 800 meters with a time of 2:06.80. The record has stood since 2012.
Other standouts at this year's Simplot Games include:
-Idaho girls won several jumping events. Maya Maloney, a senior from Boise, won the girls' pole vault with the height of 12'5". Brooke Weimer, a senior from Boise, won the girls' long jump with the distance of 18'10.25".
-Bradley Graves, a senior from Ballantine, Montana, placed first in the boys' 60-meter hurdles with a time of 8.09 seconds.
-Carlee Hansen, a sophomore from Woods Cross, Utah, placed first in the girls' 1600 meters with a time of 4:51.85. This is the number one time in the U.S. this year.
For all of the races results, visit www.simplotgames.com <http://www.simplotgames.com> .
More than 2,200 athletes will come from across the U.S., Canada, Australia, and New Zealand to participate in the 41st annual Simplot Games. Simplot Games remains the nation's premier high school indoor track and field event. Sponsored by the J.R. Simplot Company since 1979, the Simplot Games are held at Idaho State University's Holt Arena in Pocatello, Idaho.