Football
Jackson: 0 Star Valley: 30 – The Star Valley defense pitched their third consecutive shutout in the 3A West as they took a close 7-0 halftime score to a rout by the time the final play was run. R.J. Cazier carried the ball 22 times for 126 yards and two touchdowns to pace the effort. Cazier is now all alone in second place for touchdowns scored by a Star Valley player. He trails Mel Olson ('60-'62) by just four touchdowns. Hazen Erickson blocked a punt for a safety and got his hand on another and also caught a 41-yard touchdown from Brant Nelson. Star Valley has now won 16 straight games.
Natrona: 27 Kelly Walsh: 0 – The Mustangs roll in the Oil Bowl.
Thermopolis: 67 Newcastle: 16
Buffalo: 50 Wheatland: 7 – Bulldogs avoid the shutout in the final seconds (Per @Wyoming-Football.com)
Cody: 38 Powell: 14 – The Braves and Broncs will do battle in Cody next week for the 3A West Conference crown.
Kemmerer: 6 Glenrock: 16

Riverton: 52  Torrington: 7
Lander: 27  Rawlins: 7
Rock Springs: 14 Thunder Basin: 24
Worland: 19 Douglas: 7
Green River: 14 Evanston: 7
Malad: 7 Bear Lake: 34
Cokeville: 33 Rocky Mountain: 7
Mountain View: 45 Lyman: 0 – Buffaloes thunder through Lyman on the Eagles Homecoming.
Pinedale: 6 Big Piney: 9 – The Punchers fall on the on side kick to preserve the win late.
Cheyenne East: 24 Cheyenne Central: 21 – (Per @CheyEast Twitter)
Sheridan: 41  Gillette: 7 (Per @Wyoming-Football.com)
Cheyenne South: 36 Laramie 35 – Plainsmen miss a 47-yard field goal at the end (Per @Wyoming-Football.com)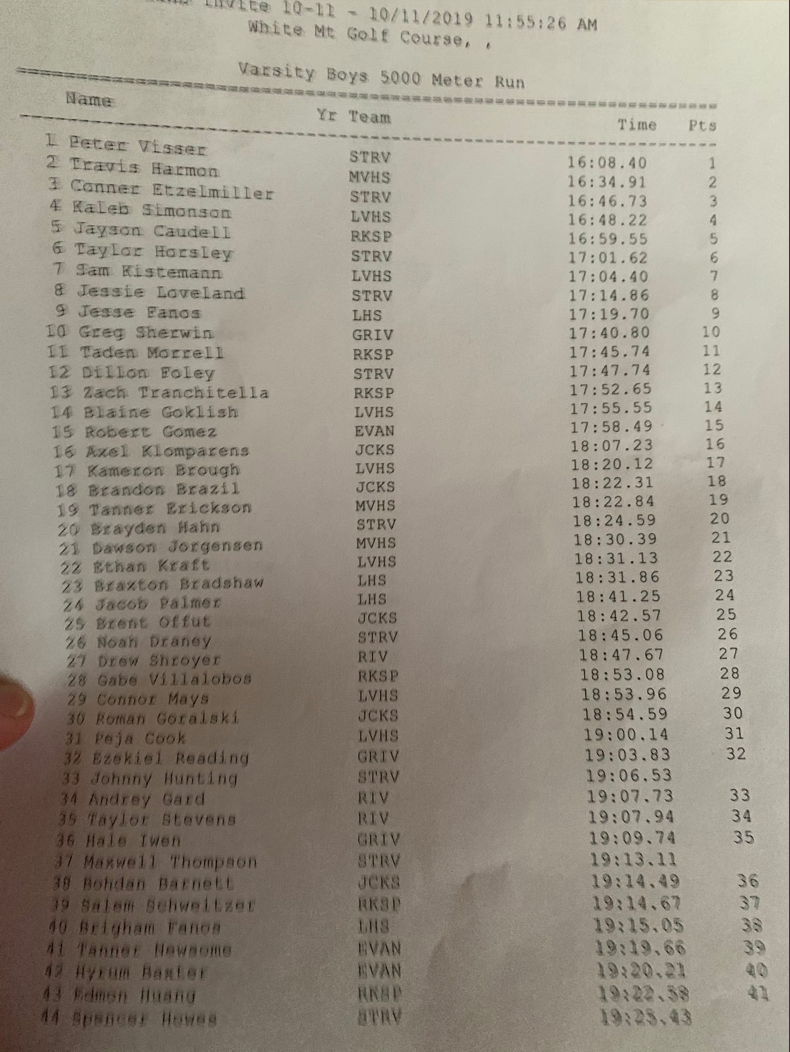 Volleyball
The #1 Trojans sweep the #4 Lady Braves 3-0 (22-25, 12-25, 17-25)
Star Valley faces #5 Rock Springs on Saturday afternoon.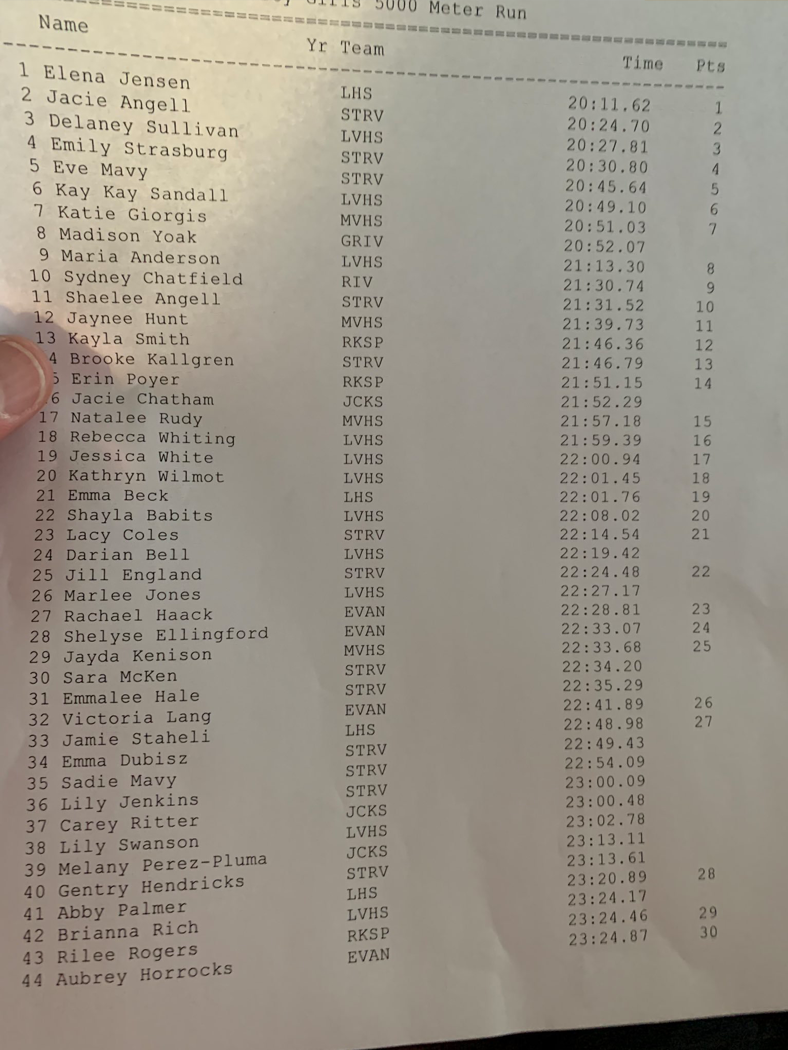 Cross-Country
The SVHS Cross-Country teams won both the boys and girls team titles at the "Petey" Invite in Rock Springs at the White Mountain Golf Course. Peter Visser won the boys race with a time of 16:08.40 and Conner Etzelmiller was third. Taylor Horsley was sixth and Jesse Loveland was eighth and the Braves put five into the top 12 as Dillon Foley rounded out the score. The Braves outpaced the Lander Tigers by 49 points.
The Lady Braves took three of the top five spots with Jacie Angell, Emily Strasburg and Eve Mavy pacing the way as the team outlasted Lander by 16 team points. Shaelee Angell and Brook Kallgren founded out the varsity five with all of them finishing in the top 14.
Star Valley hosts the Wyoming State Cross-Country Championship in Afton on October 26.