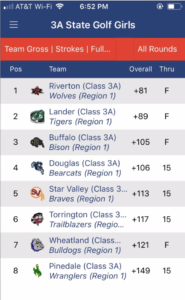 • 3A State Golf
It was not a pleasant day at Star Valley View Golf Course. With temperatures that struggled to climb past 50 and a steady rain that forced two delays, it took the 3A teams six hours to play their 18 holes. With Saturday promising better conditions it is the Lander Tigers leading the way on the boys side with a +15. Worland is second ten stokes back and Star Valley is a distant third at +50.
The Riverton Wolverines are leading the pack in the girls race with a +81 but the Lander Tigers are just eight strokes back at +89. Buffalo is third at +105 and Douglas is close behind at +106. The Star Valley Lady Braves are fifth at +113.
• Football
Riverton 7 Star Valley 49 : Brant Nelson passed for 214 yards on 16 of 19 and put up two touchdowns through the air. The rushing game got five different players into the end zone with RJ Cazier, Chase Merrell, Parker Merritt, Brandon McDonald and Spencer Larson picking up scores. Merrell, Cody Gustofson, James Erickson and Larson each had interceptions on defense while McDonald had a fumble recovery.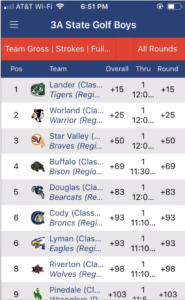 Worland 7 Jackson 48 : Jaydon Cox over 200 yards again as the Broncs improve to 3-1 overall. The Battle of the Broncs is next week with Jackson in Cody.
Douglas 13 Powell 7 : First loss of the season for the Panthers
Natrona 44 Laramie 13 : (Per @WyoVarsity)
Rock Springs 24 Kelly Walsh 3 : Battle of new head coaches goes to Mark Lenhardt this time over Aaron McKelky.
Cheyenne East 55 Cheyenne South 7 : (Per @WyoVarsity)
Glenrock 34 Wheatland 35 – After trailing 20-0 at halftime, the Bulldogs make a furious comeback and pick up the win over the Herders.
Lyman 12 Cokeville 28 – The Panthers defend their home field for Homecoming. According to Wyoming-Football.com, the Eagles have not won in Title Town since 1985.
Lander 14 Evanston 0 – (Per @WyoVarsity)
Cody 47 Rawlins 20 – (Per @C_Havens22) – The Broncs roughed up the Outlaws handing their their first loss of the season with six rushing touchdown.
Thunder Basin 37 Sheridan 30 – (Per @WyomingFootball)
Pinedale 32 Kemmerer 14 – In an early-season must-win, the Wranglers travel to Lincoln County and pick up their first win of the season. (Per SVI-2)
Torrington 7 Green River 14 – (Per @WyomingFootball)
Bear Lake (ID) 21 Aberdeen 0 – After winning just once last season, the Bear Lake Bears bounce back from a loss to South Fremont with a road win over the Tigers to move to (3-1). (Per @lisathewave)
Cheyenne Central 45 Gillette 22 : (Per @kfbcsportszone)
• Volleyball
Cody 0 Star Valley 3 – The Lady Braves continue an impressive start to the season without losing a single set at any level to the visiting Cody Fillies.
"I thought McKenna Brog had some great digs and played good defense," said head coach Blake Peterson. Aisley Julander did a great job on the back row of directing traffic and our hitters were swinging pretty well."
The Lady Braves host Riverton on Saturday with freshman, JV and varsity matches scheduled for 11, 12 and 1 respectively. SVI will be broadcasting the varsity match at svinews.com/sports
Let us know what you think!