Funeral services for Lauren Vera Bradshaw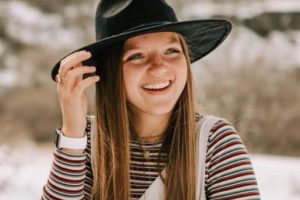 Lauren Vera Bradshaw had a glorious reunion in Heaven with her father, Brian, after being called home in a tragic automobile accident on October 22, 2022. They were surrounded by Heavenly Father, Jesus, and many other loved ones.
Lauren is the third and youngest child of the late Brian Bradshaw of Lyman, Wyoming, and Vera Lyn Erickson Bradshaw of Bedford, Wyoming. She was born on March 14, 2004, in Orem, Utah.
Even though Lauren was just a toddler when her father passed away with leukemia, her mother worked hard to keep Brian present in the lives of their three children. Lauren and her siblings grew up knowing him through photos, stories, and journal entries.
Lauren's love is like a sunrise, growing warmer and warmer with every interaction until it just envelops you. Kindness radiates from her, and she never allows anyone to feel left out. She always stands up for what she believes in. She is an amazing listener and lived a life of service and compassion for those in need. Lauren is all sweetness with a little sass. She has always had a light with her that is tangible, and anyone privileged to spend time with her is better for the experience. Her favorite things to do with the people she loves include playing jokes, taking late-night drives, making spontaneous trips out for ice cream, playing soccer or basketball, and sharing her beautiful, cute smile.
Lauren loves athletics, and learned from her mother that strength and skill come through perseverance and intentionally working hard. Basketball and soccer are her favorite sports, and she has worked hard to develop her talents from a young age. After participating on club teams and school teams until graduating from Skyridge High School in Lehi, Utah in May of 2022, she finally pursued her dream to play soccer at the collegiate level with Utah State University Eastern Women's Soccer team in Price, Utah.
Through the years, she has taken many opportunities to positively impact the lives of many teammates who have become some of her closest friends. She has touched many lives for good with her warm and genuine nature.
Lauren has always been close to her Savior, Jesus Christ, and shared His light and love with everyone she met. Her example and her words testify of Him. Like Him, she always wants to make others feel important and loved.
She loves attending the temple and would go often, as she was preparing to serve a mission for The Church of Jesus Christ of Latter-day Saints. Her mission on this earth is now complete, and Heavenly Father has another work for her to do as a missionary.
We love you, Lauren, and are proud of your accomplishments. You will be missed dearly until the day when we can see you again, hold you in our arms, and laugh joyfully as we reminisce. Until then, we are so grateful for the time we had together and will cherish every moment we have shared with you. We will strive to live as our Savior lived and do the things that He did, because that is how YOU lived. Thank you for being an example of the kind of person we all should strive to become. You are the best of us!
Lauren is preceded in death by her father, Brian. She is survived by her mother, Vera Lyn, her brother, Kenyan, and her sister, Tailyn, step siblings Kaylie, Cameron, Dallyn, and Kyler Wright, Grandparents Jim and Glenda Bradshaw (Lyman, Wyoming) and Grandparents Blair and Alice Erickson (Bedford, Wyoming), as well as many, many aunts, uncles and cousins.
Lauren's viewings are scheduled for Tuesday, November 1, from 6:00-8:00 p.m. and Wednesday, November 2, from 8:30-10:30 a.m. in the Lehi Stake Center at 851 North 1200 East.  Funeral services will immediately follow the viewing on November 2 at 11:00 a.m., and will be available via Zoom at https://zoom.us/j/97715697123?pwd=dlZwNG4xOG53TVpUMXAxeXZ3VVRMZz09
Lauren will be buried next to her dad on Wednesday, November 2 at 5:00 p.m. at the Lyman City Cemetery in Lyman, Wyoming. In lieu of flowers, the extended family requests love and support through the Lauren Bradshaw Memorial account at America First Credit Union account number 9125162 or through Venmo: Love for Lauren @Kenyan-Bradshaw.
Let us know what you think!
Tagged:
Brian Bradshaw
Lauren Vera Bradshaw
Vera Lyn Erickson Bradshaw