General Election is November 8; Election section of the Independent part of Nov. 2 edition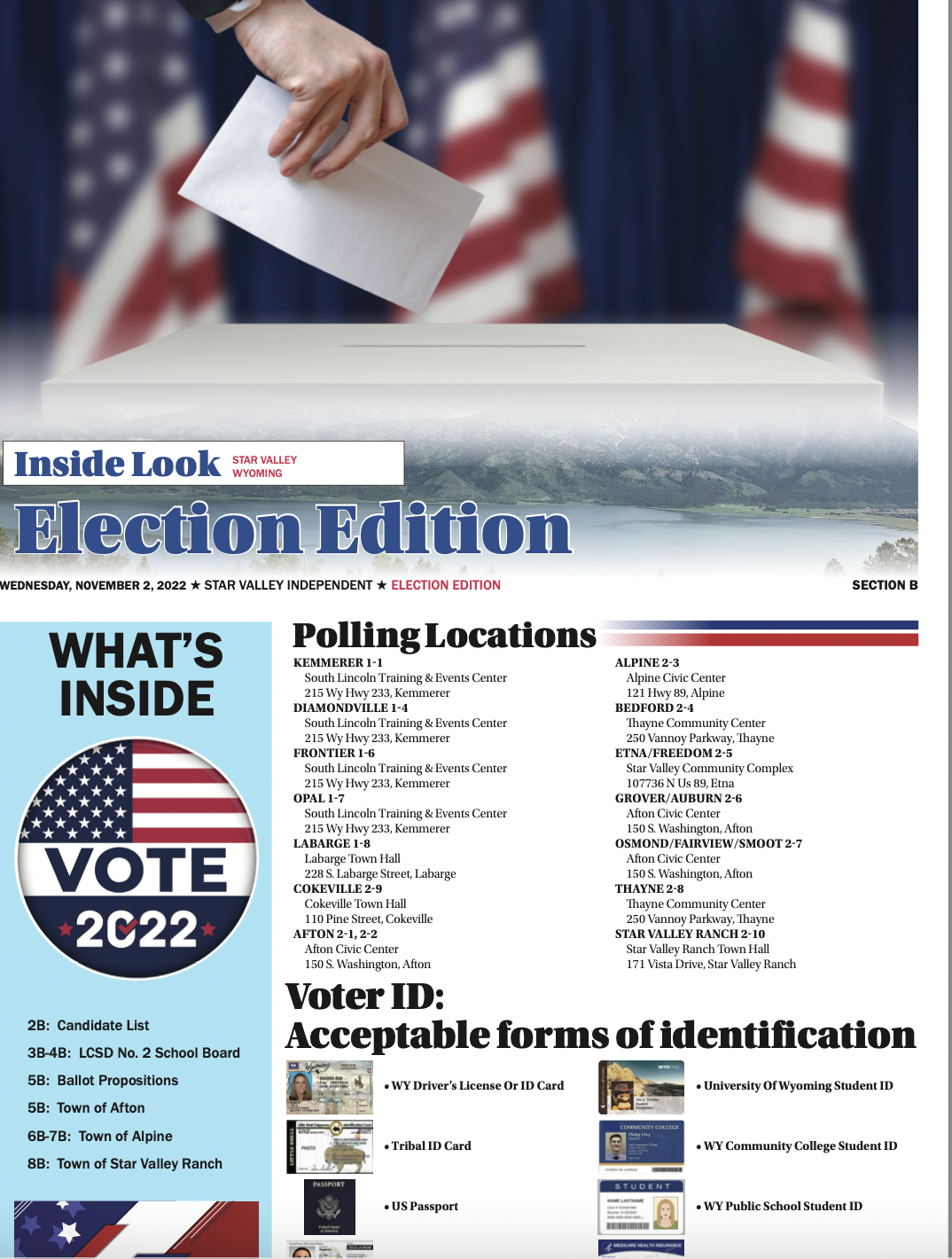 ◆ Sample ballot included in the November 2 edition of SVI for public review.
A sample ballot for the Nov. 8 General Election is included on pages 28 of the Nov. 2 edition of the Star Valley Independent.
The General Election ballot includes candidates for U.S. Representative, Governor, Secretary of State, State Auditor, State Treasurer and State Supt. of Public Instruction.
Local candidates will be included for the respective State Representative, County Commissioner, County Coroner, County Attorney, County Sheriff, County Clerk, County Treasurer, County Assessor, Clerk of District Court, District Court Judge and Circuit Court Judges positions.
Municipal candidates will be included for Kemmerer, Diamondville, Opal, LaBarge, Afton, Alpine, Thayne, Cokeville and Star Valley Ranch.
School board candidates in Lincoln County School District No. 1 (Kemmerer) and Lincoln County School District No. 2 (Star Valley/Cokeville) and Sublette County School District No. 9 (LaBarge/Big Piney) are on the ballot.
Cemetery Districts for South Lincoln and Cokeville are listed.
Conservation Districts for Lincoln County in Kemmerer and Star Valley are on the ballot.
Trustees for the South and North Lincoln Hospital districts in addition to the Cokeville Hospital District are listed.
Fire districts are included for South Lincoln, Upper Star Valley, Mid-Valley and Bear River.
The Kemmerer Senior Citizen district is included.
The ballot will also have propositions for amendments addressing investment of state funds, judge retirement, a mill levy for the Kemmerer Senior Center, and lodging tax proposals in Alpine and Afton.
Let us know what you think!
Tagged:
General Election
Star Valley polling locations
Wyoming ballot propositions